Posted by Robin Carlton •
Happy Friday everyone!! Hope you're enjoying the fabulous month long birthday celebration here at SSD!! Today we're featuring super sweet and talented Sari Underwood.  Let's get to know her a little better!!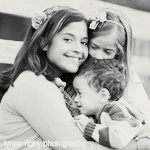 I live in Florida with my husband, 2 kids and 2 beagles. I have lived here almost all of my life. I have been a stay-at-home-mom since my oldest was born and she is now 6. That's what led me to digital scrapbooking and then photography. I'm a children's photographer now, although being home with my son is my main priority. I love Starbucks, my Mac,  a day out shopping with my friends, browsing the hand-made goodness on Etsy and getting that elusive photo of my kids since they run from my camera!! I started digital scrapbooking in early 2005. I use an iMac, Photoshop CS4 and Lightroom 3.
How long have you been a babe? – I was invited to the Babe team in August 2007! I can hardly believe it's been that long!!
What is the most challenging part of scrapping for you? – Lately it's been staying creative. There are so many great templates out there and it's sometimes hard for me not to use them! I also don't have the amount of free time that I used to have to just browse the galleries and be inspired by all the talent out there.
What is your favorite color scheme to work with? – It used to be, without a doubt, pinks and girly colors. Since having my son and scrapping his pages, I've noticed a shift in the colors I use now. There are lots of browns and blues!
Do you have any other hobbies outside of scrapping? – My other big hobby was photography which has now become more than a hobby. I launched my photography business in 2009.
I've asked Sari to share 3 of her favorite layouts with us.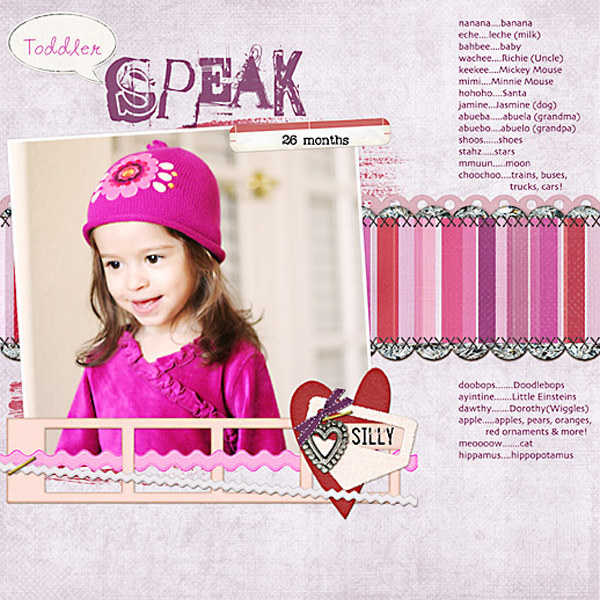 I still love this one because it documents a specific time. She is 6 now, so I had already forgotten some of the things she said as a toddler and this page brought it all back! Now I want to do a similar page with my son, who is almost 2!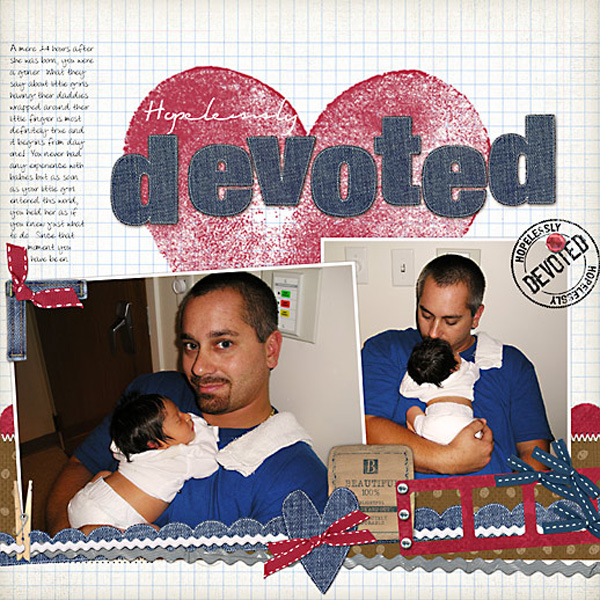 What can I say? Those first photos of daddy and baby are always a fave!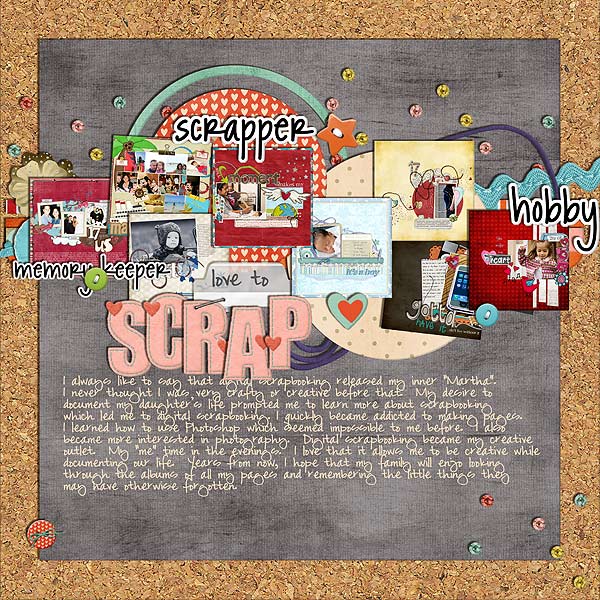 I love this one because it's about my love for scrapbooking and what it means to me!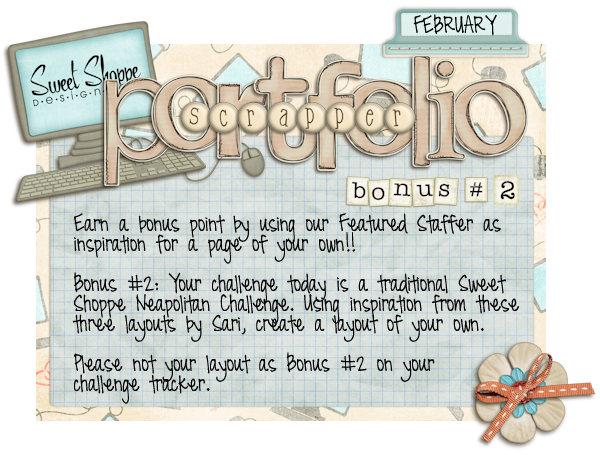 Featured Scrapper Challenge (Bonus #2) for your February 2011 Scrapper's Portfolio.  Your challenge today is a traditional Sweet Shoppe Neapolitan challenge. Using inspiration from each of these pages by Sari, create a layout of your own. There is no limit to what you can use from each layout, as long as you pull at least one thing from each layout.
Fall Family Fun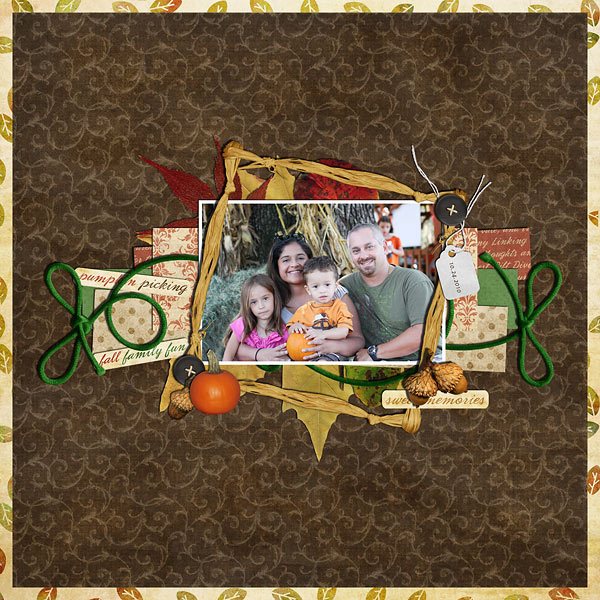 Super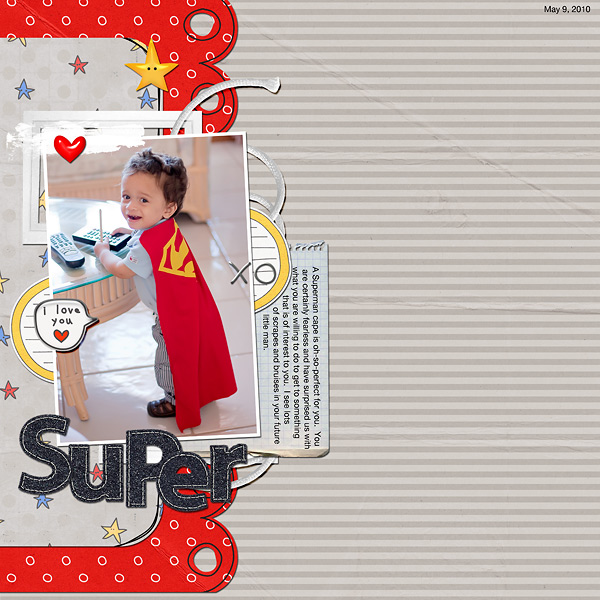 Cousins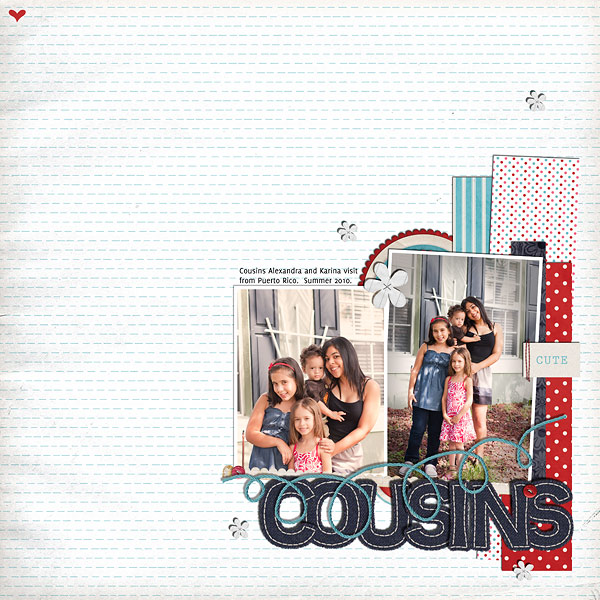 **Please note this challenge is worth 1 point and cannot be combined with any other portfolio prompts, except a new release bonus point for a total of 2 points**
Here are some examples from our fabulous Sugar Babes
Aly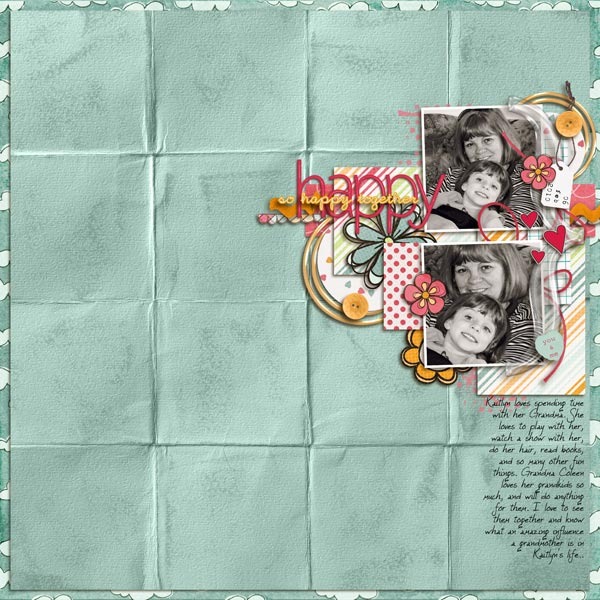 Inspired by: Layout 1 – string, buttons, tag, paper strips and 2 page background. Layout 2 – scallop, heart, photo borders and clustering on the edge of the page. Layout 3 – flowers, word art and 2 photos.
Credits: So Happy Together by Shawna Clingerman and Jenn Barrette, So Very Susan by Darcy Baldwin
Darla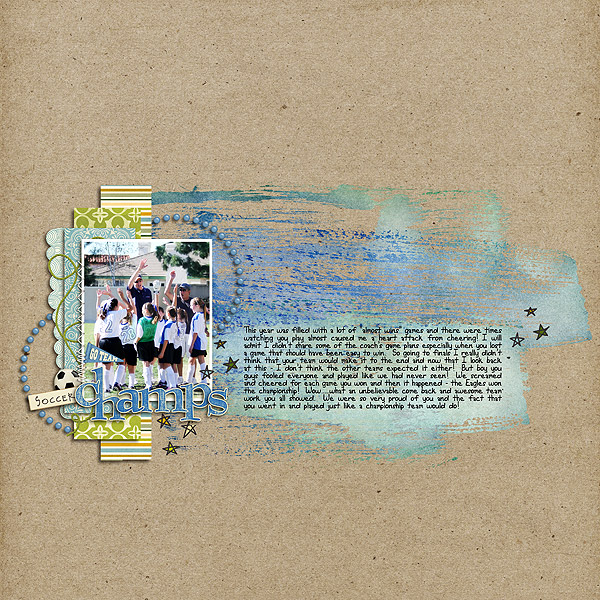 Inspired by: Layout 1 – string and 1 photo. Layout 2 – circle shapes, stars and scallop edge. Layout 3 – paper strips design, stitching on photo and bold title.
Credits: Once Upon a Boy by the SSD Designers, Perfectly Krafty by Jenn Barrette, Put Me In Coach and Rambunctious by Julie Billingsley, Bold Brush Work by Misty Cato, font is DJB Hayley Print by Darcy Baldwin
Tracy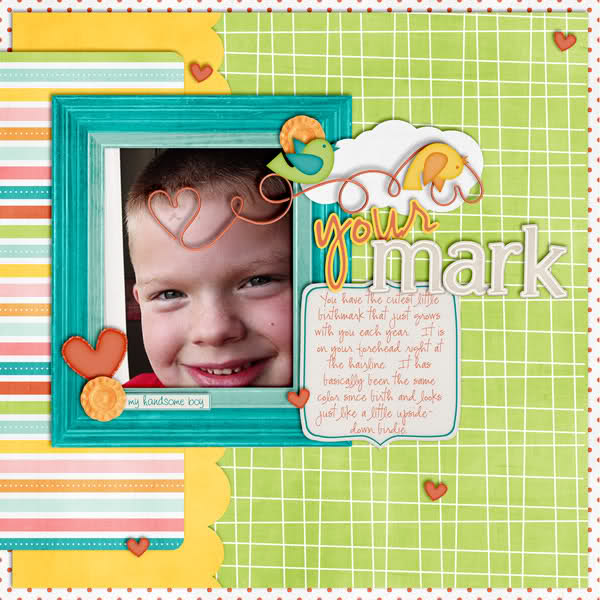 Inspired by: Layout 1 – stacked patterned paper and buttons on photo. Layout 2 – scalloped edge, photo placement and journaling placement. Layout 3 – scattered small elements and string.
Credits: Put on a Happy Face by Traci Reed
Have fun with this challenge!! Can't wait to see your layouts!! Happy weekend!!