Posted by Nikki Hawkins •
February is almost halfway over and the Portfolio Thread is once again full of so much amazing talent! I hope today's Featured Scrapper Challenge can help you add one more gorgeous page to your own portfolio so let's get to it. Today we're featuring  Jennifer Labre (jenn7) whose gallery is full of gorgeous designs. Let's get to know her a little better: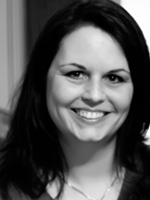 I'm a SAHM to two girls, Jordan (9) and Jenna (2) and wife to Jeff. We live in Wisconsin where I am anxiously awaiting spring! Aside from scrapping, I also love reading, watching reality TV, and I'm also a digital designer.
I began paper scrapping while I was pregnant with Jordan and then discovered digital scrapping in 2005. Prior to having Jenna, I worked full-time in corporate marketing and graphic design, so it was only natural for me to start creating on the computer! I've used Adobe Photoshop for about 15 years. I also use Illustrator, but that is more for designing. I have a Canon Rebel Xti and love to play around with processing my photos.
How do you organize your scrap stash?
I couldn't live without ACDSee Photo Manager. It is fabulous for organizing and finding exactly what I want to use.
What are the steps you go about when creating a new layout?
I usually start with the kit, especially if it is for a creative team layout or a product I've designed. Then I'll look for a photo that will go well with that kit. I usually have all my "photos to scrap" in their own folder, already processed and ready to go. But if I need to change it to black & white or another look, I'll usually do it at this point. Then I'll start with the background – usually it's a solid color or a very small print. I'll drag in all the elements that I think I'll want to use and start moving things around on the page, hiding, layering, etc., until I get the look I want. Then I'll add drop shadows which really make the layout come alive for me. Finally, I'll add the title, any journaling, and always the date.
What is your favorite color scheme to work with?
I love so many different ones! As a digital designer, I am really drawn to various color combinations. I recently finished a kit that had browns, red, orange, blue and green – vibrant colors that work really well together. I love a great color palette!
Here are some of Jennifer's favorite layouts: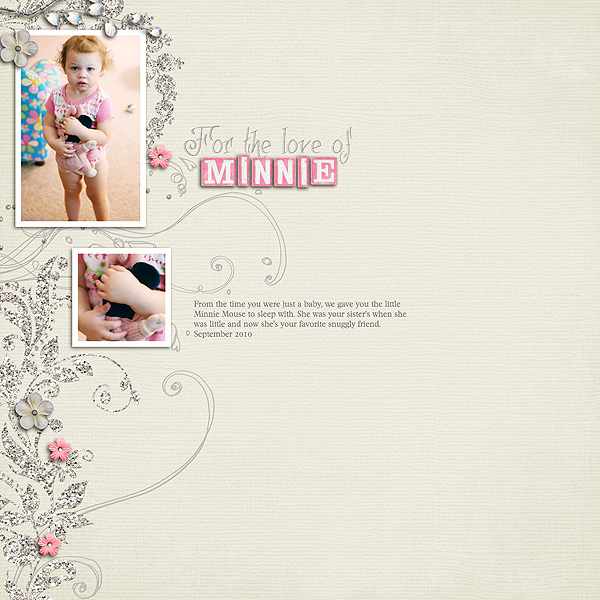 This one is one that I just adore. The photos, the memory, the cherished stuffed animal that my daughter treasures… To me it's more about those things than the actual design. I really tried to keep it simple to focus on the photos.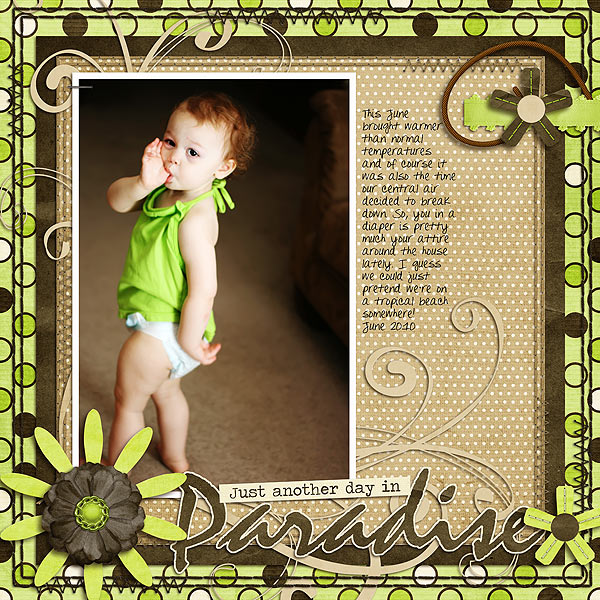 Libby's kit was just perfect for this photo of my daughter that I love.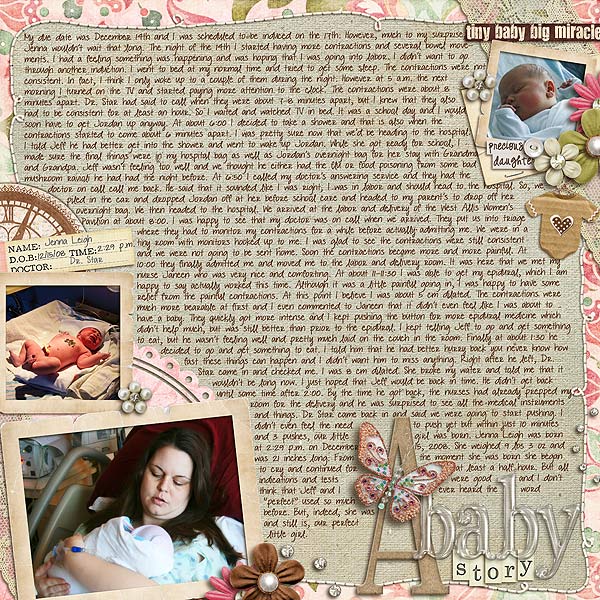 I was lucky enough to do this for the SSD magazine and quite honestly it will always be one of my very favorite layouts. Sharing something so personal, so cherished, like the birth story of my daughter is something that I really believe in. Scrapbooking is about capturing all those important and not so important moments in our lives. I know my girls will treasure their books one day. And looking back on this layout – I know that Jenna will love to read about the day she was born.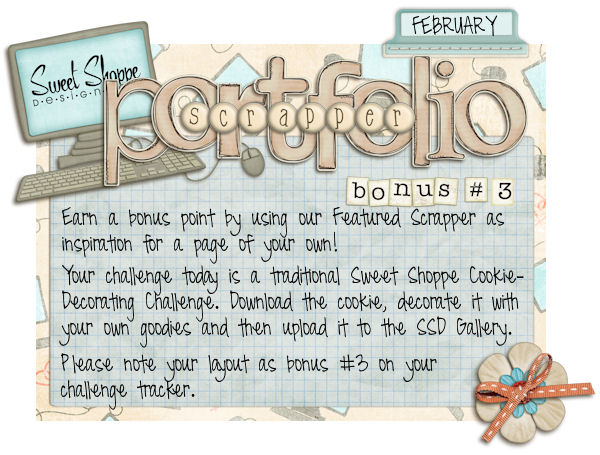 Featured Scrapper Challenge (Bonus #3) for your February 2011 Scrapper's Portfolio
Your challenge today is a traditional Sweet Shoppe Cookie-Decorating Challenge. Download the cookie, decorate it with your own goodies and then upload it to the SSD Gallery. (don't forget to edit your Portfolio with your layout)
**please note this challenge is worth 1 point and cannot be combined with other portfolio prompts except for NR bonus point for a total of 2 points.**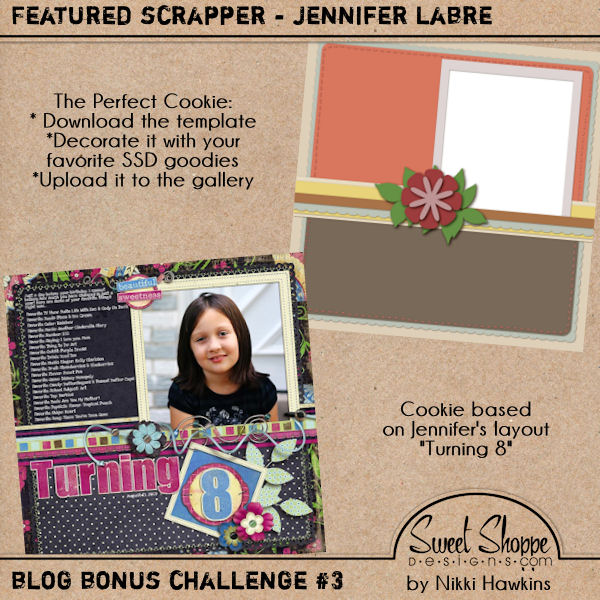 and some fabulous examples from our Sugar Babes:
by Sari: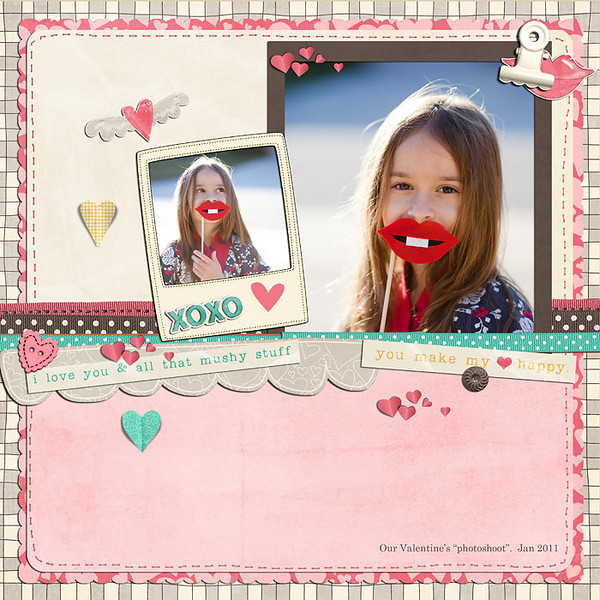 Credits: I Like Love You by Dani Mogstad
by Mary: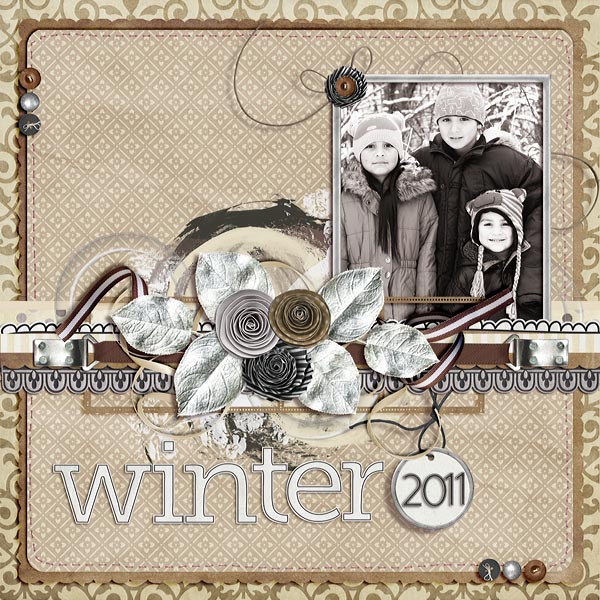 Credits: 12 Months: Mega Kit by Penny Springmann
by Shannon
Credits: I Like Love You by Dani Mogstad

Don't forget to edit your Portfolio with your page for this challenge!
NOTE: These Bonus Challenges are EXTRA on top of the Posted Portfolio Challenges.  They CANNOT be combined with any other challenge and stand alone (except New Release bonus pt).  Please feel free to PM me with any questions – nikkiARNGwife.  Thanks!