Posted by Robin Carlton •
Happy Friday everyone!! I am especially excited today because it's only 2 more days till Spring!! YAY!! I'm also excited for you to get to know our featured scrapper, Angie Miller aka nun69, a bit better!!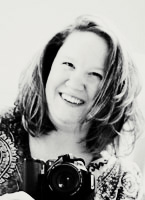 I am a 40 year old recently retired SAHM! I just retired after 20 years of Naval Service and am going back to school full time at the end of March to get my Photography Degree so I can eventually open my own photography business, which is my dream job!! I have been married to Scott since December 1992 and we have 4 crazy kids! Just check out my gallery or Facebook pictures for proof!! My oldest is graduating in June and I will have 1 starting Kindergarten in August!
I use Photoshop CS2 and have been digiscrapping since July 2006. I didn't become seriously probably until sometime in 2007 and I've been sucked in ever since!!
What are the steps you go about when creating a new layout? – I try to decide if I want to scrap with a kit and then find a picture or with a picture and then find a kit to match. Then I look for the kit to match the photo or photo to match the kit. I then decide if I want to use a template or not. That usually depends on my mojo or how many pictures I have. I usually let the kit build itself and last, I always try to add the story behind the photos.
How do you organize your scrap stash? – I have folders that are labeled by stores that I buy from (there are very few). Then under that store I have each designer that I use and all their kids are in there. In my SSD folder I have an 'Unused' folder and once I use something it gets moved over to that designer's folder. Then I have a CT folder that has each designer's kit within that folder that I CT for. I also have separate templates and alpha folders for the ones I use the most.
What's easier and why? Creating girl or boy pages? – I have to say it depends on the kit or the pictures I am scrapping. I seem to be able to do them equally, even though I scrap the girls more since they don't shy away from the camera.
What do you do when you're not scrapping? – Facebook, check my email constantly and hang out in a couple of digi forums. On Saturday nights I chat in the SSD forum waiting for the shoppe to go live with a few of my 'peeps' (Kat, Lex, Leu, Amanda, Tara, Joana and a few others that join us).
I've asked Angie to share three of her favorite layouts with us and a bit about why they're her favorites.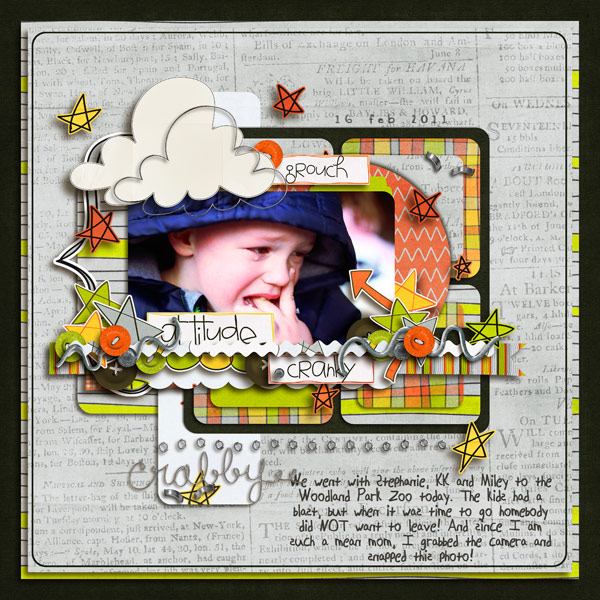 I love this layout because the photo is worth a thousand words and it is just so Peyton!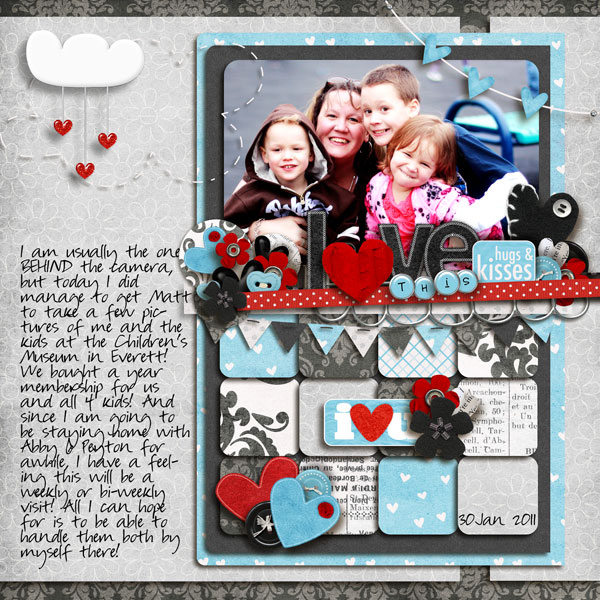 I love this one because I normally don't scrap myself and my husband took this picture of me and the kids. I couldn't wait to scrap it!!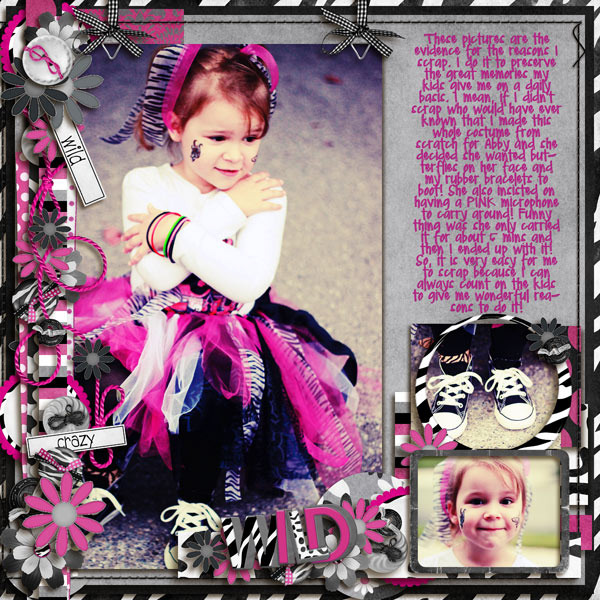 What can I say? It is sooo Abby and Meg's kit was just perfect for the pictures!!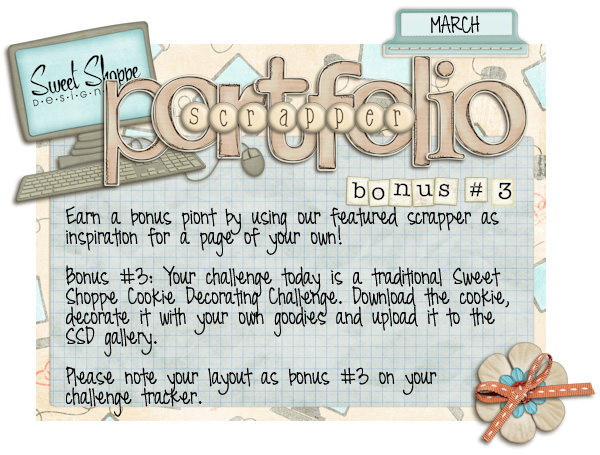 Featured Scrapper Challenge (Bonus #3) for your March Scrapper's Portfolio
Your challenge today is a traditional Sweet Shoppe Cookie Decorating Challenge. Download the cookie, decorate it with your own goodies and upload it to the SSD gallery. Don't forget to edit your portfolio with your layout!
**Please note this challenge is worth 1 point and cannot be combined with any other portfolio prompts except for NR bonus point for a total of 2 points.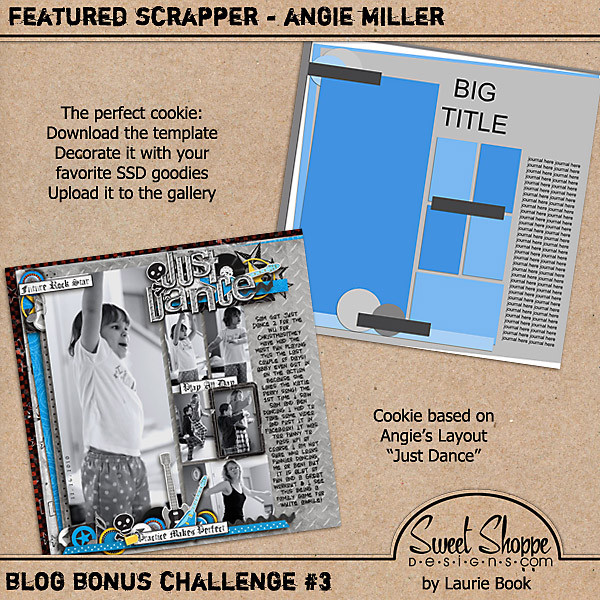 Here are a couple of fab layouts using this template!!
By Nikki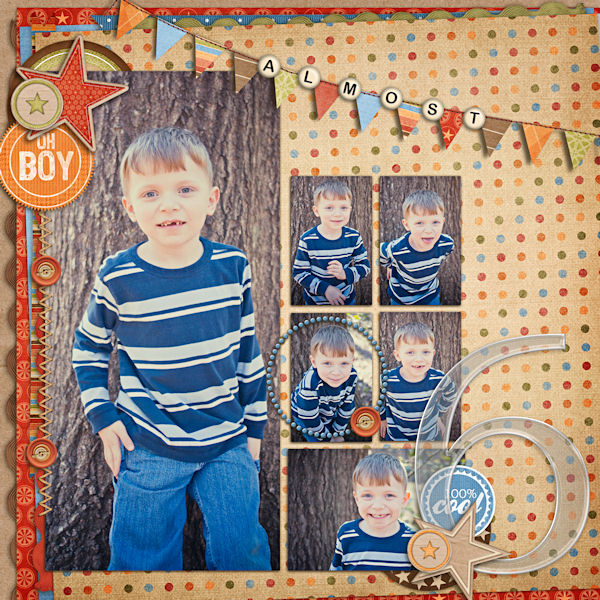 Credits: All-Star by Kristin Cronin-Barrow
By Erin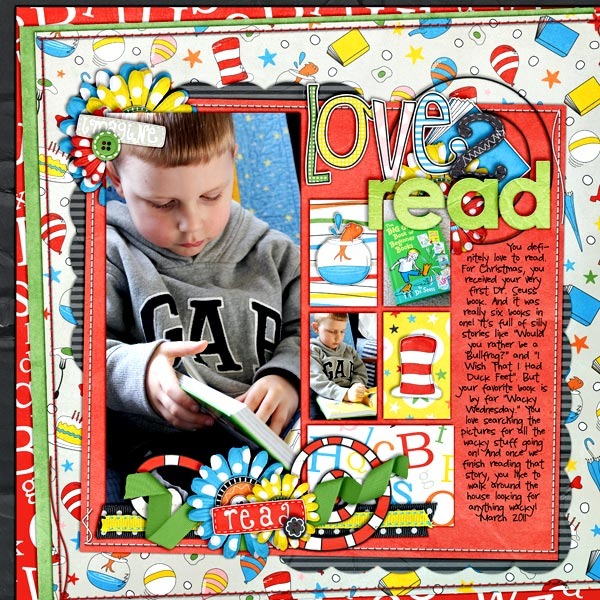 Credits: On the Loose by Dani Mogstad and Shawna Clingerman
By Me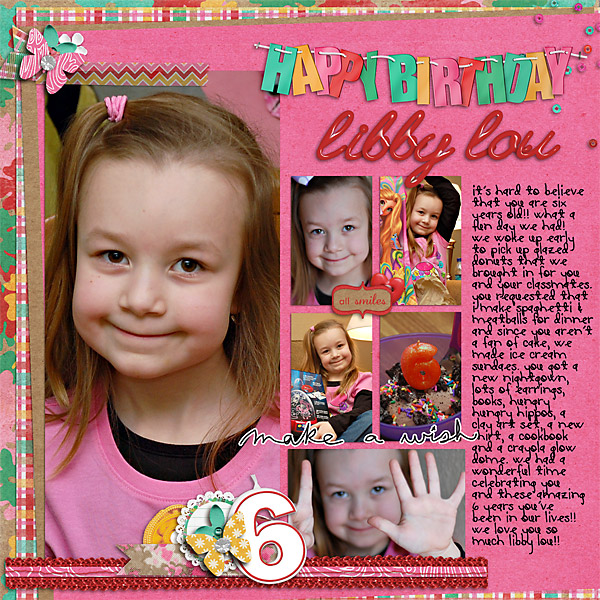 Credits: Best.Birthday.Ever by Jenn Barrette and DJB Lucy-Lu by Darcy Baldwin
Can't wait to see what you do with the cookie!! Have a fabulous weekend!!