Posted by Robin Carlton •
Happy Friday Sweeties!! So happy it's Friday here – looking forward to a wonderful weekend filled with lots of fun family time!! Today we're featuring one of my favorite scrappers – Lizzy Carroll. You probably know her better as Lizzy257. Her children are so adorable and I love all of the little details she includes on her pages!! Let's get to know a bit more about this lovely lil lady!!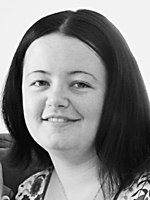 I'm a SAHM with two kids, aged 4 and 2.5. They keep me very busy, with rarely a moment to spare!! I've been married for 6 years and we live in the south east of Ireland. When I'm not scrapping, I love to read, or the kids and I bake together regularly.
I first looked at digi-scrapping back in Spring of 2008. I played around a little, but was heavily pregnant at the time, and once my son was born, it was another 6 months before I took up scrapping regularly. I started with Photoshop CS3 and just recently upgraded to CS5.
How often do you find time to scrap? – Not as often as I would like, lol!! I mostly scrap when the kids are in bed and the house is tidied after the day. I probably manage about an hour most days. My scrap time has been cut in half recently as my 2.5 year old decided to quit napping during the day (which was another hour of scrapping for me)!!
What is your favorite type of element to use? – I like everything, really. I think I can work with pretty much anything that's in a kit, although I find flowers and leaves/greenery easiest to use, I guess.
Are you a kit scrapper or a hodge podge scrapper? – Mostly a kit scrapper. For CT work I tend to stick to the kit only or if there's no alpha, for example, I'll use another alpha. If it's not a CT page, I still mostly use one kit, and then add a few finishing touches like stitches, a mix of alphas, etc.
What is one little known fact about you? – I am obsessed with scented candles. I have a stash of Yankee Candles in the house at all times and you'll always find one burning somewhere in my house!!
I've asked Lizzy to share 3 of her favorite layouts and a bit about why they're favorites.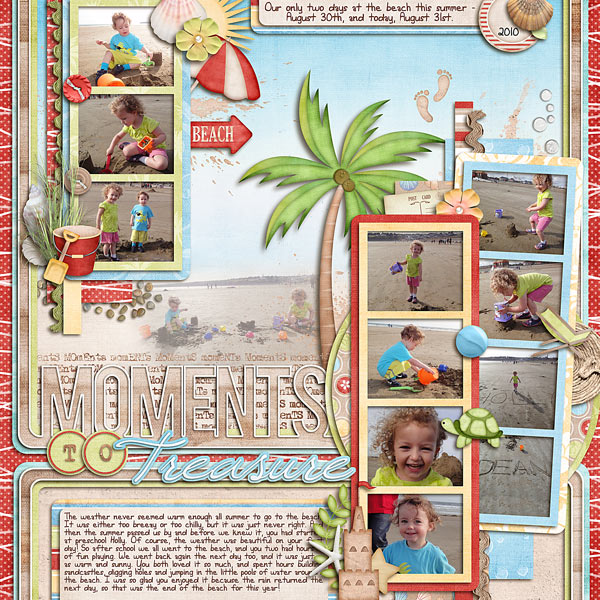 This is one of my very favourite pages. I love bright, sunny pages, and it's rare that we get beach weather, so I probably won't get to scrap another page like this!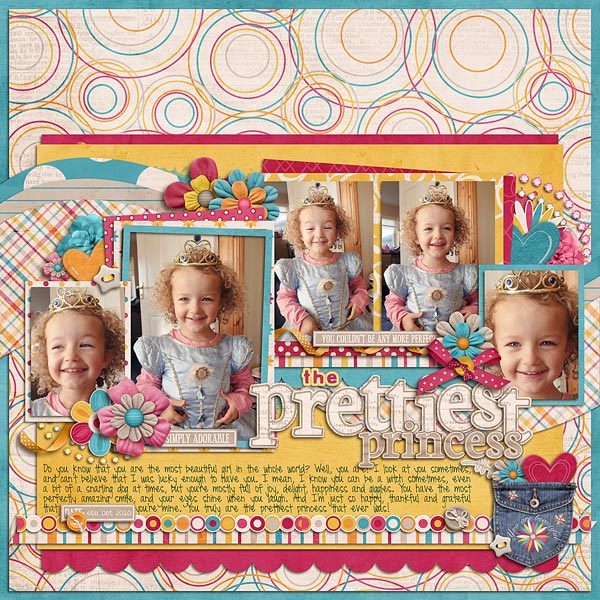 I loved the colours in this kit of Traci's and it was perfect for these photos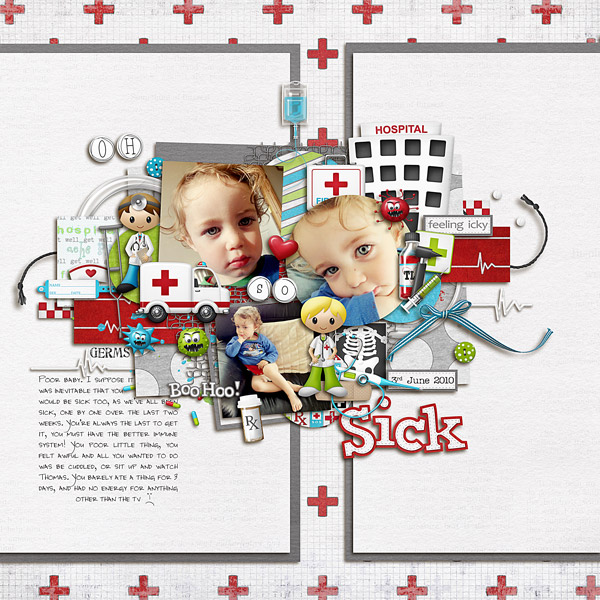 I loved these photos (even though my poor boy was sick!) and they were waiting a long time to be scrapped, so I was happy with how this one turned out.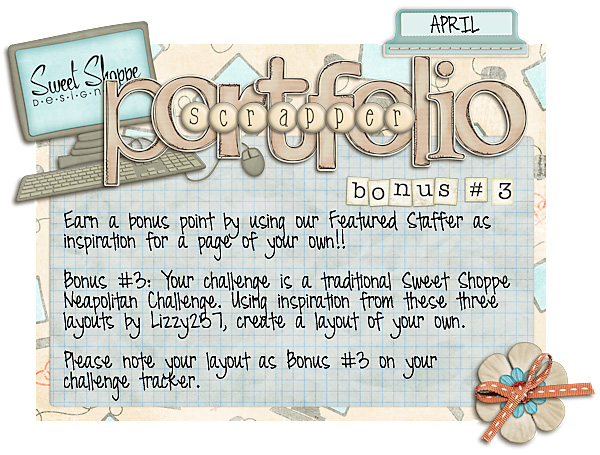 Featured Scrapper Challenge (Bonus #3) for your April 2011 Scrapper's Portfolio. Your challenge today is a traditional Sweet Shoppe Neapolitan Challenge. Using inspiration from each of these pages by Lizzy, create a layout of your own. There is no limit to what you can use from each layout, as long as you pull at least one thing from each layout.
First Christmas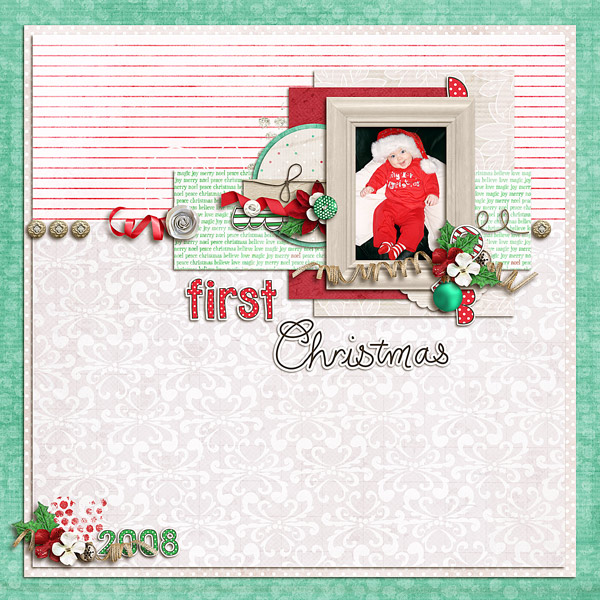 Friends Always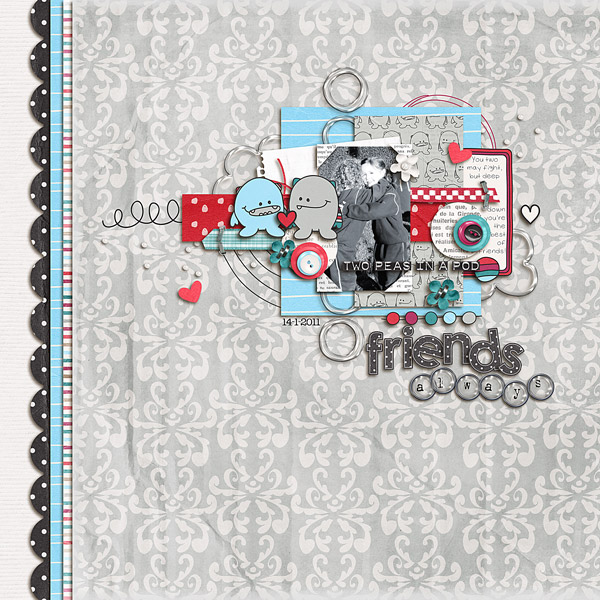 New Year, New Me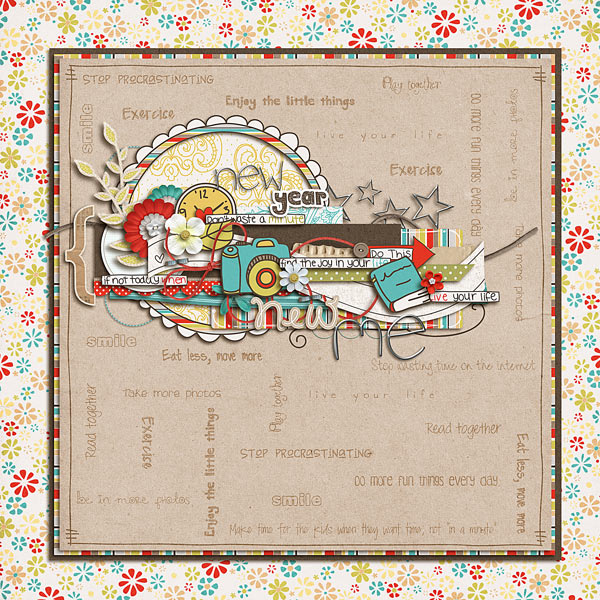 **Please note this challenge is worth 1 point and cannot be combined with any other portfolio prompts, except a new release bonus point for a total of 2 points.**
Here are a few examples from some of our SugarBabes

Shannon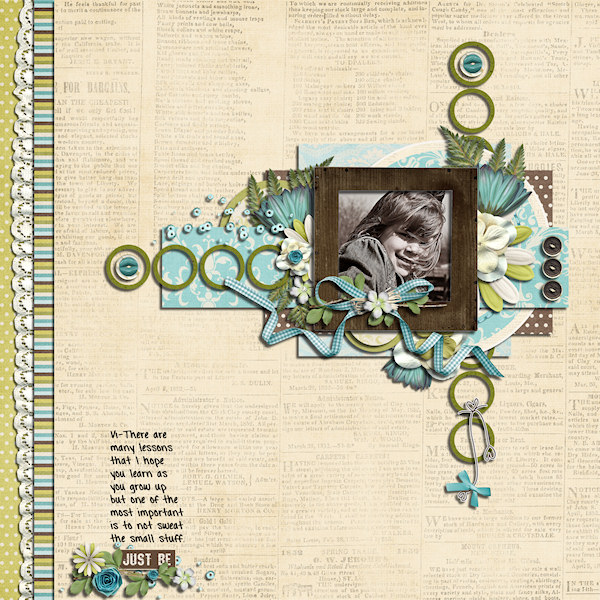 Using Sweet Escape by Kristin Cronin-Barrow
Inspired by: Layout 1 – Corner cluster, button line, layered circles. Layout 2 – Stacked edge, circle lines. Layout 3 – Lots of layering, rectangle striping, circle frame used as element.
Jenny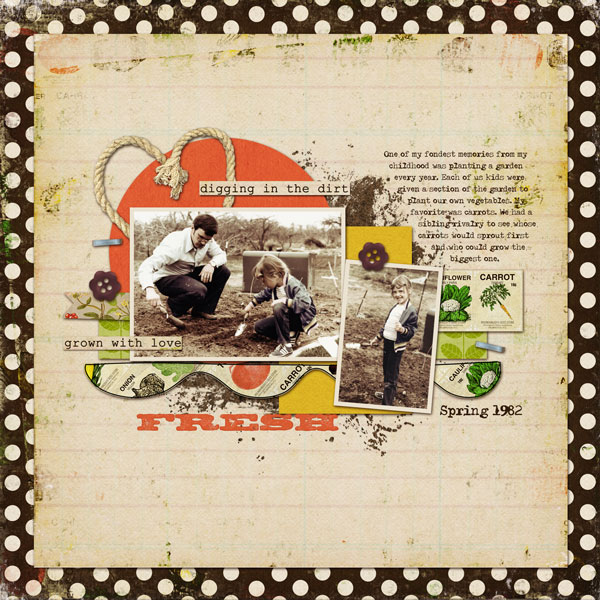 Using Growing Something Good by Jenn Barrette
Inspired by: Layout 1 – Large mat, buttons and title placement. Layout 2 – Ribbons, staples, paper strips and journaling placement. Layout 3 – Circle mat and word strips
me (Laurie)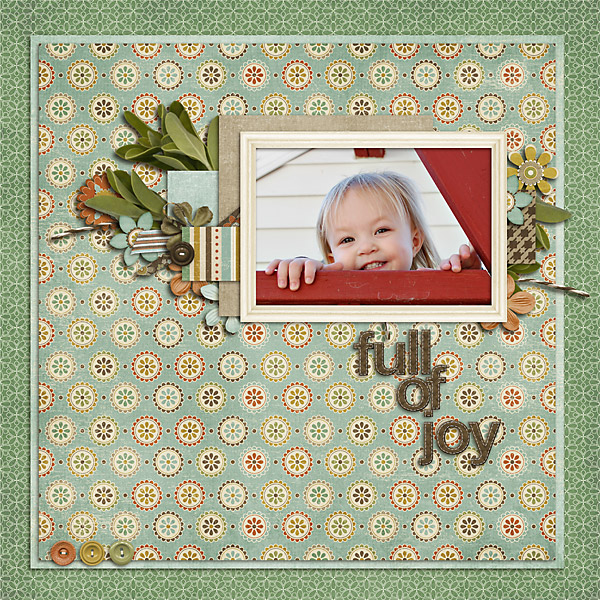 Using Bloomed by Susan Bartolini
Inspired by: Layout 1 – Single photo, button line, layered square paper mats. Layout 2 – Paper layering and ribbons. Layout 3 – Leaves, lots of flowers and string.
Darla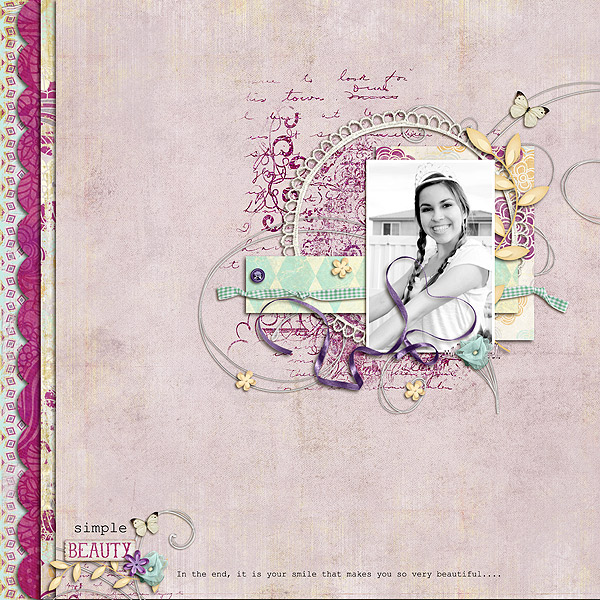 Using Misty Cato's Friendship in Bloom kit
Inspired by: Layout 1 – Buttons. corner edge decoration. Layout 2 – Side edging design, small flowers, one photo. Layout 3 – Circle mat and leaves.
Thanks for playing along – can't wait to see what you do!! Don't forget to update your portfolio with this challenge (bonus #3). Have a wonderful weekend!!