I should have known…when all is quiet with a four year old boy…mischief is being made.
So on this particular day…I was sitting with my two eldest children as they did their homework.    It was like a dream run, there were no complaints about the homework, the magpies were on our deck singing to us, the weather was beautiful, I had a nice cold iced coffee and then Mr 4 year old Daniel appeared from outside.
"Mummy' he said, "Come and see the play area…I's been working".
Now we were on a roll with the homework so I said, "Okay Dan, as soon as we have finished the homework"
That he didn't like.     He crossed his arms AND eyes, huffed and yelled at me.    "Come and look at the playground".     Not once but over and over…like he was stuck on repeat.     Eventually I thought…okay I'll go and have a look just to hush him so that we can get back to the homework, the magpies and the iced coffee.
Dan was sooooooo excited…he raced down the stairs to present his work…
as I looked down…I didn't know whether to be mad or crack up laughing…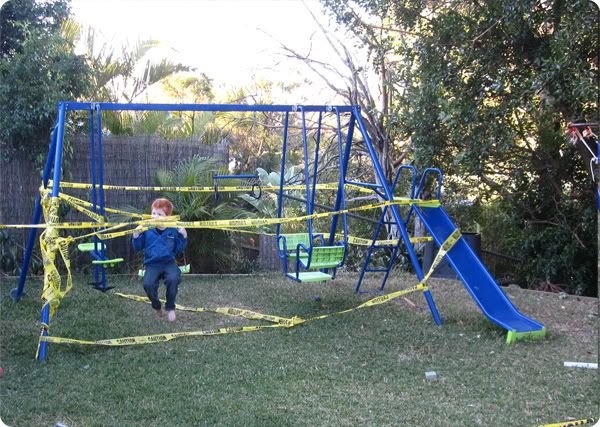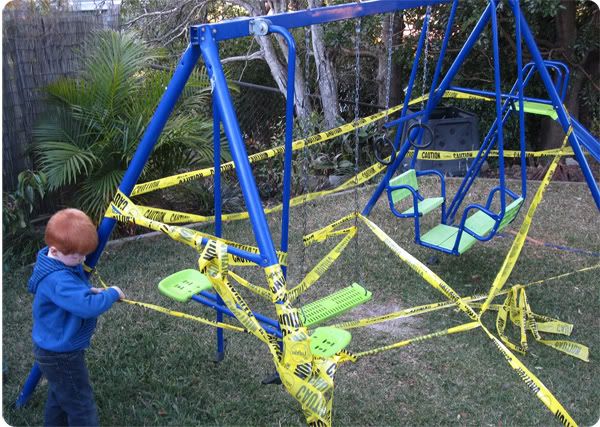 His working bee had consisted of wrapping our backyard in yellow caution tape.     And I mean wrap it around EVERYTHING.    The swingset, the deck poles, the wheel barrow, the bikes.     Here I was thinking that he was being so good and what perfect children I had when he was downstairs pranking our backyard.    I should have known!
Then son Cameron appeared.    He was the owner of the said yellow caution tape and absolutely devastated.     Sobbing devastated.     This was the  tape that he was "going to use when he built a river in our backyard and now he wouldn't be able to build the river because he had no tape to stop people falling into it."      Aaaaah…the tragedy.
And so the moral of the story…four year old boys and caution tape…not such a good mix

So share your stories…what antics have your youngins got up to?
Fee x
PS.    In the first photo…it looks like he has taped himself to the swingset…but no…he is just in amongst it all.    If he had have taped himself to the swing…that would be a video moment for funniest home videos