Posted by Heather Greenwood •
Heather here, wondering how you've been enjoying the DSD weekend… I must admit I was a little overwhelmed with all the amazing new goodies this week, I wanted to scrap with everything. The designers here seriously just blow me away every week and this week they exploded with awesomeness!!! If you haven't checked out the forum yet, there are some awesome challenges by the SugarBabes to help you earn some points toward your portfolio this month… there are 10 great challenges and I had a blast playing along with some of them. You can find them HERE.
Today I am celebrating my sweet little boy who entered my life 3 years ago. After 4 miscarriages, we did IVF in February of 2008 and then welcomed our sweet, super active Isaac, nicknamed "Bruiser", in November. Every day I'm so thankful for my sweet little miracle who constantly keeps me on my toes. He brings a smile to my face every day along with constant heart attacks LOL. I'm not sure how this boy is still alive sometimes. I love that he loves construction vehicles and trains and cars and handyman tools. He is definitely "all boy" and I've learned so much from being his mama.
So… I love gifts, it's my love language. I love receiving them and even more-so I love giving them. So, in celebration of DSD and Isaac's birthday I decided to give you all a cookie! It's based of this layout I created this week with La's Go Go Go.
So, how are we celebrating? Well, he really wants a hot dog for his birthday so we're taking to a place that has the best hot dogs. We're heading to Portillos and then I'm going to make him a "dirt cake" and put that in the back of his toy dump truck and will use pretzels for sticks instead of gummy worms… We've already given him his gift from us… We got him a balance bike and he LOVES it! We totally couldn't keep it a secret from him so he got it early LOL. He even sleeps with the little wrench that came in the box for putting it together! He is already becoming a pro at balancing and I'm thinking next year we'll have to actually get a bicycle… maybe even for Christmas LOL.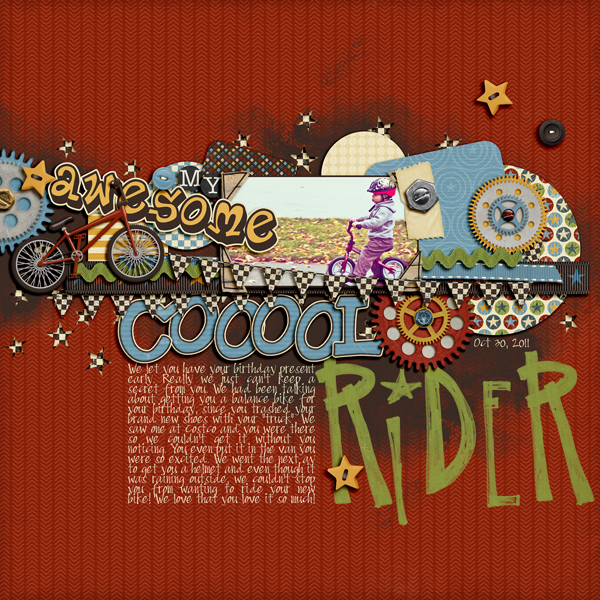 I hope you're having a wonderful DSD weekend… I can't wait to see all the lovely layouts you all create with all the yummy new goodies!!!