Posted by Keely Bostick •
It's me, Keely, bringing you the first Monday in December post. I thought I'd talk a little bit about gift wrapping. It seems to me that people love it and a lot of people hate it. I love it. I think a fun, pretty package makes even the smallest gifts more fun to open.  For along as I can remember it was my job to be "the wrapper". Even as a kid, my mom would pile up the gifts and have me go to it. There was even a "don't look" pile, so yeah, I even wrapped my own. (I still give her a hard time about it too)  Between the family wrapping, wrapping for charity and wrapping for retail jobs, I know I've got thousands of packages under my belt. You won't see any seams on my boxes!
So here are a few of my wrapping tips
*Quality paper makes a huge difference in the ease of wrapping, you get what you pay for. Buy after the season for bargain quality, heavy weight gift wrap. Large rolls of craft paper, brown and white, are a great deal and are classic, neutral and easy to personalize. Tissue paper is perfect for smaller packages.
*Use what's on hand. Scraps of gift wrap, ribbon, yarn, fabric, stamps, cupcake liners and scrapbook paper all make great additions to packages. Use your paper shredder for filler. Whole punched paper on double sided tape makes great confetti accent on tags or packages. All those old shaped scrapping scissors….use theme to edge paper for paper ribbon accents.
*Wrap in sessions. Don't get overwhelmed by the task and mess of  having to wrap everything at once or a gift at a time. Pick a couple of sessions, gather your supplies and watch a movie or listen to some holiday music to make it festive.
*Make your tags ahead of time. I usually digi-scrap a batch for all the people we give to most, they're  pre-printed with the to/from info. and just need to be added to the packages.
*Old fashioned lunch bags and large envelopes are great for decorating and gift giving. Toilet paper and paper towel rolls too, roll them up in paper wider than the roll and twist and tie up the ends.
*If you have kids, they can get in on the action by decorating paper, bags and tags too.
*Give your gift in something reusable, a nice reusable shopping bag is a gift in an of itself. Bandanas too.  My DH is notorious for giving gifts in pillow cases. We bough a case at Sam's one year for about $12, and had a gifts within a gift. They were a big hit.
*Curly ribbon always looks nice and you can get huge rolls at Hobby Lobby for just a few dollars. Paper can be curled too.
*Keep it simple. A package doesn't have to be elaborate to look nice, in fact some of the simplest wraps are the most pleasing.
Hit Pinterest for some wrapping  inspiration.
And last but not least…here's our Layout Of The Week by Seatrout
I chose this because it's so fun, great for a Monday smile. I really like her title work, silly photo, and use of color.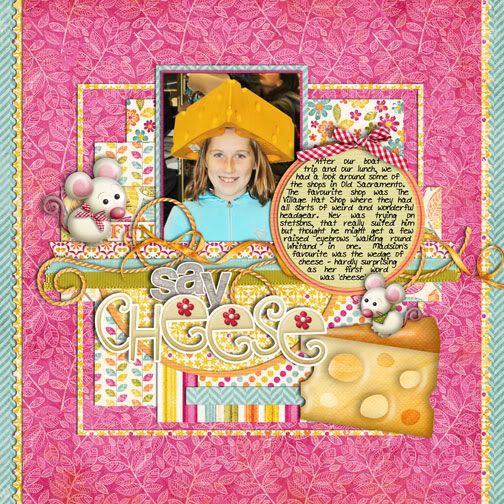 Until next time, Happy Scrapping!