Posted by Heather Greenwood •
Can you believe it? I can't!!! It seems like yesterday I announced on Twitter that I was pregnant and it was a surprise and I was asking for prayers because I didn't want to miscarry like I had so many times before. I remember getting a message from Traci Reed saying that she was pregnant too and it was so fun having that little secret and encouraging each other along hoping and praying that in 9 months we would get to hold our little ones. The community here at Sweet Shoppe was so fun, checking up on me and then waiting to meet Asher for the first time. I remember the morning we went to the hospital it started to snow, and it was literally storming outside by the time we got to our room and stormed all day. I was thankful we had to be there before the storm had started and that my parents were already in town from Michigan to watch Moriah and Isaac. I remember Mark texting Laura the news so that she could let you all know the news on the Sweet Shoppe forums, and then I remember having to text her again, asking for prayers since he had fluid in his lungs and he was with the NICU doctors and we didn't get to be with him for several hours. I remember posting pictures and I had even pre-made a layout so that all I needed to do was add a couple pictures and the stats to it and shared it with you guys as soon as we got home.
Do you remember this layout?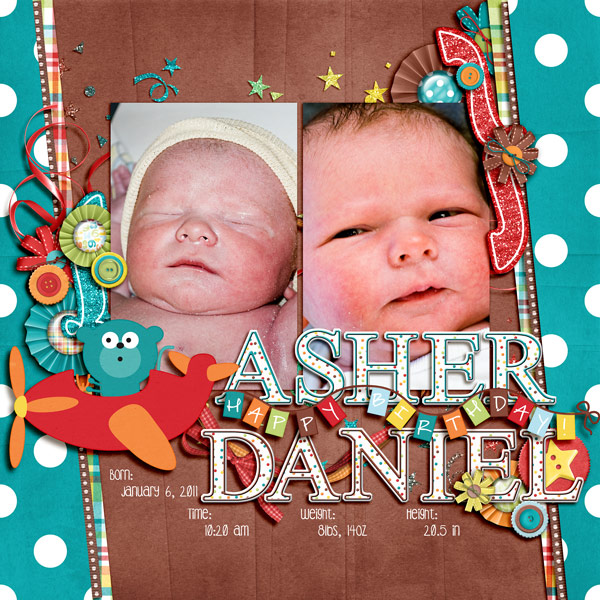 This past year has gone by so fast… on one hand it feels like he's been a part of our family forever, but on the other hand, it seems like he was just born yesterday. For many years, I wanted three kids and I had given up on the thought that that would happen because of our infertility and chronic miscarriages… but here I hold my sweet boy who is my third child and such a miracle!!! I'm so incredibly blessed to have him in my life.
So, here's a little pictorial walk through of him growing up this past year…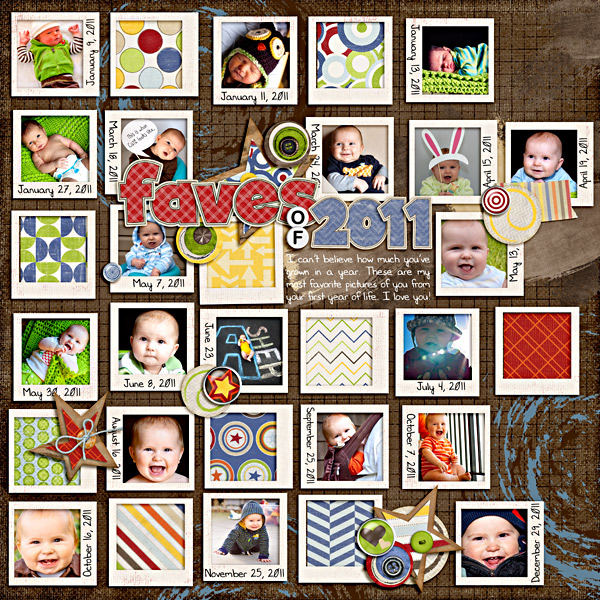 We had a birthday planned for him this past weekend with just family, but with a crazy series of events and both of the boys being sick we ended up canceling his party. My parents still come from Michigan even though the snow storm was supposed to be bad around the lake, but they made it and only stayed for a couple hours before heading back home. We ended up just getting some takeout and will postpone his party for the spring. Surprisingly, this is the only party we've had to cancel considering we have two winter babies.
I've been joining in on the Project Life bandwagon… it's kind of my replacement for P365 and P52. I really like not having the pressure of taking pictures every day or picking one picture for the week and scrapping them. I'm really liking the simplicity of Project Life and still making it my own. I didn't buy the actual Project Life kit, but am using Traci's Document Life Sampler freebie from the shoppe and enjoying using a different kit for each 2 page spread. It's still cohesive using the same template but still has a ton of my personality using different kits. I've also been really inspired going through the thread in the forum of everyones' layouts. You guys are totally rocking these projects!!! I can't wait to see as we have more weeks under our belt how they're looking!!! That being said, I did one side of my 2 page spread with Asher's birthday celebration or lack thereof LOL. It has a little sneak peek of something coming from Jenn this weekend… which was so fun to play with!!!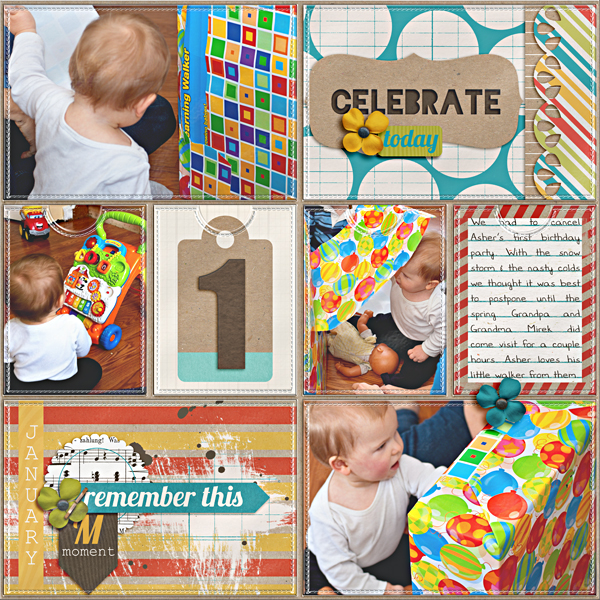 Sooooo…. I wanna thank you all for letting me share my sweet little miracle boy with you all. It means so much to be able to call you all friends and to share this amazing journey of life with you all!!!