A Little Leprechaun Mischief for St. Patrick's Day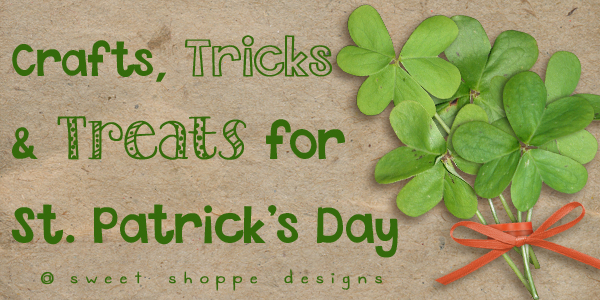 Happy almost St. Patrick's Day (or as it's known in our house right now – Sneaky Leprechaun Day)! We have so much fun with how sneaky our family Leprechaun, Seamus, is. It all started quite a few years ago when little Connor stile Seamus' sparkly leprechaun hat. It keeps ramping up every year. Last year, there were even explosions involved!

Here's a layout that shows all the leprechaun tricks from last year's St. Patty's day. The leprechaun likes to move around furniture and possessions, change out light fixtures to green bulbs, and this year, though the boys thought they had the absolutely escape-proof leprechaun trap, he blew it open and got away!!! (yes, Daddy had a firecracker in the box rigged, and the boys were out of the room when it went off, but were COMPLETELY fooled (even the 11 yo who thought he knew all the secrets by now)).
Whether your family enjoys Celtic music (the band is Solas, one of my favorites!), Irish food (we love it, too! This is for an easy Irish Soda Bread) or just wants to be a little silly this year, I'm sharing some ideas I found on Pinterest to make your St. Patrick's Day even better!
Crafts:
Tricks:
Of course, there are loads of ideas in tricking your little leprechauns…
Going Green – not in the environmental sense, but get out that green food coloring. Color your toilet tank water (so they're shocked after the flush – or just in the bowl for them to see when they wake up), color your milk, your eggs, your pancake batter, and anything else you can think of. It's good if you do it a couple of times through the day to make it last longer!
Leprechaun footprints – this one takes faith, Moms. Use some green tempura paint and paint little leprechaun footprints on things like your dishwasher, toilet, mirrors, and any surface that is smooth – the paint washes right off, even after a week. Don't use it on fabrics, though! It'll shock your wee guys to see all the places your leprechaun has been!
Glitter/skittles/candy – One year our Leprechaun led the boys on a little chase around the house, and when they 'found' him, before he got away again, he left a rainbow of Skittles candy and confetti all over their beds. Yes, it took a little while to clean it up, but it made them SO happy!
Treats:
Here is a traditional Irish Blessing for you all.
May the road rise up to meet you.
May the wind be always at your back.
May the sun shine warm upon your face;
The rains fall soft upon your fields
And until we meet again,
May God hold you
In the hollow of his hand.