Posted by Rebecca Kuchenbecker •
Rebecca here today after a whirlwind of a week and weekend… this last week, my baby boy turned 5 years old!! *sob* How can that be? It seems like we were just bringing him home from the hospital yesterday!  What is a party without some hybrid goodness?  When it comes to my only child's birthday… I pull out all the stops…
It was a bit of a rush this year… I usually start planning J's birthday theme in January. However this year, my dad got sick and was staying with us for a few weeks… and then it seems that our house was hit with a lot of colds – including my computer

– and before I knew it February was coming to a closed and we still didn't have a theme selected! YIKES!! J is obsessed with anything with wheels… so we started out with the theme of "Plains, Trains, and Automobiles"… but I had some super fun ideas that popped in my head for the plains part… so we dropped the other wheels and just with airplanes. J will have his first plane ride in June when we go to Orlando for the first time.

Invites
I didn't think I would be able to top last year's shirt and tie invite as my favorite… but I think these are my new favorite… I designed custom airline tickets and had them departing from gate 5… and the flight number was 1130 (the time J was born… no one but my mom and hubby caught that… haha)… and everyone was assigned a different seat. There was a ticket for each person coming and were put into a ticket folder.  J's Godfather was a bit concerned about how they were going to get home, since it was only a one way ticket… crazy family!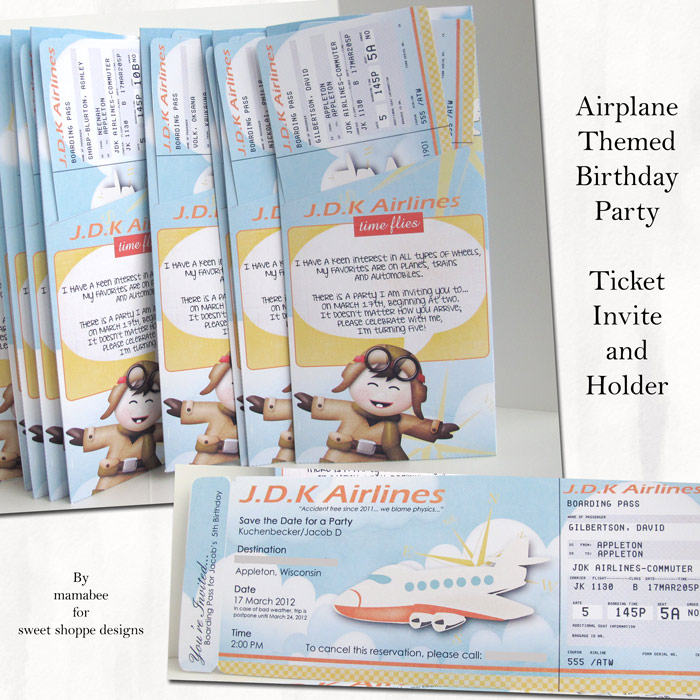 Banner
I like to have a fun banner for the living room… and I printed out two airplanes, mirror image… and then put the "Happy Birthday" in the clouds… then used a grouping of suitcases in the middle as a space… the photos are linked with credits.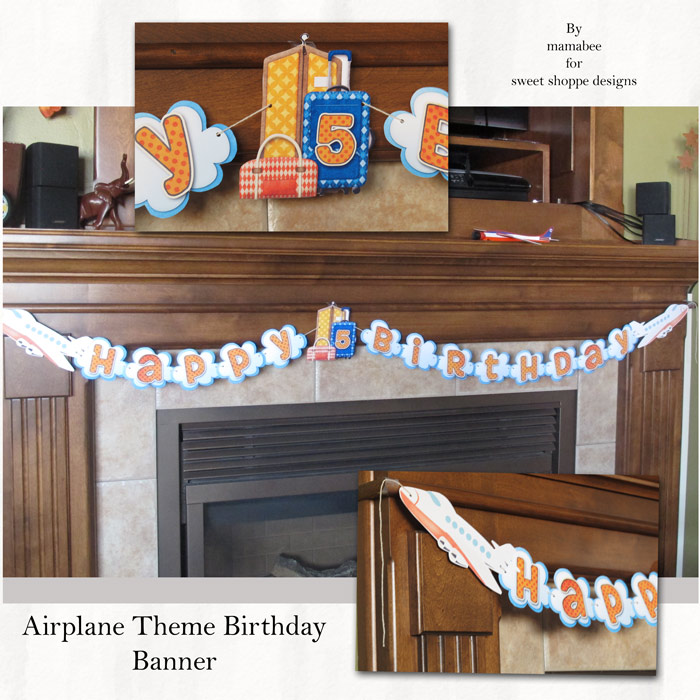 Favors
I had favors for Jake's Spanish class that was on the same day as his birthday and also for Sunday School… so I used the same topper for both… this is the one for Sunday School… I also created little circle toppers for the bubbles and cut out wings to put on the flying disk – I thought they looked a bit boring… haha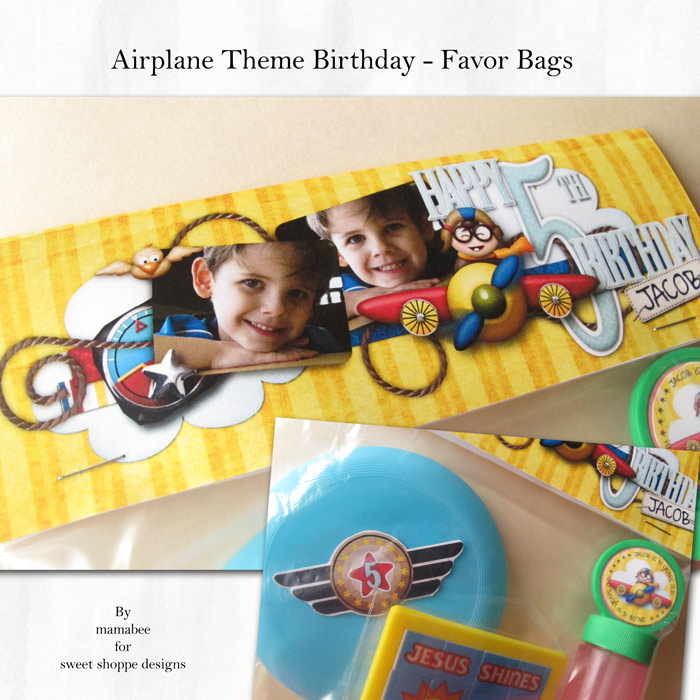 For the party… I wanted to do something with a suitcase that people would pick up at "Baggage Claim" at the end of the party… after going through a number of prototypes… I finally settled on modifying  Heather's French Fry Box and then cut out a large suitcase to tape on front. Then inside, they got a small bag of pretzels, a bag of peanuts, and those graham cracker cookies you get on Delta Flights… oh my gosh, can you tell how much fun I had planning this party???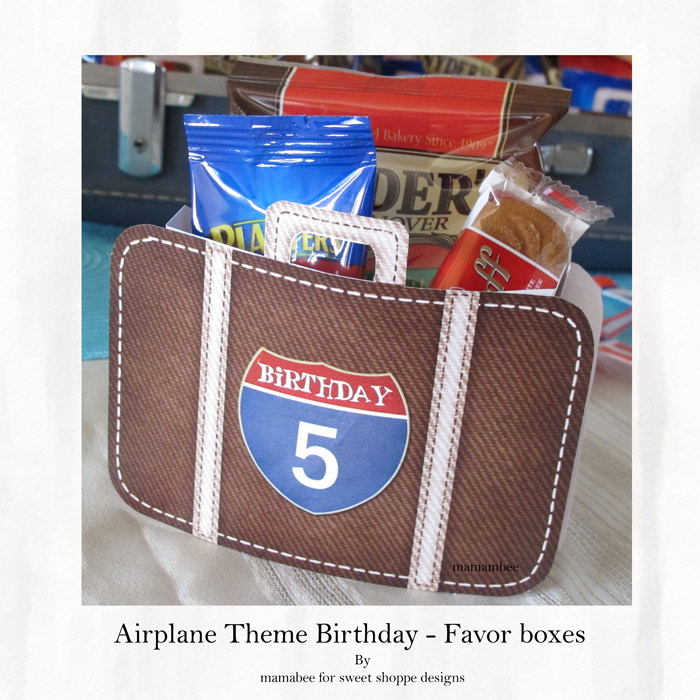 Results
I had so much fun planning this party… and I think kiddo enjoyed it, too. My mom found a kid's pilot hat and wings on eBay and J was dressed up as a little pilot. For lunch, we made an "airline meal" style meal. We had ham and turkey sandwiches, potato salad, and fruit and packaged it in those clean plastic deli containers which we got from our local grocery store's deli. I made a label for them to show which sandwich was in them. The cake was made by my mom and I did the fondant along the side. We found the airplane at Hobby Lobby and it was so heavy, that it fell off the cake. haha… so it's was propped up with cake spikes that my mom had. Jake wanted to make cupcakes… we so made Cookie Monster cupcakes – found on Pinterest.
On the wall I took some of the 8×8 layouts that are of J through the last year and "wrote" out five on the wall…
Phew… I'm exhausted… I joke that it's a good thing we only have one child… I'm creatively drained for birthday stuff, now! And a HUGE shout out to my Mom for her help… I didn't even show you the Spanish Color Bugs we made for the Spanish favors that she helped to cut out, too!!
I hope you enjoyed today's post and that you got some ideas for your next birthday party… I know I go a bit nuts…

But I LOVE BIRTHDAYS – just not mine. hahaha
{{hugs}}
Rebecca aka mamabee