Hi everyone. This is Jacq here posting for today's blog entry. My youngest daughter turned one today and we had a Sweet Shoppe themed party to celebrate her special day. I got to work and searched online for ideas and inspiration and created a lot of the party details myself using goodies from Sweet Shoppe Designs (of course!).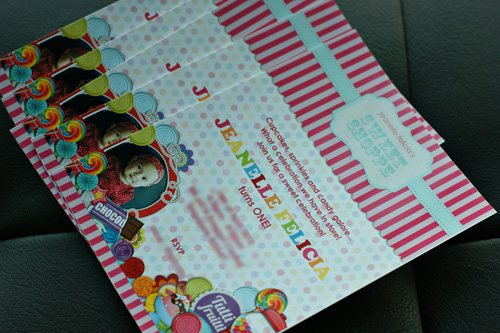 I designed her invitation and printed them in 4×6 glossy paper, bought envelopes from the book store and sent them to friends (although a lot we invited thru email and fb event, the digital version were sent to them).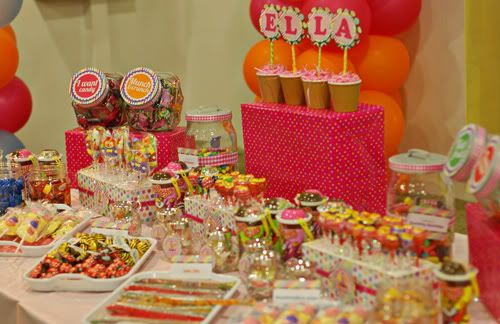 We set up a little candy table for the kids at the party (always a big hit even with grown ups). I created the labels and then just printed them in matte photo paper. Lots of ribbons were used here as well. Weeks before the party I started hoarding on sweets. A friend of mine did all the balloon decoration, I have no talent whatsoever in this department.

I ordered the cake from our neighborhood bakery. I just gave them the design I found online and asked if they could make them for me, it turned our really nice and I was very pleased. It was yummy too and very affordable. The cupcakes were made by a friend of mine.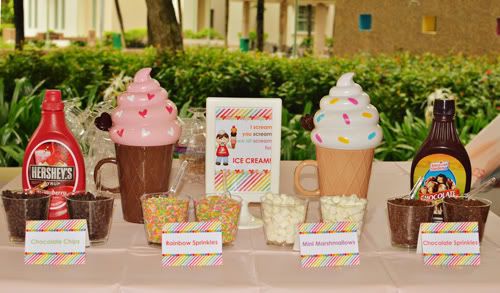 We also set up a small ice cream corner for the kids. Again I just created the labels and printed them at home.

To keep the kids occupied we had a craft table with lots of fun activities for them to do. We had bead sets for bracelet making, coloring sheets with crayons and colored pencils, craft blow pens, glitter glue, puzzles and playdoh. It was a big hit as it kept the kids who came early happy while we waited for other guests to arrive.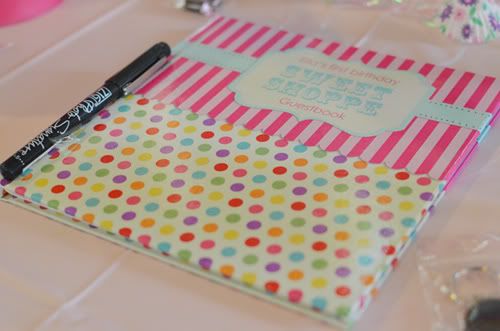 I always make a guestbook for our friends to sign but this time I opted to have it printed at Artscow.com rather than me printing and assembling an album myself. I just had to buy a Zig pen to make sure the ink won't bleed as the pages were glossy and not matte.

The kids played several games at the party but this one was a big hit. The kids teamed up in groups of three and were assigned their own apron color for their team. They were then given a round cake with all the supplies they needed to decorate, they worked hard on making their masterpiece. Amazing how quiet the room got when they started to decorate their cakes, all the grown ups weren't allowed to help so these were all done by the kids.
I had so much fun planning this party for the past couple of months. I'm so happy on how it turned out. I'm so grateful for our friends who helped made this special day a fun and memorable one for our family.