Posted by Nikki Hawkins •
Hey Sweet Shoppers! Nikki here today with y'all. Right now my husband and I are trying to plan a trip to Disney World for when he gets home from deployment. It's not easy to do when we only have a few minutes a day at the most to talk so I'm handling as much as I can on my end of things. But all this thinking of Disney World and how special I want it to be for my kids, has me reminiscing about family vacations as a kid. Well I should say family VACATION, because sadly we just didn't take many more than that when I was growing up. With four kids on 2 teacher salaries, big trips just weren't in my parents' budget which I totally understand. But one year – the very summer I turned 10 years old in fact, my parents loaded me and my 2 little sisters (my baby brother wasn't born yet) into our brand new 1983 station wagon, to visit their college friends and their 3 girls in Auburn, AL.  AND THEN, as if that trip wasn't exciting enough… we drove to Atlanta to Six Flags Over Georgia! You want to talk about some very excited little girls and I of course was convinced it was all specially planned just for my birthday. Although now I think it was all just a happy coincidence.
I have such vivid memories of that trip. I was the oldest of all 6 girls ranging in age from 10 (me) to 2 (my youngest sister). It was so much fun…especially since we'd never been to anything so big and amazing in our little eyes before. My mom took a lot of photos that day…way more than usual back then when film was saved for special occasions like birthdays and Christmas.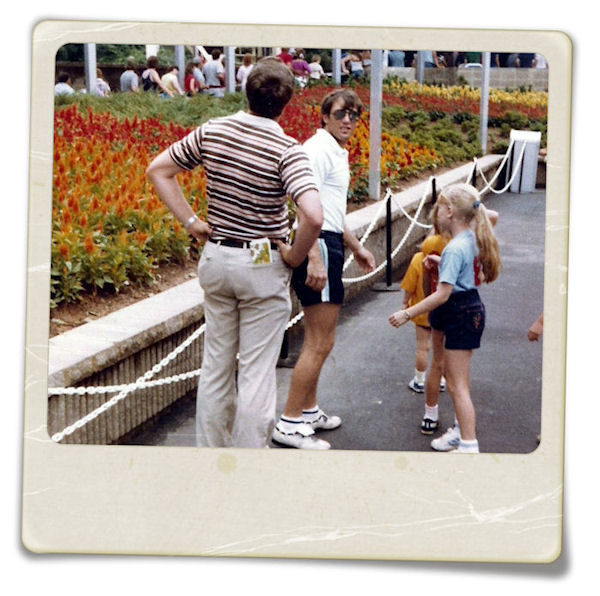 I think this was right after we entered the park. That's me with the long blonde ponytail and my Daddy in the striped shirt. I can't look at this photo without the theme of Three's Company running through my head. And I'm pretty sure my Daddy's friend David has on golf shoes…not sure what that was about.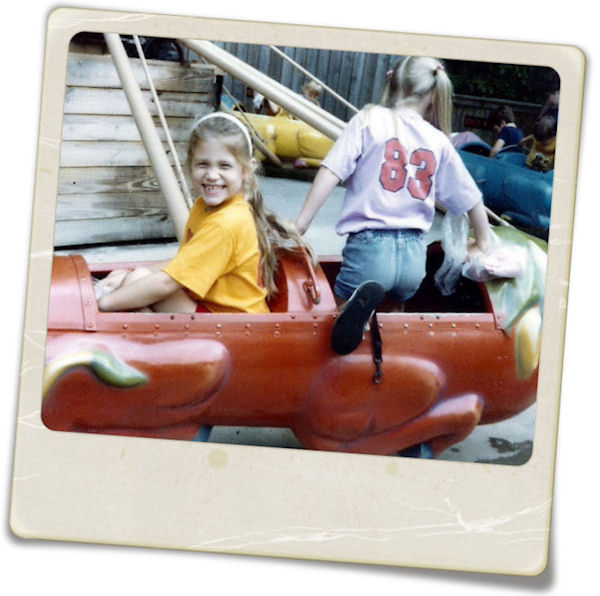 This is my younger sister Lisa. Whenever I think of Lisa as a kid this is what I picture..hair messy and falling out of her ponytail, but always smiling. She's still always smiling today.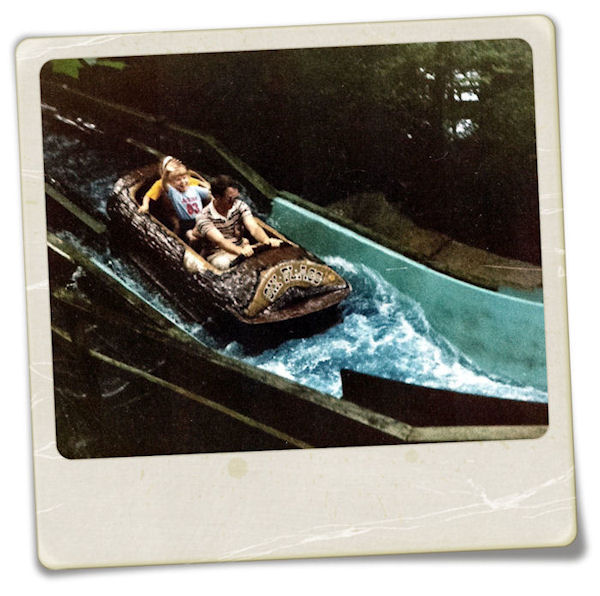 I think we rode this log ride about 20 times. I remember it being my favorite for some reason. Can you tell I was having fun? I don't think Lisa was though. I'm pretty sure that's a death grip she has on the sides of that log.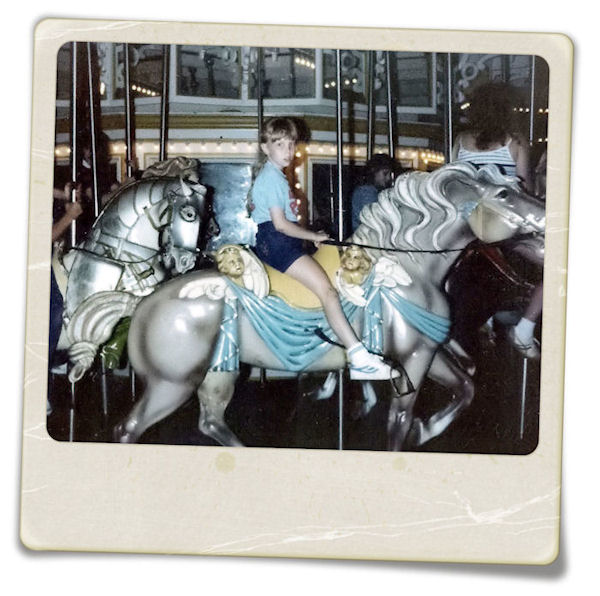 The only bad part of the day and I remember it so well. I had never been on a carousel before and somehow I ended up on one of the horses that didn't go up and down. Believe me for a 10 year old that was a huge disappointment.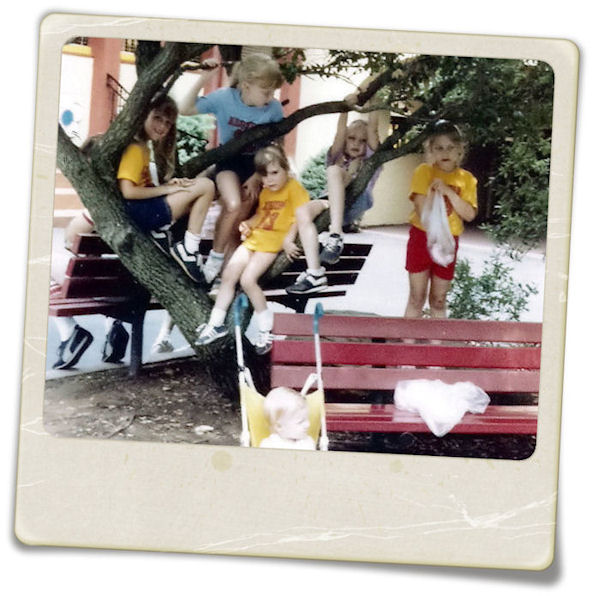 And here we all are at the end of our day. We all had on Auburn t-shirts. Six girls. Now whenever we remember this trip I applaud my parents for being so brave as to take six girls on such an excursion. But I'm so glad they did because it will always be a wonderful childhood memory for me. We never did take another big trip like that again, but for me one was enough.
About a year ago I scrapped these photo using Amuse Me 2 Scoops by Heather and Libby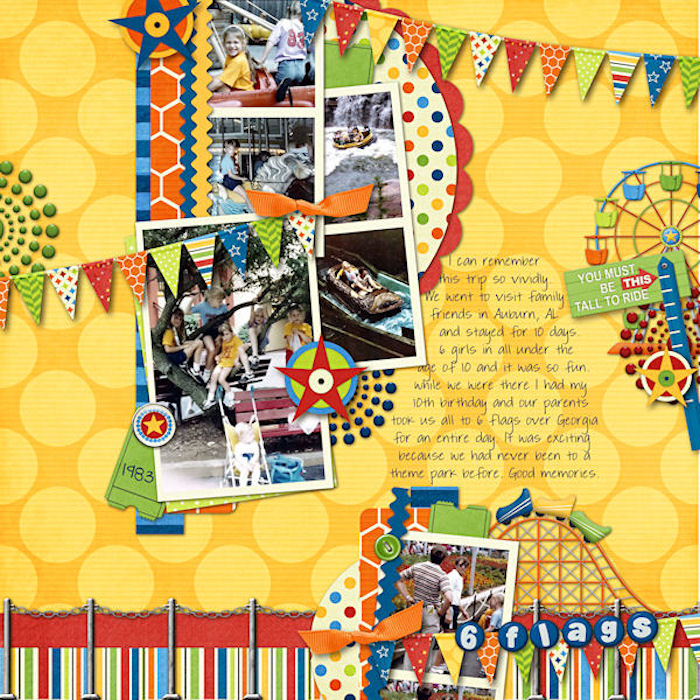 So my goal in planning this Disney World trip for our family is for it to be just as memorable as that trip to Six Flags when I was 10 years old. We may not take a big vacation every year but when we do I want it to count.
(frame used is by Julie Billingsley)