Posted by Robin Carlton •
Hey Hey Sweet Shoppers! Have you recovered from the insanity that was last weekend's 3-day New Designer Debut? We certainly hope so because your favorite day of the week is here, and our Designers and Babes are keeping the sweetness coming with gobs of absolutely scrumptious new goodies for you this week…

My goodness there is a lot of stuff up there for you to take in, and I am lovin' all of it! New kits, new scoops, a perfect pair or two, yummy fonts and templates, element packs, and MORE – we have a little bit of everything going on this weekend. I love it! And speaking of sweet stuff, don't forget that there are just a couple of days left to grab Melissa's amazing featured designer kit, Carolina Chic – it's FREE with your $10 purchase, so don't miss it!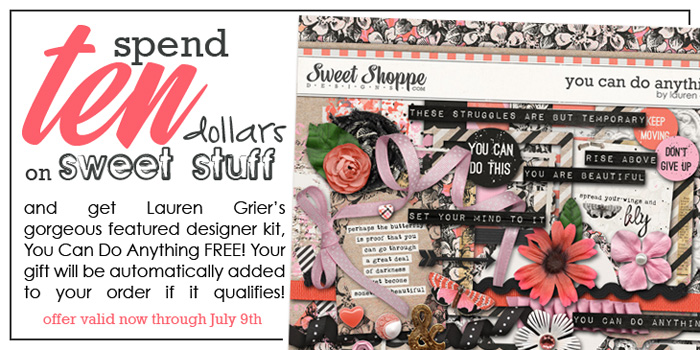 As usual, we'll be putting another of our talented designers in the spotlight on the 16th, and after seeing the sneak peek of it behind the scenes this week, I can't wait for you guys to see her kit! Be sure to check the blog on Monday to find out who it is, learn more about her and get the details on her awesome FWP!
On that note, I'm keeping it short and sweet this week because you heard more than enough of me last weekend! I'll be here in your inbox next weekend with lots more sweet stuff. Until then, keep making memories and scrap MORE!