Posted by Robin Carlton •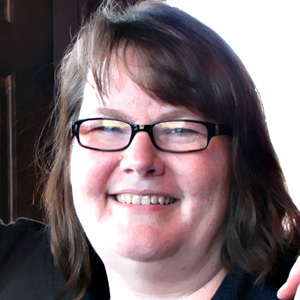 Hey Hey Sweet Shoppers! A new month is upon us and it TOTALLY snuck up on me! I don't know what I was doing yesterday, but I was NOT thinking today was the first! Nevertheless, I am here to put another of our amazing designers into the spotlight as our Featured Designer for the first half of May. All of you know Darcy Baldwin as our resident fontographer, but beyond that she's also our go-to Facebook chickie, super on top of what's going on out there in the digital world, and she makes some amazing templates too. You'll receive her amazing collection of templates & special edition font, I <3 My Creative Team FREE with your $10 purchase in the shoppe now through May 15th. I don't know what we would do without Darcy on our team as she just adds a little extra something special to the vibe around here. I know you're going to love getting to know more about her, so let's get right to it!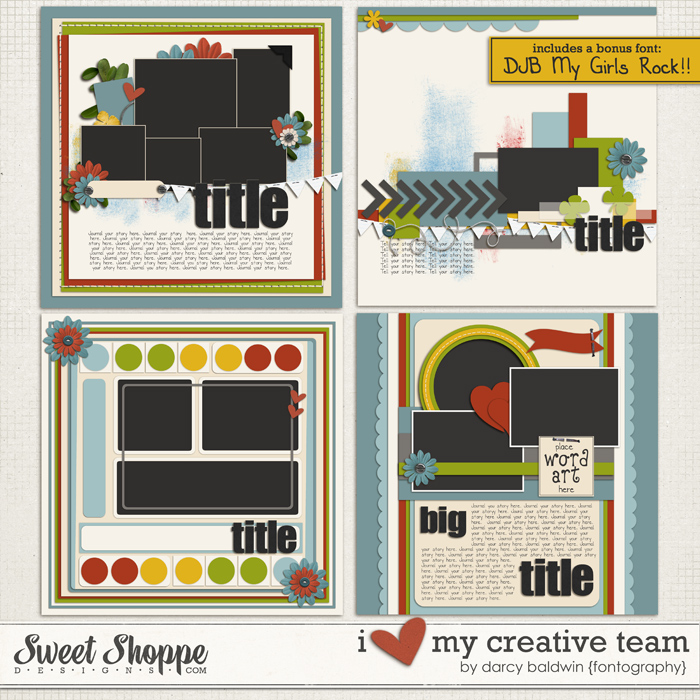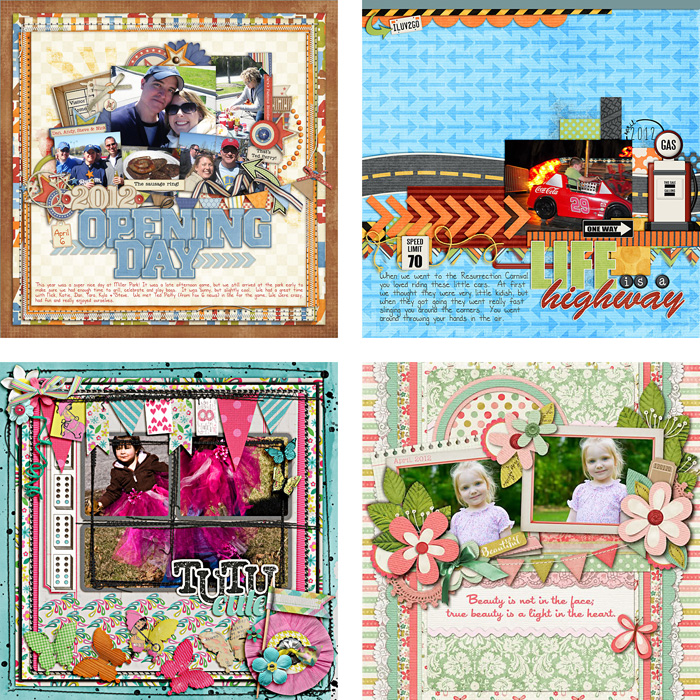 Just The Basics
Do you have a nickname?
Toot. Not for the obvious reasons, but because I can tend to have a bit of an 'attitude' sometimes that my husband finds endearing.
Do you wear glasses or contacts?
Sadly, the middle-age thing caught up, and I now wear glasses (bifocals even) full time now.
Who's your favorite author?
CS Lewis  - author of Chronicles of Narnia and Mere Christianity – an author who has taken my from my childhood to my adult faith – not many have that great of a span of work!
If you had $100 to spend online today, what would you buy?
Some sleep – surely, someone, somewhere has it available? Doesn't Amazon? They sell everything else!
Have you ever met a celebrity?
Alton Brown – 3 times. Our family has a slight celebrity crush on the guy – and watch his shows for fun, even though he retired his show last year.
Do you talk to yourself?
Yes – and I'm going to be that crazy old lady you see driving her little grocery cart around the store talking to herself about everything under the sun. I do it now in a controlled manner, but I can totally see myself being that way.
What languages do you speak?
English and I "sign" American Sign Language/ESL
Coke or Pepsi?
Neither – proud to say I gave up sodas about 2 years ago after a Lenten season, and they taste gross to me now!
Read the book or watch the movie?
Both, please

Preferably in that order! I always dread how bad a movie can be from a book (Percy Jackson, anyone) but LOVE when a movie is just an extension of the book for me (84 Charing Cross Road, The Help)
CDs or MP3s?
I still prefer CD's. Call me old fashioned, but when I'm in the mood, I love popping in a favorite CD without wondering if the gadget is charged, whether it's properly filed, and whether I got the shuffle mode right! Call me old fashioned. I do not, however, own any 8 tracks.
Inside The Artist's Studio
What's your favorite product ever? Why?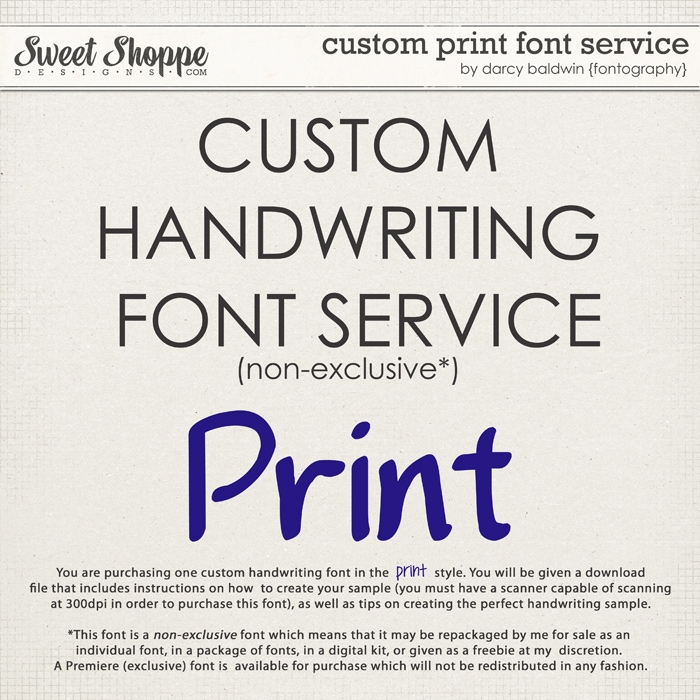 Because I love, love, love being able to help everyone get their handwriting digitized to use for recording their stories. Whether is scrapbookers, teachers, parents, children – everyone's stories are so important, and even more special when they're able to tell them in their own fashion.
What's your best selling font ever?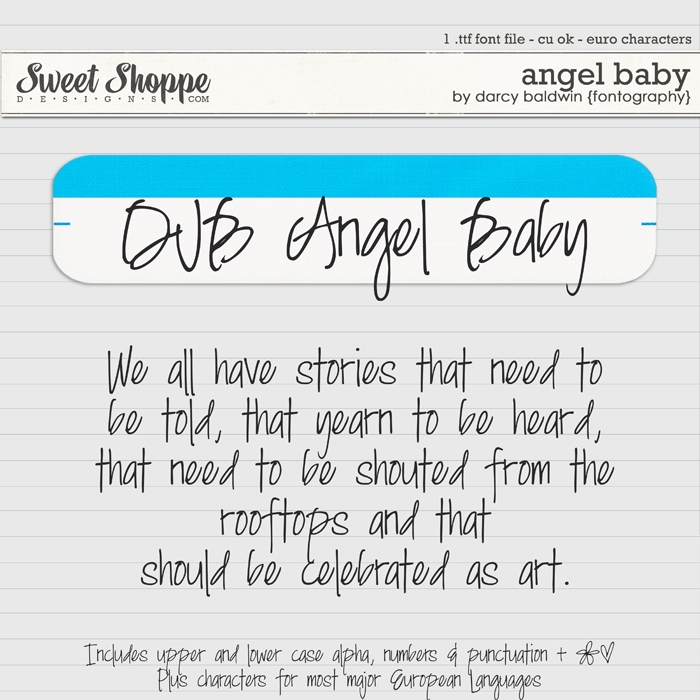 When you scrap, do you prefer to use your products or those from another designer?
I prefer my fonts. I think it's because I already have an intimate relationship with them somehow, because I created them, I know how they work, and they're in my mind and speak for me. I do use fonts from other sources, but almost always gravitate to my own
What do you look for in your creative team members?
I gravitate to people who love to tell stories with words and photos in their layouts, and are passionate about memory keeping and story telling. I don't look for the most stylish or modern, but I do look for passion.
What's your favorite thing about being a digital scrapbook designer?
I get to help people record their memories. Either as an inspiration from a template, or them choosing a font of mine because of how it speaks to their story, or helping them create their own handwriting font, I was involved in their memory keeping, and it's a very special thing to me.
What's it really like being a Sweet Shoppe Designer?
First Rule about being a Sweet Shoppe Designer – don't talk about being a Sweet Shoppe Designer.
Food For Thought
What does 'The American Dream' mean to you? 
To be able to live free, without oppression and intrusion, to pursue the life we feel directed to live.
Has your greatest fear ever come true?
Never, thank God! I don't even like to think it or voice it, and pray it never does!
What sustains you on a daily basis?
My faith and my family.
What did you want to be when you grew up?
An Astronaut. And I still squeal like a little girl at watching the Space Shuttle, at meeting an Astronaut (like I did two months ago), at the thought of space travel and training. My dream vacation growing up was going to Space Camp. I still have a dream that they're really going to need someone just like me to go on the next flight..and they won't care that I'm a little too old, a little too out of shape, not quite smart enough, but I'll be perfect for the job!
What is your favorite song and why?
The Color Green by Rich Mullins. Lyrically it's just about as perfect as a song can get, and it's right up my alley in my relationship with God.
_______________
Now that you've gotten to know Darcy a bit better, take a peek at some of her favorite products, and don't forget you can pick up her amazing template and font set, I <3 My Creative Team, FREE with ANY $10 purchase made in the shoppe between now and May 15th!