Posted by Mary Martinez •
Hello my digital friends, Mary here bringing you today's bliss.
I have two graduates this year well 3 really. I am a little disappointed with the schools here in CT or at least where I live. When I lived in NJ I remember all of my girls having a Pre-K, Kindergarten and 4th grade graduation. Well here I don't get to have that so it was an eye opener for sure.
My little guy Mason will be moving on to Kindergarten so I've decided that I will make him his own hat with tassel and I even made him his own certificate. Helena will be moving on to college life in NY wow college life what an experience that will be for her. She won't get her cap and gown till next month so I can't get any photos of her until then but at least she'll be getting the whole shebang, YaY can't wait for that day! Gio will be moving on to the 5th grade leaving the elementary school behind and his little sister and brother. I thought they would at least have a ceremony in the classroom for them but no he's going off to Middle School and nada so I made him a certificate also and I'll be making him his own hat and tassel.
I have no clue what the school colors are. I know that the High School and Middle School both use the black and gold so I'll just assume that for the Elementary School and use those same colors not for the diplomas but for the hat and tassel. I'm starting those babies tomorrow.
So I'd like to share with you all the diplomas I made for my little graduates.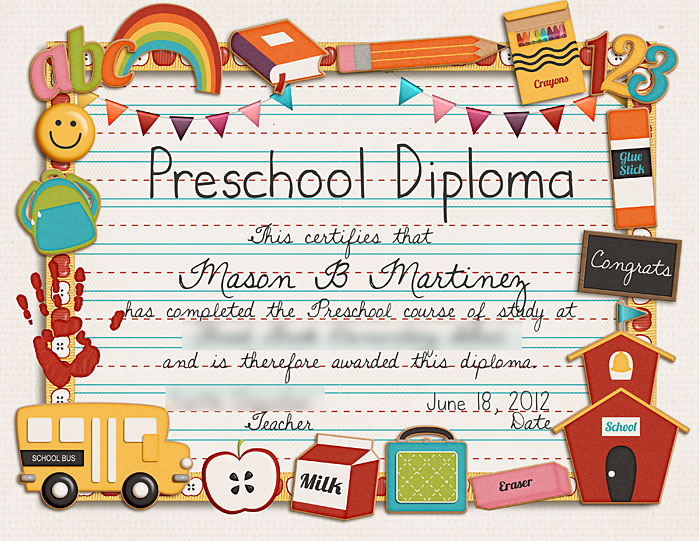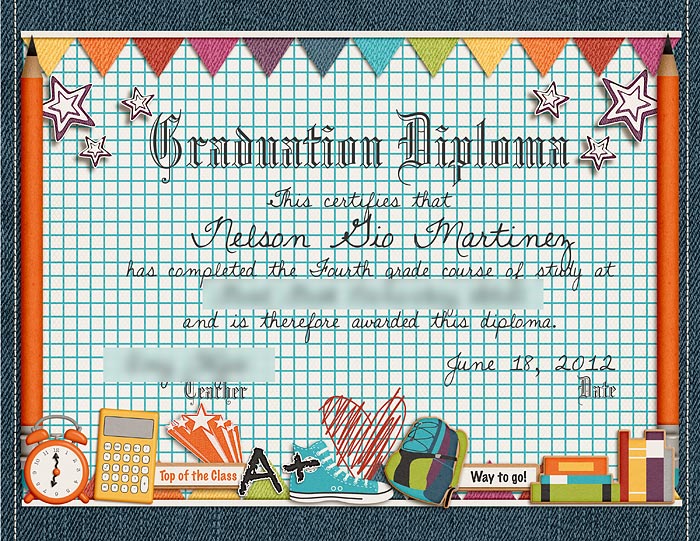 Credit:
School Memories Collection by Jady Day Studio
For my Senior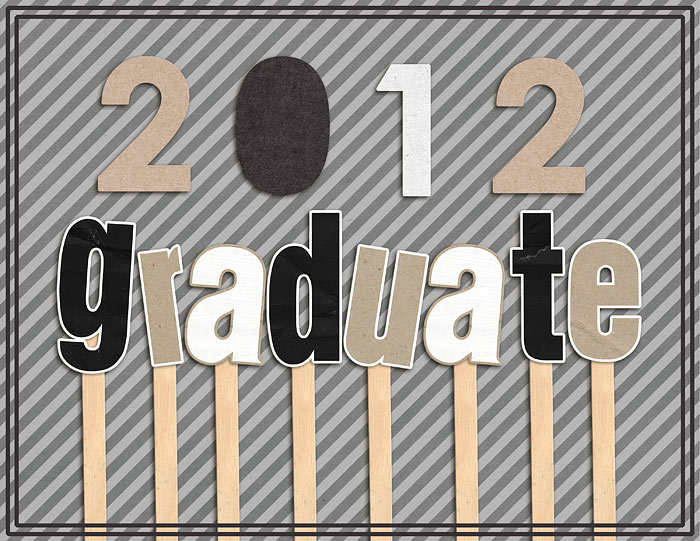 Alpha on a Stick: Neutrals by Shawna Clingerman
I want them to know it's a very special day and a great accomplishment for them and it needs to be celebrated at least in these proud mama's eyes. My plan is to take these to school next week on Author's Day and take a photo with the teacher. Well not my Senior because she's like no mom I have like 5 teachers, OK :p
Thanks for letting me share and I hope you all enjoy your last day of May