My Birthday + Being Better
Hola Sweet Shoppers! Lex here, and today is my 34th birthday! I don't feel 34. I mean, I would think once I hit my 30s I would feel all wise and stuff, but…no. I feel more aches and pains than I used to, lol, but no more wise. Today will be a fun, largely food-filled day for me as I'm lunching with a good friend to have one of my fave desserts (Tiramisu from Cibo, a yummy Italian restaurant) and then later dinner with my family in one of my fave restaurants (lots and lots of Persian/Mediterranean food–my choice inspired by that "shawarm-a" scene from The Avengers).
Some awesome scrappy/online friends of mine have commented that I don't look my age–and I'm so tickled that some of them thought I was still 25 or 26! Woot! A couple of years ago when I was in the US I even got carded–the guy must've been so bewildered with I totally squee'd like an idiot and asked, "You REALLY want to see my ID? THANK YOU!" LOL. I don't know if it's because I'm Asian or anything. Certainly I have friends who look younger than me but they are–believe it or not–in their 40s!
Anyway, what I wanted to talk about isn't about age or birthdays! About a month or so ago I ran across an article from The Daily Digi: 
Can Scrapbooking Really Make You Happy?
 and it really struck a chord in me. I mean, obviously the answer is YES. I would never have gotten so involved in this community, invested so much time and money if I didn't even remotely 
like
 what scrapbooking is. But the article made me think a little deeper than that, and I came up with a corollary of sorts: 
Has Scrapbooking Made Me a Better Person?
Us scrapbookers, digital or traditional, like to joke about how our hobby/passion/craft has taken over our lives: taking whole chunks of our cash, rooms in our homes, or time that could've been spent with our families or sleeping. Yet we DO invest a lot of ourselves in it; we love to do it. It's easy to see how happy scrapbooking has made me. As a ripple effect, has that happiness of mine caught on?
At first it seemed like such a weird question to ask myself as my birthday drew closer, but in a way, I look at it as a way to look back at how I was last year, the year before, or heck, even in the years before I scrapbooked. And I believe YES, it has made me a better person. And of course, I scrapped about it, lol.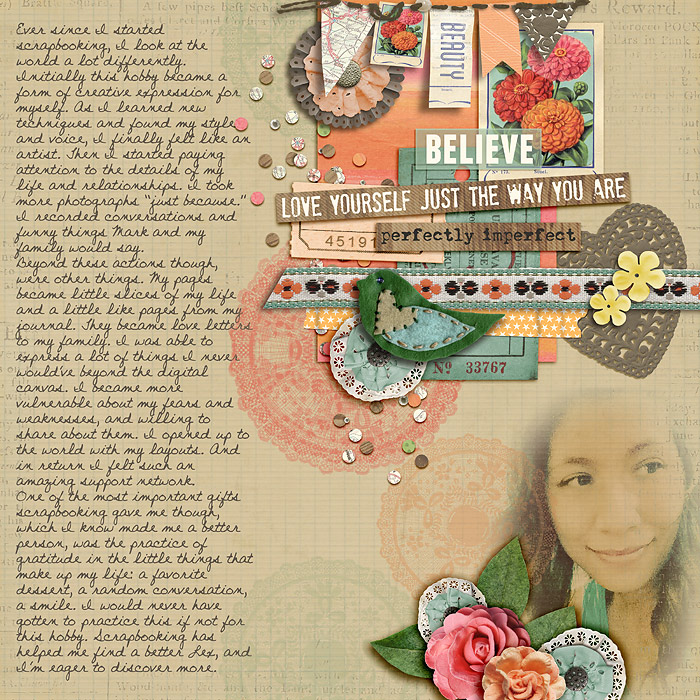 Using Believe Me, You Are Beautiful by Jenn Barrette; DJB Enjoy the Little Things 
Finding my beliefs about myself and scrapbooking is incredibly empowering for me! Like many of us, I'm plagued a lot by the feeling of not being enough, and yes, it spills over to this hobby. But thinking about this question put stuff back in perspective for me. I remember that finding this hobby meant finding a little bit of myself. And I'm so incredibly grateful for it.
I think a beautiful example for how much scrapbooking has made me me is that when my husband Mark gave his birthday gift to me, he said, "I am so happy you've found something that brings out the artistic side you always had."
Now I want to ask you: Has scrapbooking made you a better person? In what way? What do you like about yourself now that wasn't apparent before scrapbooking–or even memory-making? Let me know in the comments!