Posted by Darla Vasquez •
Hi everyone, it is me Darla with today's SSD post. Life can often be hectic and fast paced and as technology has evolved, many of us have become quite dependent on electronics to help keep up in our daily lives. Many of us use our cellphones to text our loved ones or document our everyday lives, calendar our family's activities or pay bills through apps our banks and creditors have conveniently created for us "on-the-go" people! According to Digitalbuzzblog, "People are spending more time on their smartphones then ever before. Of the 4 billion mobile phones in use, 1.08 billion are smartphones and a whopping 3.05 billion are SMS enabled." In layman's terms – everyone is texting on a cellphone!

The blog also listed another interesting fact that "women aged 35 to 54 are the most active group in mobile socialization." Of course, that isn't surprising to those of us in digi-land who use some kind of social media site to keep in touch with all of our digi-friends.
Having a cellphone seems to just be a part of life for many of us and because of that, sometimes we are bit too casual with it and we often forget to take special precautions to guard and protect it. I know how true this is because on a family outing to Disneyland, the kids and I were waiting for the rest of our party to join us. Of course, waiting always means your cellphone is out to take photos or play games! As we started to walk through the park, I realized I didn't have my Iphone on me. Instantly I panicked and ran off to the last spot we had been at and as you might imagine – the phone was not there! My heart sank thinking about the cost of replacing the lost phone and the private information I had that some stranger could see. But then I remembered that I had the "Find My Iphone" app installed on my phone and quickly signed into my Icloud account on my daughter's phone. The gps app quicky found my phone still in the park and from what we could tell – it was on the ferris wheel a few feet away from us. We walked up to security and explained what happened and told them that my phone was on the ride. Of course, they were a bit skeptical until they saw the app show the ferris wheel moving around and yes, so was my phone! I hadn't been on that ride that day so the only logical explanation for this was that someone had it. More security was called and due to privacy laws, they were unsure of how to go about getting back my phone since they couldn't search everyone on the ride. Lucky for me, part of the app's features is that it will send a loud beep to the phone even if the volume is turned off so we tried that hoping that whoever had my phone would just turn it in to one of the park attendants. Another feature of the app is that you can lock the phone and if you are really desperate also wipe it clear so no one can access any of your private information. All this can be done without even having the phone in your hand! So we waited and watched the tracker for what seemed to be hours…..the screen looks something like the below: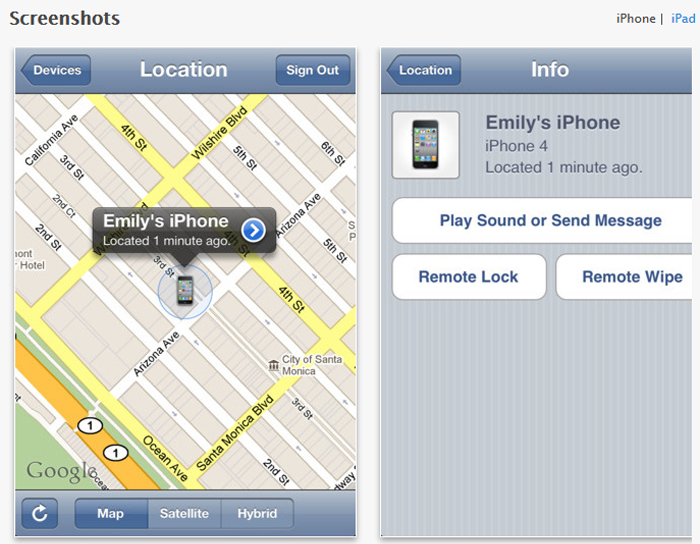 Finally a family came up to my family and security admitting they had my phone "but were going to give it back after they rode the ferris wheel." Of course, I didn't care what their excuse was – I just wanted my phone back! A few minutes later a man and his son came up to us and out of their pockets came my phone! I was very lucky I know and security was definitely impressed with the app and what it could do. I checked my phone and nothing had been accessed – thanks to my quick thoughts of locking it when I found out it was missing.
According to statistics, 113 cellphones are lost or stolen every minute in the United States but there are things you can do to help prevent that or at the very least, locate it like I did.
1. If you have a smart phone, use the locking function to make it more difficult to access data if the device is stolen.
2. Consider having GPS tracking on your phone. If it is stolen, your phone carrier can trace it and get it back.
3. Remember that phones are huge targets for thieves. Cell phone theft is a real threat. Pay attention to where your phone is at all times.
I had the "Find My Iphone" app activated on my Iphone but there are other apps you can also use for your Iphone that can also protect or track your phone if it is lost such as Ihound or Itrack. For those of you who have an Android phone, there are apps such as WaveSecure, Lookout and WheresMyDroid that will do the same as the Apple counterparts. Most are free and are definitely worth installing just in case you happen to need it one day! So make this a priority today to install one of these type of apps if you don't already have them, learn how to use them in case you need to and make sure that you have a password lock on your mobile device just in case! It seems pretty simple steps to take and protect your most prized asset! Enjoy your day!