Posted by Robin Carlton •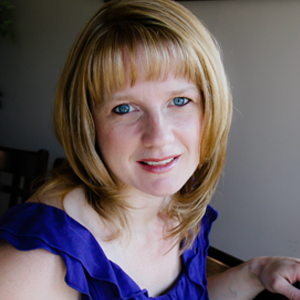 From the moment Cindy Schneider joined our team of designers, she has been a fan favorite and we know why! Her amazing style as a scrapper jumps out of the gallery instantly and translates so well to the product she specializes in, layered templates. Cindy's product line makes scrapping like a star as easy as 1-2-3 and we know you're going to love getting to know her better in the latest edition of our Featured Designer spotlight! She's created an amazing template 4 pack for you, and it's absolutely FREE with any $10 purchase made in the shoppe between now and July 15th!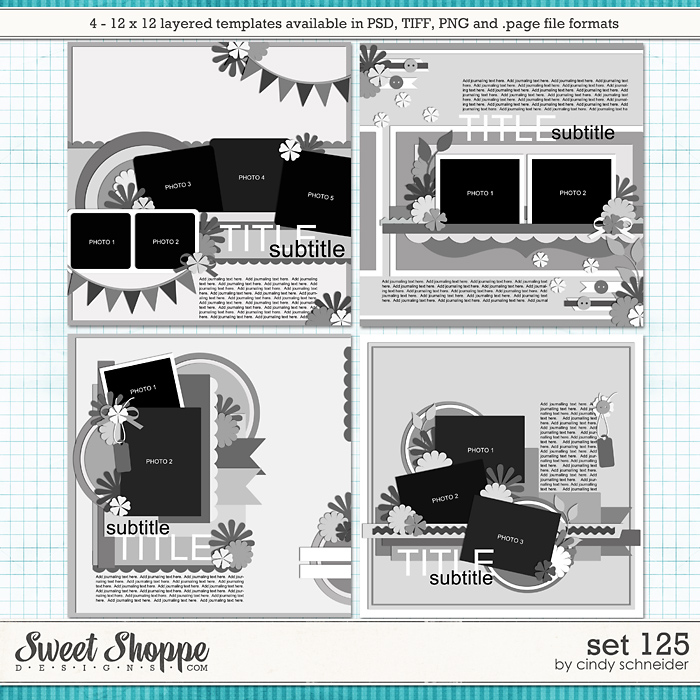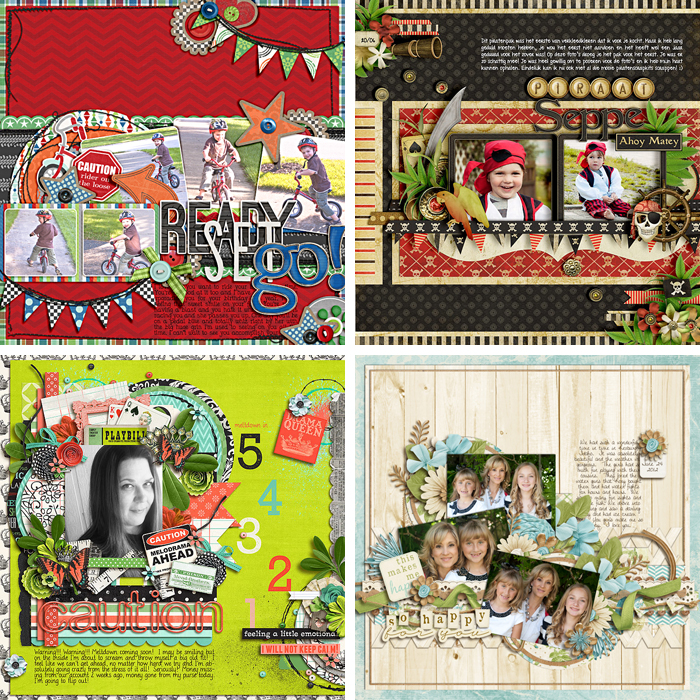 Just the Basics
Where do you live now?
I live in a town called Bradford, which is approximately 40 minutes north of Toronto, Ontario.  We moved here from British Columbia when I was pregnant with my daughter, Ashley, in 2002.
Do you have any pets?
We have a Jack Russell, Lexi, that we brought home last October.  She is not quite a year old and has made a great addition to the family!  We had another Jack Russell previous to this one who passed away and we fell in love the the breed, so we had to get another one!
Describe your perfect pizza toppings.
I've always been a fan of Hawaiian Pizza, so ham, pineapple, cheese and lots of sauce!
What's the first thing you do when you wake up?
Head for the shower!
Texting or talking?
I'm not a big talker on the phone, so definitely texting.  But I don't actually text too much either, I use e-mail a lot instead.
Canon or Nikon?
Canon
Chocolate or Vanilla?
Definitely chocolate.  I love chocolate, we have a place here in Canada, called Purdy's Chocolate…..it's my favorite!
Early bird or night owl?
Unfortunately both.   I tend to stay up late at night, but have to get up early to get the kids ready for school….and when I do try to sleep in, it never works too well!  I definitely do not get the recommended 8 hours of sleep a night!
Where would you go for your dream vacation?
Hawaii
What is the last movie you saw?
We took the kids to see Brave.
Inside the Artist's Studio
When and how did you get started as a digital designer?
Shortly after the birth of my second child (in 2006), I started digi-scrapping. I was originally a paper scrapper, but it was too time consuming and messy with kids around.. I came across digi-scrapping online one day and have never turned back. I started out slowly and finally worked up the nerve to start a gallery and apply for some creative teams, and was lucky enough to get a spot on the Creative Team at the Sweet Shoppe in August 2007. At the same time I started doing quick pages and albums for various designers, which led into designing and selling templates.  At the end of March 2010 I moved my store to the fabulous Sweet Shoppe which I have loved for so many years. The community, designers, creative team, and Robin are all amazing.
What's your best selling template ever?
Definitely my Baby's First Year Template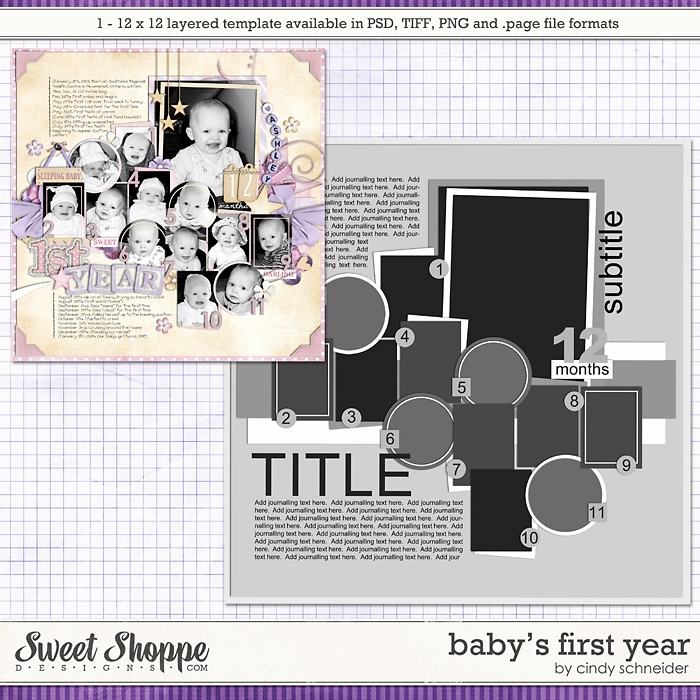 Share 3 layouts created with your products that you really love.
Having Dinner at Jansen by AJM – This is such an amazing layout, I just love the photos, the pops of color on the white background and here embellishing is perfection!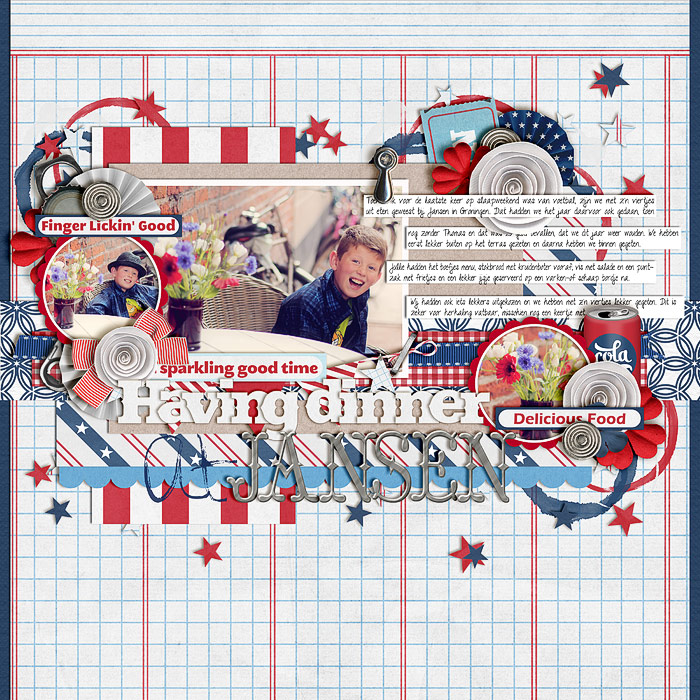 Day at the Zoo by farrijc – This is such a fun Zoo page, and I love how she used the Photo Focus templates to highlight that awesome photo!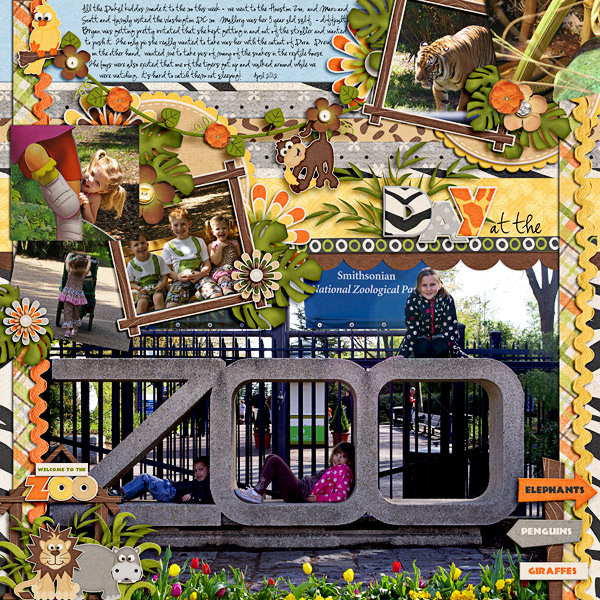 Fun and the Sun by Ingrid Fasquelle – These photos of her son are so sweet and she chose the perfect colors to scrap them with!  I love the scattered confetti and paint splatters.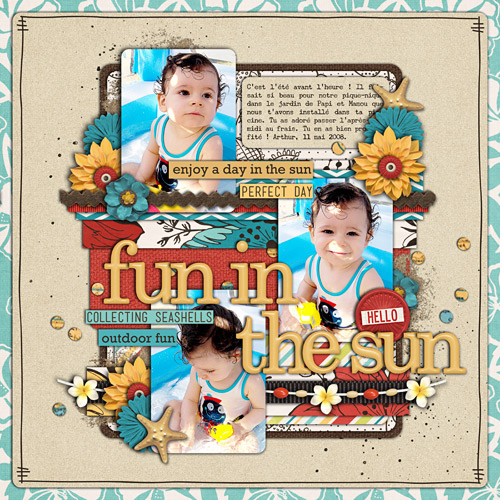 Do you scrapbook too or just design? If you scrapbook, share your favorite layout.
I love to scrapbook, and I use almost every single one of the templates I create to make a layout for my own books.  One of my favorite layouts is Autumn Afternoon, I really love the overall look of it, with the sweet photos of my 2 kids and the colors worked perfectly with them!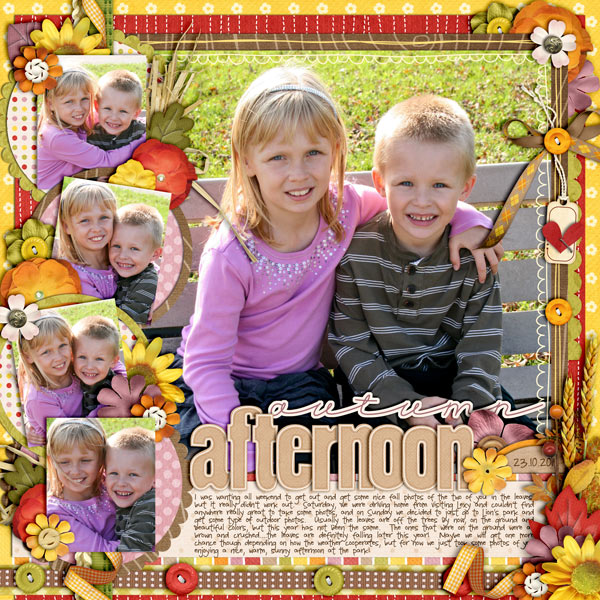 What is your "home office" or work environment like? Describe it or share a picture.
I kind of have 2 home offices or workstations.  My first is at my desktop in the basement.  My husband and I both have our own desks and computers set up there, and the kids also have their own computer, TV and wii system downstairs as well, so we often all spend time in the basement together.  I also have a laptop that I work on as well, and generally have that set up in the living room upstairs if I want to work or scrap while watching something on TV!
Food For Thought
What is your most beloved childhood memory?
Our family trips to Creston, B.C. to spend time with my grandparents, aunt, uncles and cousins.  The trips that we took there for Christmas are the most memorable.
In one word, how would you describe your childhood?
Definitely HAPPY!
What bad habits do you want to break?
The first thing that comes to mind is being impatient.  It something that I really need to work on, especially with the kids!
If I could grant you one wish what would you wish for?
For life to slow down.  Time is going way too quickly and my kids are growing up way too fast
What do you do over and over again that you hate doing?
Cooking.  I used to enjoy it more, but I think my kids are so picky that it makes it hard to find something interesting to cook that everybody likes, so I end up making the same small list of things over and over again.  I enjoy baking over cooking MUCH more!
_______________
Now that you've gotten to know Cindy a bit better, take a peek at some of her favorite products, and don't forget you can pick up Set 125, her awesome set of templates, FREE with ANY $10 purchase made in the shoppe between now and July 15th!