Posted by Robin Carlton •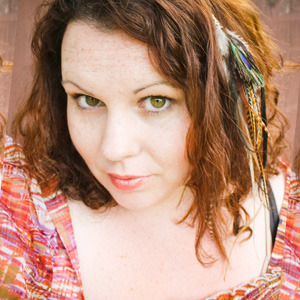 Sweet Shoppers, a brand new designer is in the spotlight and I'm super excited that you're about to get to know Jenn Barrette a bit better. From the moment Jenn joined our team in 2010, she's been like a fish in water. Her style is perfectly sweet, incredibly unique and she adds oodles to the design vibe in the shoppe week after week! I'm a huge fan, and if you aren't already, I think you will be too after you get your hands on her amazing featured designer kit, Measure Your Life In Love, it's your gift FREE with any $10 purchase between now and June 15th.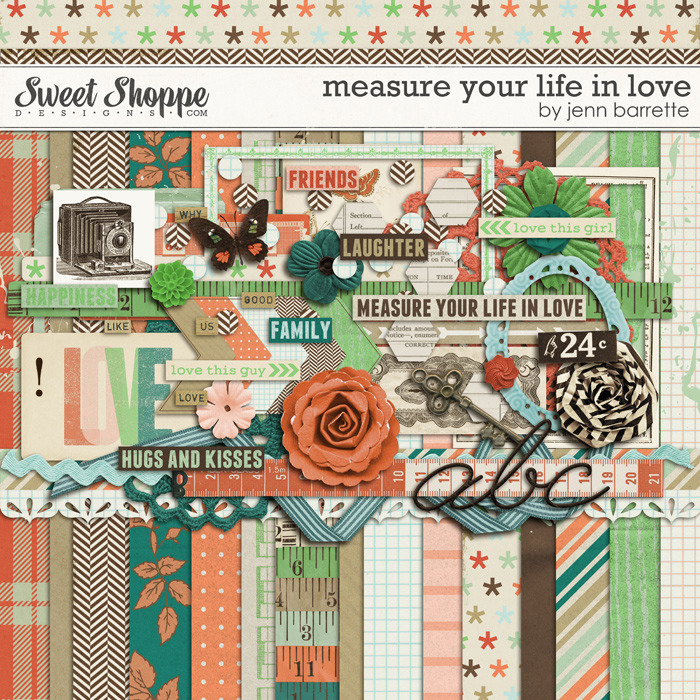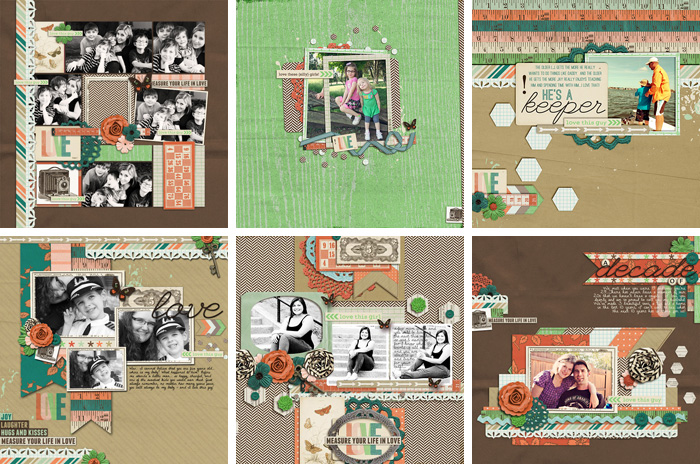 Just The Basics
When is your birthday?
My birthday is June 15th, so I will be turning 30 very shortly!
What's your sign?
I am your typical Gemini; talkative, versatile, and perhaps a little flighty at times.  LOL  I prefer thinking that I love change and hate to bored more than I am actually flighty.
Do you have any tattoos?
I have a little viney flower on my left wrist and a small heart on my ankle.  I really want to get another one, probably a little flock of birds.
Do you have any pets?
I have a very fat cat and a little pug dog.
Do you wear glasses or contacts?
I wear contacts most of the time, and occasionally wear my glasses.
What's your favorite color?
My favorite color is green, especially avocado green and kelly green.
What's your favorite movie?
I am a huge movie person!  I think "Scott Pilgrim vs. The World" is my favorite right now.  I also love "Empire Records", "Heathers", "DEBS", "Whip It' and "Clerks".
Besides designing, do you have another job or occupation?
I have a small cupcake business as well; I do weekly orders as well as special occasions.
If you dyed your hair, what color would you dye it?
I love playing around with hair color and naturally have dark brown hair.  Currently I love being a red head!
If you could change your name, what would you change it to?
I used to really want another first name.  Jen/Jenn/Jennifer are all so boring and I hated having other kids with the same name in my class growing up, but as I got older and found my own personality, my name didn't seem to matter.  Now I have friends that look at things and say "Oh, that is so Jenn!" and it makes me proud that I am anything but boring despite having an unoriginal name.
Go out or stay in?
I have always been a homebody; even as a teen I was much happier to have people over to hang out then do the whole "bar scene", but now that I am a parent to young kids and work from home…I find myself dying to get out of the house!
Inside The Artist's Studio
What's your best selling kit ever?
My best selling kit is "Little Miss Personality", I think it has sold so well because of the versatile color scheme and the fact that everyone knows someone that has that bubbly, silly, loud personality that goes so well with the kit.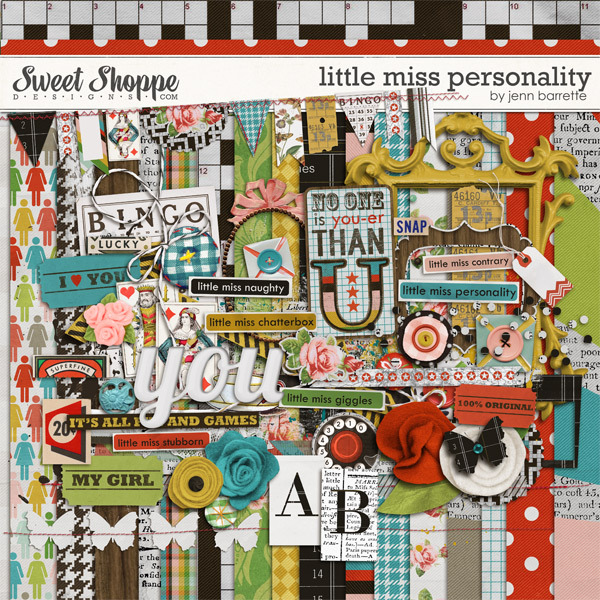 Share 3 layouts created with your products that you really love.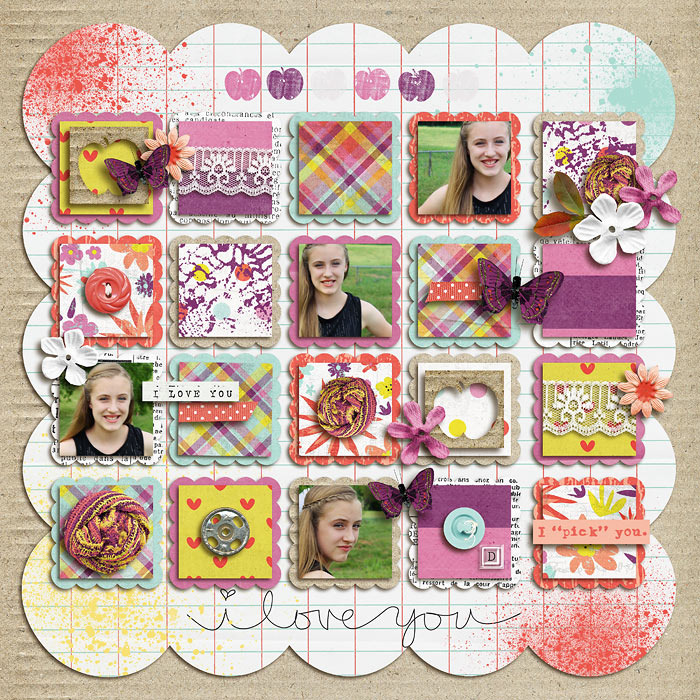 i love you by Nikki Epperson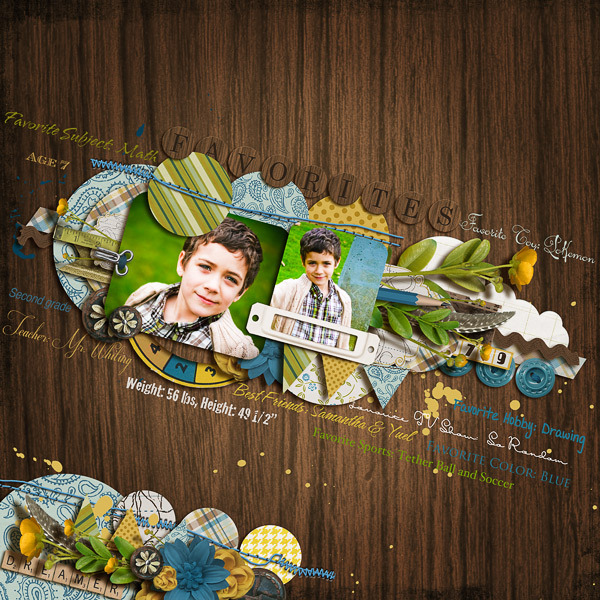 Favorites by SeattleSheri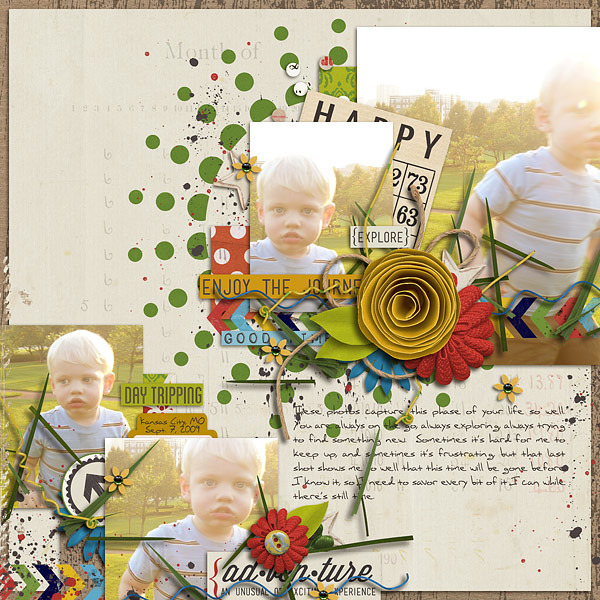 Life is an Adventure by alabau
Do you scrapbook too or just design? If you scrapbook, share your favorite layout. If you don't, do you wish you did?
I am definitely a scrapbooker, and that really influences how I create my products; I always include the elements/patterns that I love to use most.  I do find myself designing more than scrapbooking lately.   Here is one of my favorite layouts that I have created: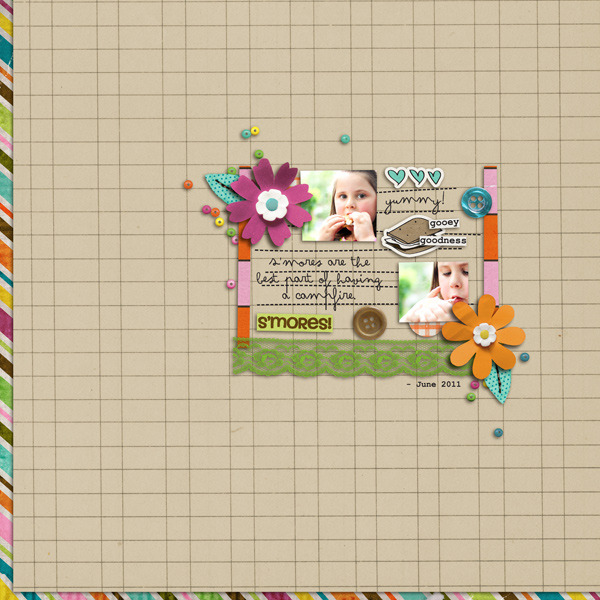 Are you a planner who knows what you're working on way in advance, or do you work till the last minute?
I go back and forth.  Sometimes I get really ahead and have list of themes I want to create…other times I work right to deadline.  I think it really depends on what is going on in my real life.  Also the more ahead I think I am, the harder it is to get down to work on something new; instead I enjoy a little time off doing other things I love.
What's your favorite thing about being a digital scrapbook designer?
I can't narrow it down to just one thing, but my favorite things are working in my pajamas with no make-up and messy hair, having the freedom to multi-task (I am usually watching movies/tv well I design), having more flexibility to spend time with my kids when they are home, and of course seeing all the amazing layouts my customers make with my products.
Food For Thought
Where do you spend most of your time while you're awake?
At my computer, hands down.  I work, play, and sometimes eat at my computer; it is where most of my friends live.  LOL
If you had a friend who spoke to you in the same way that you sometimes speak to yourself, how long would you allow this person to be your friend?
I struggle with this; I am my own worst critic.  I also suffer from PMDD (basically PMS depression) and sometime say some really awful things to myself when I am depressed.  I really don't think I would keep a friend that treated me like I treat myself somedays.
What's the best part of growing older?
Experience is the best thing about growing up; knowing that the little things are important, and knowing that I can overcome huge upsets and obstacles.
What's the best decision you've ever made?
Quitting my outside the home job (I was a retail manager) to stay home with my kids and pursue designing full-time.
What is your most striking physical attribute?
My boobs?  LOL!  OK, seriously I would say my eyes.  They are a pretty green with golden flecks.  I also have very expressive eyes, they just really light up when I am happy.
_______________
Now that you've gotten to know Jenn a bit better, take a peek at some of her favorite products, and don't forget you can pick up her scrumptious kit, Measure Your Life In Love, FREE with ANY $10 purchase made in the shoppe between now and June 15th!