Posted by Robin Carlton •
Hey, Hey Sweet Shoppers! If you've been waiting to meet our newest SugarBabes, the big reveal is finally here, but before we get to that, here's your first look at this week's amazing new goodies from our talented designers and inspiring Babes…

As usual, all of our newest goodies are 20% off all day long, but I'm extra excited tonight because we just put a brand new designer in the spotlight which means there is an awesome new kit that's your gift FREE with any $10 purchase made between now and June 30th. Check out the details…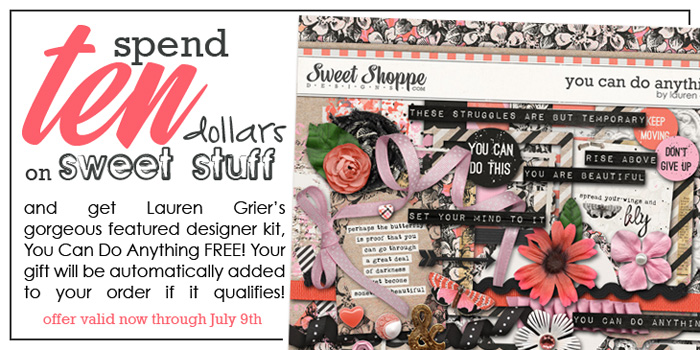 Speaking of awesome, our newest Babes jumped right into the swing of things behind the scenes this week creating some incredible layouts to show off our newest releases. We were positively drooling over how scrumptious this week's newest treats were all week long. I know you're eager to meet our newest Babes, so without further delay, here's a bit more info for you…
I know I've been saying for the last two weeks how AMAZING your nominations were, and I really meant it. The layout gallery up there representing your favorite scrappers could easily be featured in our newsletter week after week. We feel so blessed to be surrounded by so many talented scrappers in our community, so thank you guys soo much for being part of the sweetest spot in town!
In other exciting news, I'm thrilled to share that even if you didn't make the Babe team, you should get ready to strut your stuff later this Summer in a head to head competition that'll be looking for the best of the best scrappers in all of digi-land. That's right friends, the Sweet Shoppe Scrap Olympics are coming soon and all of you will want to participate…
On that teasing little note, I'm off for the week, but I'll see you here in your inbox next Friday night for lots more sweet new stuff. Until then, keep making memories and scrap more!