Posted by Robin Carlton •
Happy Saturday Sweet Shoppers! A brand new month is here, and not only do I have some amazing new goodies to share with you tonight, I also have lots of little reminders to point out to you too! I know you're eager to see the latest sweet stuff, so here's your first look…
As usual, our Designers and Babes have created some amazing new eye candy for you to devour tonight and since a brand new month is here, we also have a spectacular new featured designer who's just been put in the spotlight too. Jenn Barrette's designs are such a wonderful addition to the shoppe and her kit, Measure Your Life In Love is your gift FREE with any $10 purchase made between now and June 15th!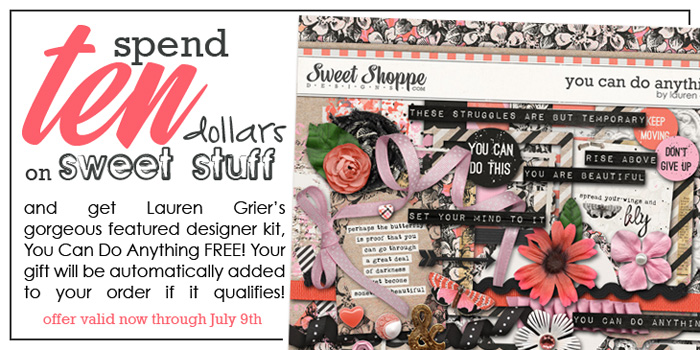 Speaking of a brand new month, we've kicked off an inspiring new set of challenges for June's Scrapper Portfolio too! Our monthly challenges are a great way to earn discounts which you can use in the shoppe each and every month. Stop by to find out how to earn 20, 30 or even 40% off during Sweet Rewards week next month!
As you guys know, last week we asked you to submit your nominations for incredible scrappers to join our team of SugarBabes. You certainly didn't disappoint, and we have a slew of talented women to choose from now. We'll be reviewing those scrapper's galleries carefully over the next few days and should have invites sent out soon! Stay tuned for all of the news on who will be joining the Sweet Shoppe family in the very near future.
On that note, I'm off for the week and this week is extra-special for me because my husband and I are off to North Carolina on a scouting mission for our family's relocation later this Summer! As a result, I'll be away from the office Monday, June 4th – Thursday, June 7th, so email responses during that time may be a little slower than usual. Your patience is appreciated during this exciting time for my family! Otherwise, we'll see you here in your inbox next Friday night with lots more sweet new stuff. Until then, keep making memories and scrap MORE!