Gooood morning sweet shoppers!!  Laura here this morning and well, I'm here again to ramble in your ear.
My daughters and I just got home on Saturday night from a little mini vacation down to Kansas and I'm gonna take you on a little tour of our trip!  Now, many of you may know that I am very good friends with Sara Schiller (kscwgirl).  We've been friends since my youngest daughter was a baby and in all honesty, I have a hard time remembering that she's in Kansas and not just right around the corner from me.  We talk daily, almost all day long, whether it be on IM or through text messages.  Our kids have weekly skype dates.  We try to get together every summer to just spend a few days together.  This year, we planned a little trip with one other person as well.  We also met up with Tara Swinford (taracotta7) and her kiddos (and her traveling babysitter).  We had planned for almost a year and by the time the trip had arrived, EVERYONE was super excited.  So, I'm here to bombard you with a few (ok, if you know me, I don't do anything 1/2 way…so it'll probably be a lot more than a few) photos of our little trip.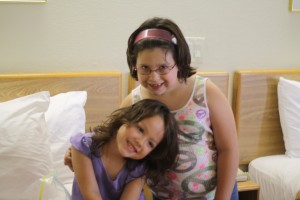 my girls checking out their new room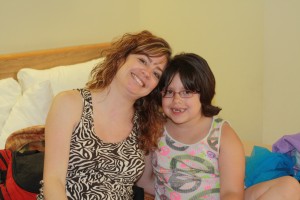 Emma sure loves her Tara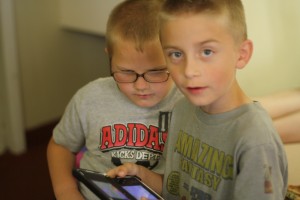 Landon and JJ hit it off right away!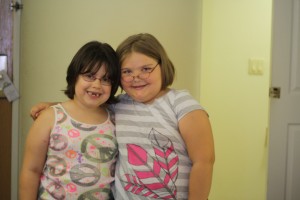 Abby and Emma, best friends.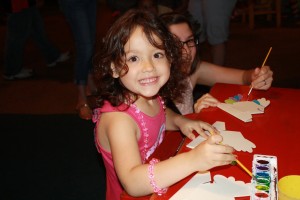 Madelyn was a liiiiittle excited about visiting Kaleidescopes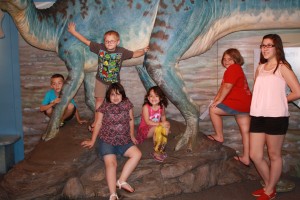 the kids at the dinosaur exhibit in Kansas City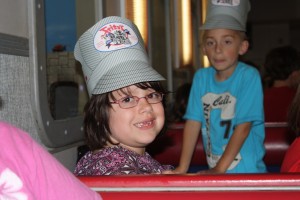 Emma rockin' the conductor's hat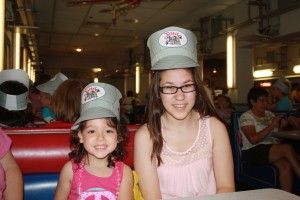 Madelyn wanted to be with Lauren every chance she got.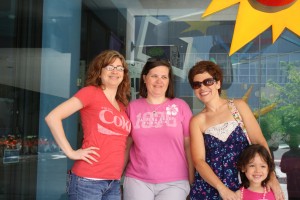 Trying to get a picture with us, but of course the little diva had to join in too
they thought they were hilarious and wanted to torture me with hugs (i'm not a hugger.  at. all.)
sleepy Emma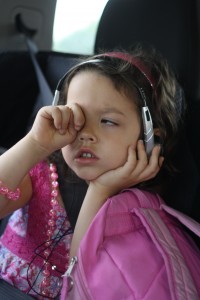 little snot, she was SO tired on the way home, but refused to go to sleep in the car.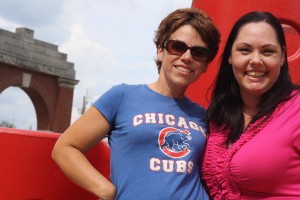 on our way home, we decided to take a different route so that I could stop and get me some Shannon lovin's.  She was almost exactly half way home for us, and we'd been planning on meeting up this summer anyway, so it was the PERFECT opportunity!  I've got to say, I just love her.  I'm SO glad we stopped.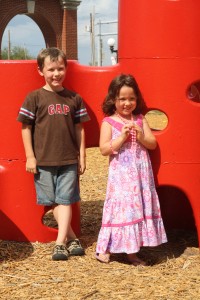 Landen and Madelyn.  Madelyn just adores him.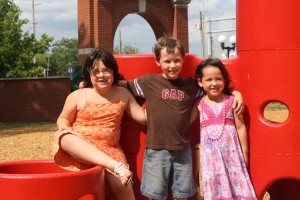 Emma, Landen and Madelyn.  They were sooo stinkin' cute playing together.
All in all, it was an AMAZING vacation and I'm so glad we all got to meet up.  There were no weird moments and it was so fun to get to hang out with people who 'get' what we do with digital scrapbooking.
If you ever have a chance to meet online friends, I HIGHLY recommend going for it.  I know, I've strengthened some amazing friendships!