I am loving summer vacation, I don't have to get out of bed early and we don't have to rush to eat & get out the door to the bus stop!  Which means I can make something besides cereal for breakfast, hooray!  One breakfast favorite around here is berry muffins, the kids all LOVE them (as do the parents)!   I usually use frozen raspberries but have tried them with fresh blueberries & they are also quite tasty!   Now that I'm thinking about them I totally want to try fresh blackberries cuz I bet that would rock!   We also make these for dinner sometimes with eggs and sausage on the side.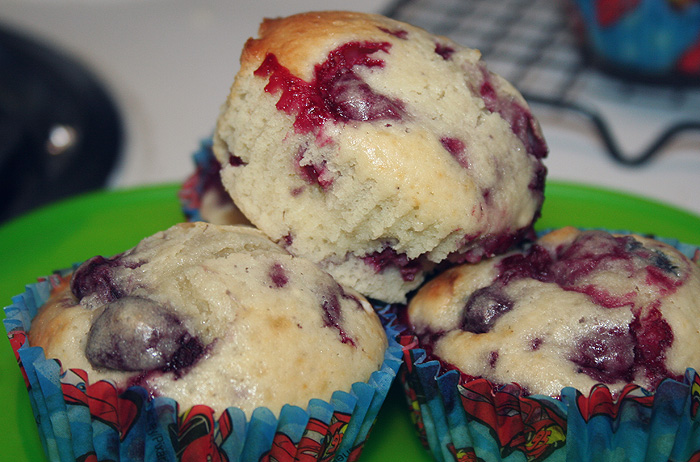 Berry Muffins
1 3/4 cups flour
2/3 cup sugar
2  tsp baking powder
1/4 tsp salt
1 egg
3/4 cup milk
1/4 cup vegetable oil
1 cup fresh or frozen berries
Preheat oven to 400F.  Mix  dry ingredients in a large bowl until combined.  In a separate bowl combine the wet  ingredients & mix well.  Add the wet mixture the the dry mix and stir just until combined (do not over mix).  Gently fold in the berries.  Scoop into greased muffin tins (or use cupcake liners) and bake for 15-20 minutes until tops look golden brown.  Makes 12 muffins.
Hope you enjoy!

ez