Posted by Penny Springmann •
Hi, everyone! Penny here with a sneak peek at my new release for the week, Picture Play 3 and how I used it! If you haven't used my Picture Play products before, you might wonder what they are and how you use them. First, Picture Play is a set of overlays for your photographs. These overlays will add texture, color and/or depth to your photographs. To use these overlays you play with your software's different blend mode settings until you are happy with the end image. In fact, I named this series Picture Play because it is all about PLAYING with your pictures to find the look that's just right for your photograph. Whether you need a subtle change or a dynamic difference Picture Play will work for you.
So, how do I use them? Well, I use them in a variety of ways, but really…I just play until something catches my fancy.  Like this…
Here is a picture of my son reading a book out on the patio one evening this summer. Now let's have some fun….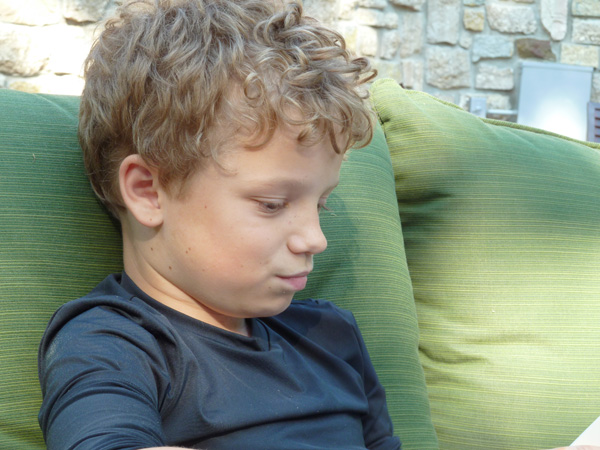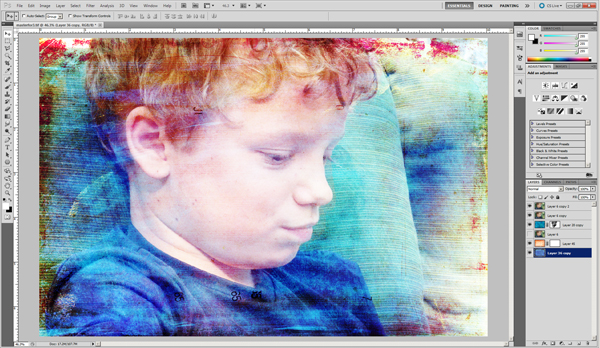 Kabaam…That's what I'm talking about…something a little different, a little fun….Now How did I do this? Well, I played until I  loved the end result.  I toggled through all the blend modes, adjusted the opacity, and moved each layer up and down until I got to something I thought was just right.
Here is a peek at my layers, blend modes, and opacity for this photograph.

Hmmm..that's interesting isn't it. My base layer isn't the photograph but one of the textures! Honestly, this is the first time I tried using a texture as my base. I usually start with my photograph on the bottom as you can see here in this Picture Play write-up.   This time, however, I decided to play a little more and I think the end result is fabulous!
Sometimes when you use Picture Play, the overlay obscures part of the focal point of your image. When this happens simply erase or use a layer mask to remove part of the overlay that interferes with your image. For example, look at the blues layer above (third one down). See the white/black box to the right of the layer? This is a layer mask I used to erase part of that layer so my son's face would shine through. You can easily use a soft eraser and end with the same result, but I like to use layer masks, so if I change my mind, I can easily go back and restore the image.
Well, that's a sneak peek at Picture Play. I hope you enjoy using them!