Tutorial Round Up: January 2013
Brook give us a quick summary of all the amazing new tutorials here at Sweet Shoppe Designs!
There's a wealth of knowledge on the Sweet Shoppe Tutorial Blog! Here's a quick round up of the great stuff you might have missed this past month: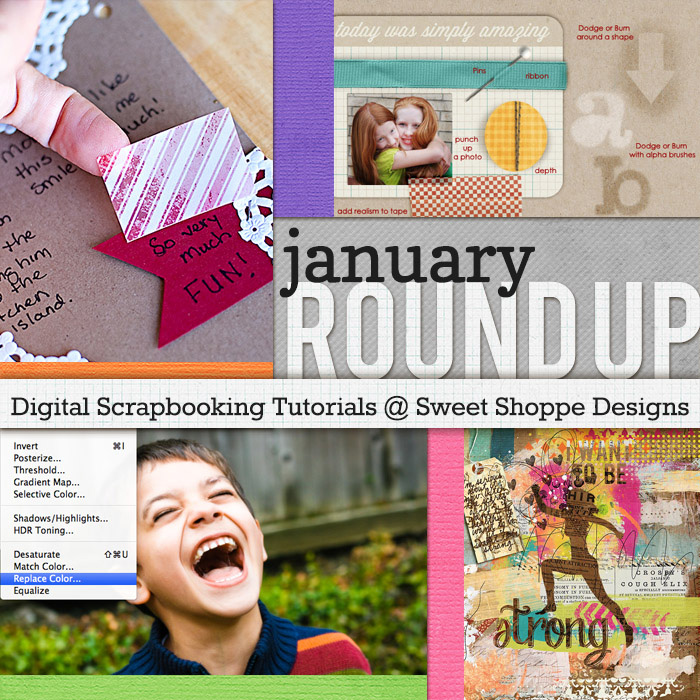 Matching your perfect photo with a non-perfect color to that perfect kit has never been more easy! Sheri teaches us the ultimate Scrapbookers dream: selectively changing colors in your photos! Sheri changes the navy blue in her son's sweater to brown in a few simple steps. Now you have no excuse when you go shopping for kits to match that new outfit you bought your kiddo. Just kidding! You can still do that. . . . But, how cool it will be to know how to swap out a color that's just not working in your layout. 😉
Lex translates fun, messy paper & paint Art Journaling techniques to digi-land for us! Her fantastic example layout uses the shape of a woman as a mask which she then digitally paints & splatters over. The finished page allows you to see the awesome layered papers revealed from underneath the shape. It's a neat skill to add to your Art Journaling toolbox of ideas!
Dodge? What . . . dodge ball? Burn? As in, "Did I burn dinner (again)?" No, no, my friends! Dodge & burn–the fabulous duo of advanced digital scrapbooking wizardry–although, they're not very advanced when you see how simple they are to use on a layout. Keely unveils the secret of magically realistic pins in paper, bright eyes in photos, and washi tape creases that look really REAL! Amazing stuff . . . check it out.
Heather breaks out the desktop printer and brings us an awesome tutorial on how to make your own washi tape from your stash of digi patterned papers! Who knew it could be done? Not I! If you've never thought of printing out your own tape before, now's the time to think about it. Just think of all the patterned tape-y goodness you could be churning out for your hybrid projects, crafts, letters, packages, and anything else you can think of that needs a piece of tape stuck on it. Soooo fun!!!
Tracy is the queen of Project Life. She gives us a glimpse into her mostly-digi method of printed cards in a plastic page protector. She also shows us a bit how she plans out her cards for the week and then creats mini-layouts in the 3×4 & 4×6 slots. This *almost* made me want to try doing Project Life this year! Tracy makes it look so manageable and fun with her awesome use of color & details.
A vignette? Say what? By definition (via Wikipedia): "Vignetting in photography, (is) any process by which there is loss in clarity towards the corners and sides of an image." Aha! Sheri opened my eyes to a technique I never thought of trying before! Creating a vignette, dark or light, around the focal point is a simple technique that can add an extra oomph to your layouts. Distracting backgrounds begone!
Our tutorial team at SSD has gobs of scrapbooking tips and tricks to share! We hope you'll visit these tutorials, give them a try, and share them with your friends.