Sweet Shoppe Saturday 7/29
Happy Friday Sweet Shoppers! My favorite time of the week and yours is here, and I am so excited for the weekend because I have oodles of sweet stuff to tell you about tonight! In addition to some incredible new goodies hitting the shoppe this week, we also have a brand new Featured Designer freebie AND our Summer Sixlet promo is kicking off tonight which means there's a fabulous collab kit that's FREE with your $20 purchase too! I know you guys are eager to dive into the fun, so here's your first look at…
I've been traveling over the last couple of days, and when I settled in to get back to work today, I was seriously blown away looking through our staffer new release thread to see what was hitting the shoppe this week. Our designers have knocked it out of the park as usual, and the treats making their debut tonight are seriously AMAZING! I could oooh and ahhh over specific products, but we'd be here all night, so I'll just say that you'll definitely want to spend some extra time looking at all of our newest goodies in more detail the moment you have a few minutes to yourself because you're sure to find something to love!
While you're there, this week… we have not one, but TWO fantastic kits that are FREE with your purchase of $10 or $20 in the shoppe and I can't wait to show them off! Up first, is a brand new Featured Designer freebie from the ridiculously talented Krystal Hartley. Krystal has a mouthwateringly gorgeous personal style that is shabby chic and straight from her heart. She's never wavered in her design aesthetic and I for one am a HUGE fan! I think you guys will adore Sunny Side, which she's created with Amber & Grace for you to enjoy FREE with any $10 purchase while she's in the spotlight through August 11th…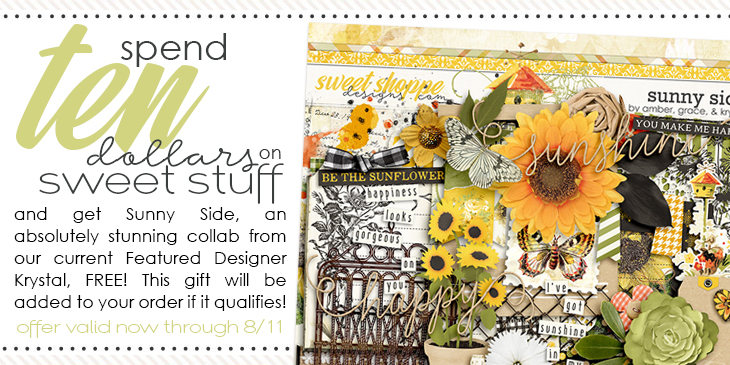 If you love the looks of Sunny Side, be sure to check out Krystal's showcase on the blog to get to know her better and see tons of inspiration from the Babes featuring this gorgeous kit! I truly love this beauty, and think it absolutely shines on all of the layouts I've seen so far!
Finally, speaking of AWESOME kits… I'm so excited because one of my favorite summer promos is here, and tonight is the kick off of our super fun Summer Sixlet event! As you guys may remember, for the last couple of summers our designers have broken up into teams of six to create a collection of kits based on a fun theme that we pick together! Last year we did "I heart…", and this year we're showing off our personality in series of collabs that should suit everyone from the dreamers to the adventurers and everything in between!
The first kit in the collection is making its debut tonight, and I am sooo excited to show off "We are Quirky" which is FREE with any $20 purchase in the shoppe for ONE WEEK ONLY…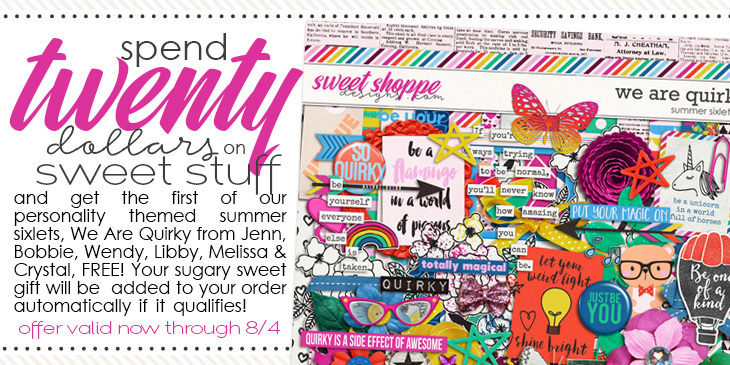 Jenn, Bobby, Wendy, Libby, Melissa and Crystal did such an awesome job with this whimsical and silly kit that pays tribute to marching to the beat of your own drummer and being yourself, so I hope you guys will head to the shoppe NOW to snag this one for your Sweet Shoppe stash! All of our summer sixlets will be available for one week ONLY until our new releases go live the following weekend, so be sure to jump on this special offer so you don't miss a single kit from this incredible personality filled collection!
We are Quirky is absolutely perfect for your snapchat selfies, and our Babes had SO much fun playing with this bright and silly kit! You can see ALL of their pages in the shoppe, but I thought I'd share just a few of my faves here to get your creative juices flowing…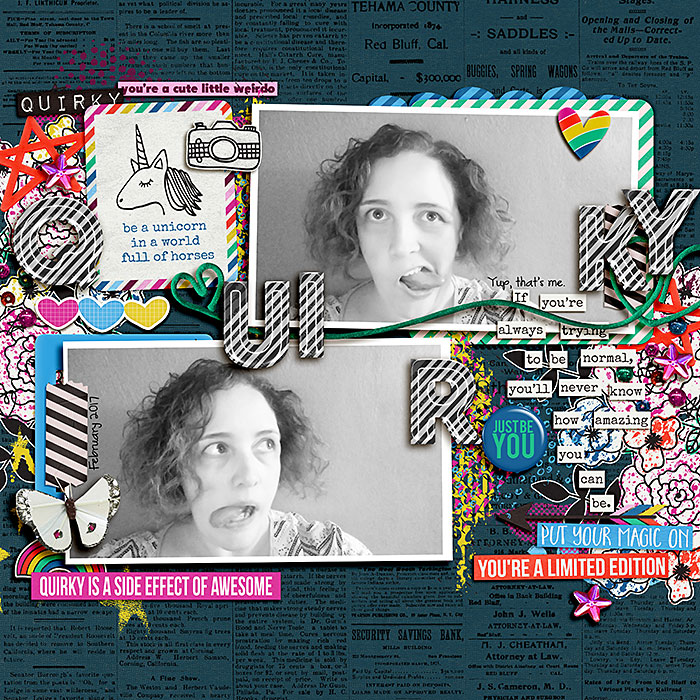 layout by SugarBabe LeeAndra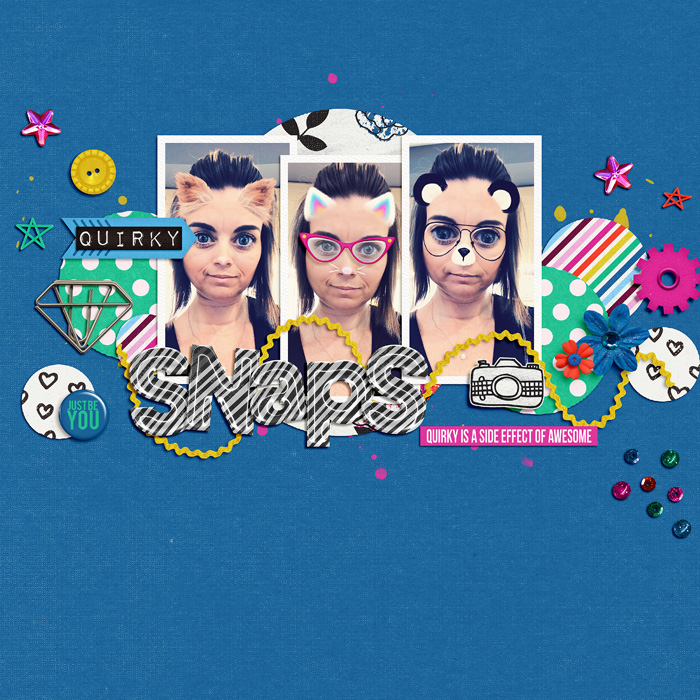 layout by SugarBabe Carrie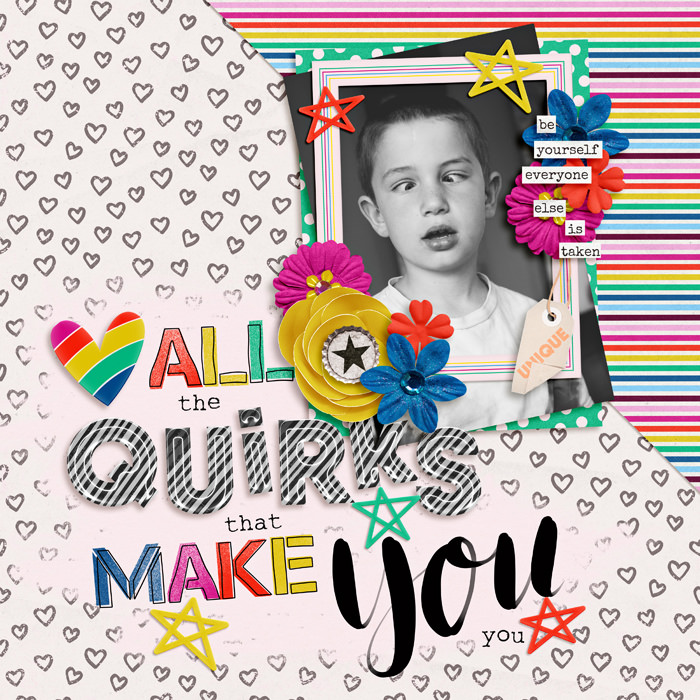 layout by SugarBabe Sara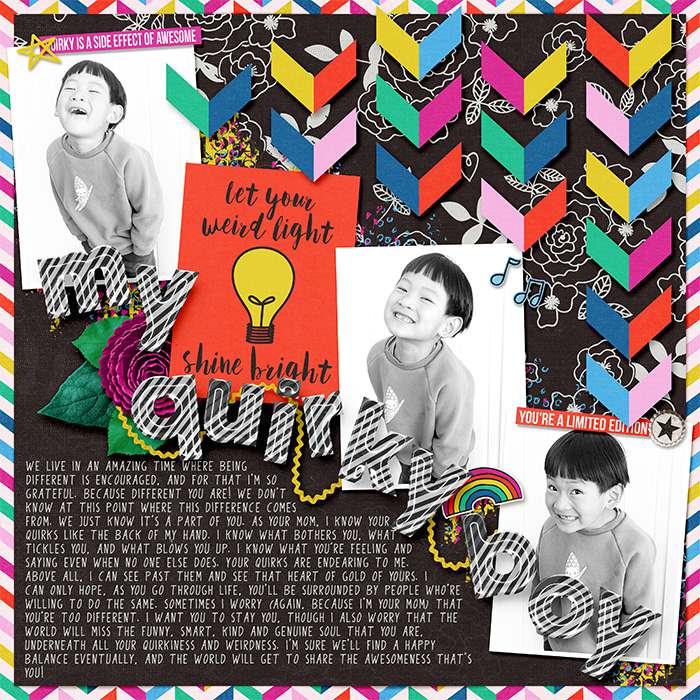 layout by SugarBabe Sherly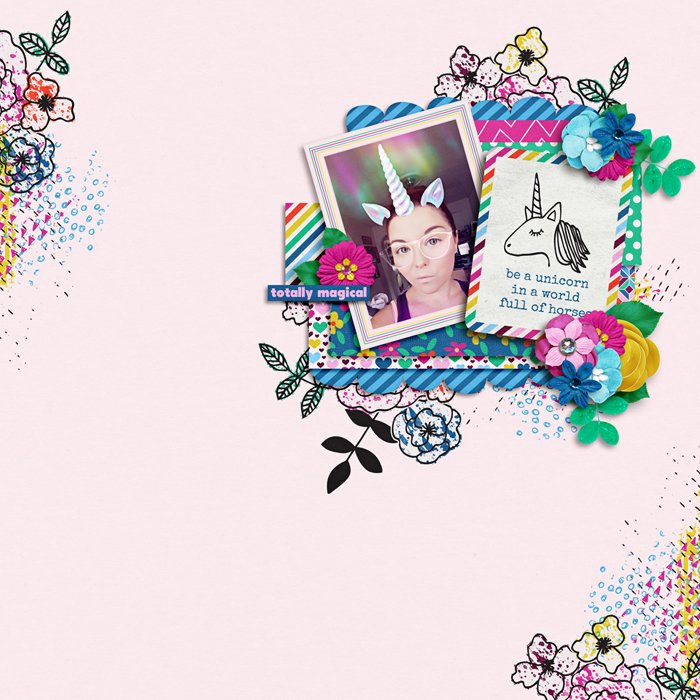 layout by SugarBabe Holly
Seriously, how much fun are those? Don't forget, you have just one week to add each of our summer sixlets to your stash, so head to the shoppe now to do just that!
On that note, I'll be here in your inbox on Tuesday with lots more including our latest Oldies But Goodies and a sneak peek at the pièce de résistance in our personality inspired summer collabs which you'll get if you participate in Scrapaneers' Masters of Scrap competition in August. So, keep your eyes on your inbox so you don't miss a moment of the summer fun here at the sweetest spot in town!
Until next time sweet friends, keep making memories and scrap MORE!