Thursday Treats – Holiday Recipes 11/9
I think every family has a recipe or two that have to make an appearance sometime during the holiday season. It might be for Thanksgiving dinner, New Year's Eve or for sweet treats to share with friends anywhere in between. In my family, we always have sweet potato casserole and pineapple casserole for Thanksgiving. We also have a cookie baking day a few days before Christmas. Can't let those sugar levels get too low around the holidays, right? To get us all in the holiday spirit, I asked the SugarBabes to share a few of their tried and true recipes with you:
First, a favorite from Judie:
Teacake Cookies:
Ingredients:
1 cup butter (softened)
1/2 cup confectioner's sugar
1 tsp vanilla
2 1/4 cup flour
1/4 teaspoon salt
3/4 cup finely chopped pecans
Powdered sugar for rolling
Heat oven to 400 degrees.  Mix butter, sugar and vanilla thoroughly.  Work in flour, salt and pecans until dough hold together.  Shape dough into 1 inch balls.  Place on ungreased cookie sheet and bake for 10 to 12 minutes (or until set, but not brown).  While warm, roll in confectioner's sugar.  Cool and then roll in sugar again.
One from Crystal: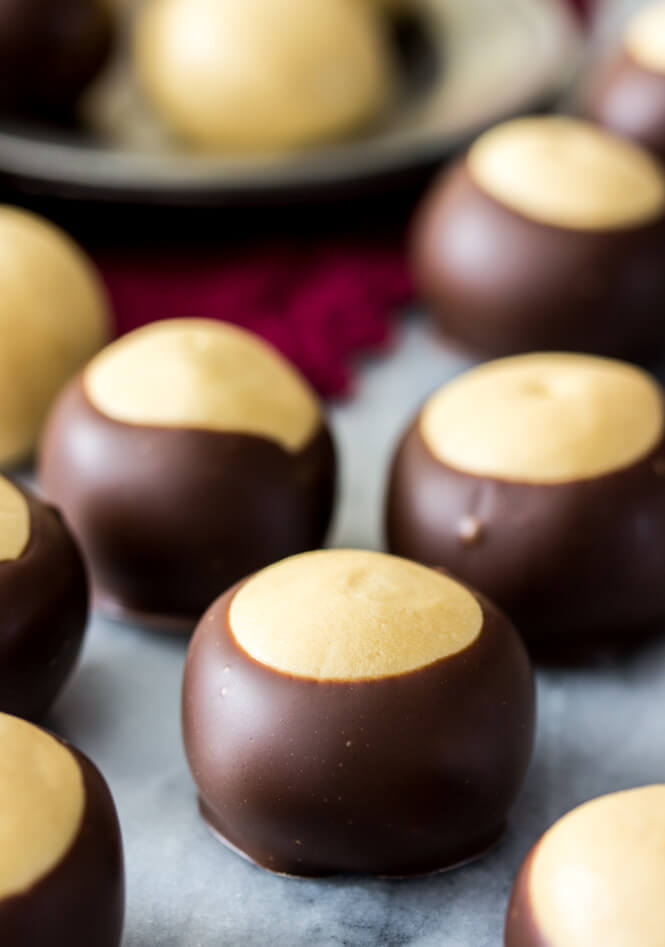 Ingredients:
2

 

cups

 

creamy peanut butter (not "natural" peanut butter)

 

(475g)

1/2

 

cup

 

salted butter

 

softened (113g)

2

 

Tablespoons

 

brown sugar

 

packed

1 1/4

 

teaspoon

 

vanilla extract

3 1/4

 

cups

 

powdered sugar

 

(405g)

12

 

oz

 

dark chocolate melting wafers

 

(340g)
Instructions:
Combine peanut butter and butter in the bowl of a stand mixer and beat until well-combined.

Add brown sugar and vanilla extract.  Stir well.

Gradually add powdered sugar until completely combined.  Scoop into Tablespoon-sized balls and roll with the palms of your hand until smooth and round.*

Place on wax-paper lined cookie sheet and freeze for 15-20 minutes.

While peanut butter balls are chilling, prepare your chocolate according to package instructions.  Pour into a deep dish (I use a wide cup).

Remove peanut butter balls from freezer, spear the top of each peanut butter ball with a toothpick and, holding the toothpick, dip each buckeye ball into the melted chocolate.

Return to cookie sheet and remove toothpick.  Use the pads of your fingers to smooth over the toothpick mark.

Allow chocolate to harden before eating and enjoying.

Buckeye balls are best kept refrigerated.
And two from Vanessa:
Mama's Dressing
Ingredients:
1 9×13 pan of cornbread (I use 4 pks Martha White Cotton Pickin' Cornbread Mix)
5 grands biscuits (cooked)
5 boiled eggs, diced
1 can chicken broth
1 cup chopped celery
1 cup diced onions
1 can cream of chicken soup
1 can cream of celery soup
Directions:
Sauté onions and celery in a small skillet with a tbsp of butter and olive oil, until tender.
Crumble cornbread and biscuits together in a large bowl. Add eggs, sage, celery, onions, salt, pepper and soups. Use your hands to mix as you slowly add chicken broth. You may not need two whole cans, you want it to be moist, but still semi firm and stick together, not runny. It will dry out as it cooks.
Bake at 375 until golden brown on top, about 30-45 minutes.
Almost Granny Ethel's Rum Cake
Ingredients:
FOR THE CAKE:
1 box (about 18 Oz.) Yellow Cake Mix
1 package (3.5 Oz.) INSTANT Vanilla Pudding Mix
4 whole Eggs
½ cups Cold Water
½ cups Vegetable Oil
½ cups Rum (dark Or Light Is Fine
1 cup Chopped Pecans
GLAZE:
1-½ stick Butter
¼ cups Water
1 cup Sugar
1/4 cup plus 2 tbsp Rum
Directions:
Preheat oven to 325 F.Grease and flour a bundt cake pan. Sprinkle nuts over bottom of pan.
If desired, sprinkle a couple of tablespoons of brown sugar over the nuts.
Mix all cake ingredients together. Pour batter into pan over nuts. Smooth out 'til the top is even.
Bake for 1 hour, or a little less if the pan is black. Do not overbake!
Glaze: While cake has ten minutes to go, make the glaze. Melt butter in saucepan. Stir in water and sugar. Boil for 4 to 5 minutes, stirring constantly. Turn off flame and pour in rum.
Stir to combine and reheat for 30 seconds.Remove cake from oven. Immediately drizzle 1/3 of the glaze on the bottom (top) of the cake.
Allow to sit for five minutes. Invert the cake onto a serving plate. Prick surface a hundred times with a fork (gently, please.) Slowly drizzle remaining rum glaze all over the top of the cake, allowing it to drip down the sides. Cool to room temperature before serving to ensure glaze has soaked in.
This is adapted from the Pioneer Woman recipe
And one from me:
Spumoni Chunk Cookies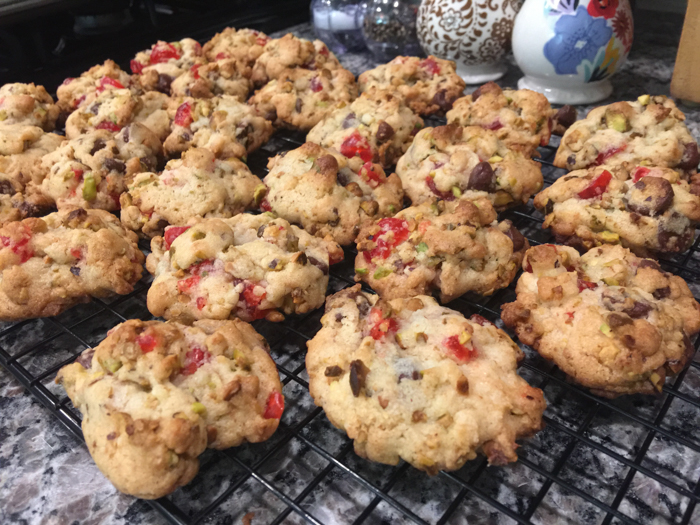 Ingredients:
1 pouch Betty Crocker sugar cookie mix
1/2 cup butter or margarine, softened
1 egg
1 cup candied cherries (like for fruitcake, either red, green or a combination)
1 cup semisweet chocolate chunks
1 cup salted dry-roasted pistachio nuts, coarsely chopped
Directions:
Heat oven to 375. In large bowl, stir cookie mix, butter and egg until soft dough forms. Stir in cherries, chocolate chunks and nuts. On ungreased cookie sheets, drop dough by heaping tablespoonfuls about 2 inches apart. Bake 10 to 12 minutes or until edges are golden brown. Cool 2 minutes, move to cooking racks; cool completely.
Adapted from a Betty Crocker recipe
Do you have a favorite recipe that you'd like to share?