Sweet Shoppe Saturday 12/23
Happy Friday Sweet Shoppers! Are you ready for the big holiday weekend? Tonight is my family's Christmas Eve. Since Rocky works on Christmas every year, we have to do our big event early to make the most of his time off! The kids are psyched for tomorrow morning, and I can't wait to spend the day opening presents, snacking on yummy stuff and snuggling up with a good book! However you spend the holidays, from our Sweet Shoppe family to yours, we hope it's full of love and celebration with the people who mean the most to you!
If you're in the mood to do a little shopping, the designers have outdone themselves this holiday weekend with lots more new goodies than I was expecting! If you're looking to celebrate the new year, have the winter blahs, are ready to play in the snow or so much more, you're sure to find something to love in…
Like always, our newest goodies are 25% OFF until Monday at 6am EST, so stop by the shoppe to treat your scrapbooks to the sweetest digital scrapbooking goodies around! I seriously love tonight's new releases and think you will too, so don't miss em!
Speaking of treating people, did you know we have gift certificates? If you're looking for a last minute holiday gift to surprise a friend in the community or a family member who is an avid digital scrapper, our gift certificates may be the perfect option…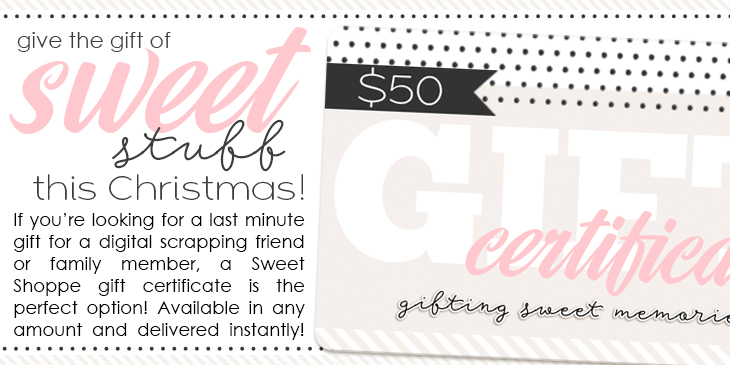 I'm going to keep things short and sweet this week as I have some last minute prep for our big celebration tomorrow, but before I go, I wanted to say that I will see you on Christmas Day with an exclusive special offer, and a sneak peek at the newest designer who will be joining our team the first weekend in 2018, so be sure to watch your inbox on Monday for those sweet special announcements!
On that note, keep making memories sweet friends, have a wonderful holiday, and scrap MORE!