Featured Designer FWP – Shawna Clingerman
Happy Friday friends! It's a new day and we're debuting a new Featured Designer, Shawna Clingerman! Shawna designed an amazing kit to share with all of us. And we get an extra special treat because she also included a set of coordinating Easy Prints! Hustle & Heart is a gorgeous kit with bright, tropical colors and lots of hand lettered word art. And, if you've seen our new Easy Print sets in the shoppe but you haven't tried them yet, now is the perfect opportunity to give them a spin. We think you're going to love this bundle, take a look . . .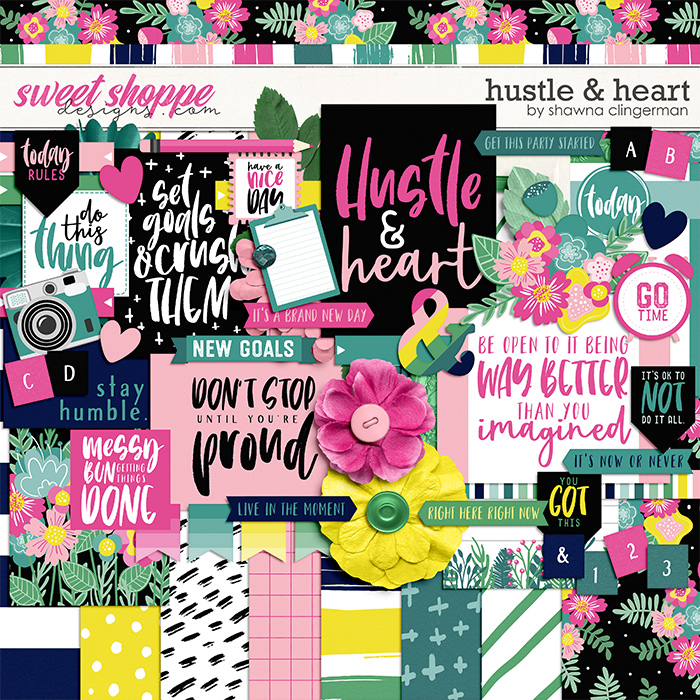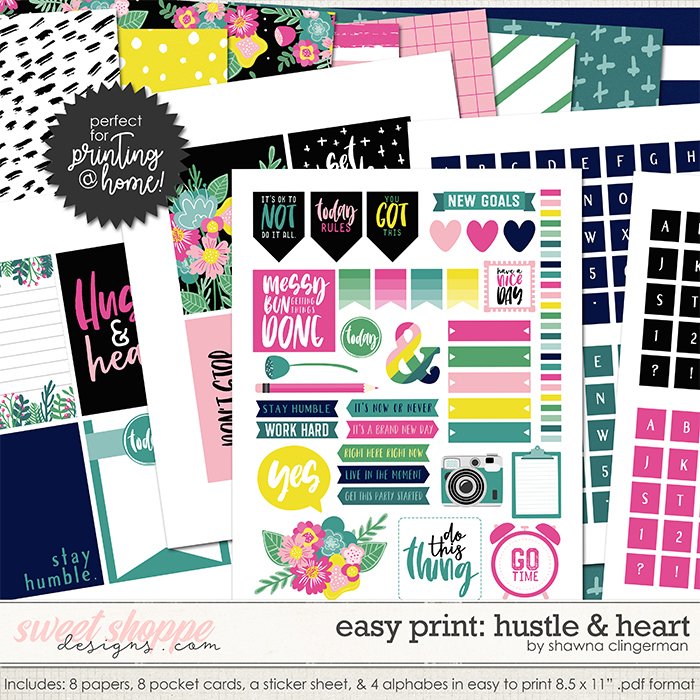 I asked Shawna what inspired her to create Hustle & Heart and what her design process was. I also asked her what she thinks her strength as a designer is and what she would consider her "signature" . . . or what others would recognize her for. Here's what she had to say . . .
I recently dabbled in planner design for a project with a paper company and, um . . . I was HOOKED! So so super fun, and also in doing research I started looking at planner spreads out there in the wild and it is just so FUN – I know I'm super late to that part LOL, but I love it!
Because a majority of my work ends up happening now for products and projects that are for production and/or printables, I also am just really jazzed up about the introduction of Easy Prints to SSD. So as I designed this kit I did it with the intention of making it printable and I decided that as my FWP I wanted to give people a taste of how easy prints work. So I started there, and then added a few "digi" things too for those of you that wouldn't touch your printer with a 10 foot pole.  I also did a full set of coordinating planner stickers for my shop so that you can pick up some planner stickers to play with as you use your FWP kit!

Hand illustration and type are definitely the areas I'm strongest in as a designer. I do hand illustrated graphics, and I'm very careful and considerate with my use of type. I like a piece of word art that looks balanced and intentional and I have started adding a lot of hand lettering to the mix, which really gives me the freedom to achieve my exact vision when it comes to typography. Another thing that I think shows a lot in my work as I've evolved is just the fact that I've done work for a lot of different areas of the industry, so when I approach something I don't see it as a purely "digital" design anymore . . . hence my excitement for the Easy Prints!!
The Babes created some super fun layouts with Hustle & Heart! They really show off how beautiful Shawna's kit is, and we hope their pages inspire you.
So go fill up your shopping cart with $10 and Hustle & Heart (including that fun set of Easy Prints) will automatically be added for FREE! This special offer will only be available through Friday, March 23rd when our new releases go live, so don't delay! And don't forget to come back next week when we have a little sneak peek into a fun, new bi-weekly sale that we're going to do involving our amazing featured designers this year! Have a great weekend!
SaveSave
SaveSave
SaveSave
SaveSave
SaveSave