Featured Designer FWP – Kristin Cronin-Barrow
Happy Friday friends! It's a new day and we're debuting a new Featured Designer, Kristin Cronin-Barrow who has a gorgeous kit for us! Take a Break is a kit all about slowing down and relaxing. The soft and soothing aqua, cream, and gold colors make me want to sit down in some grass next to a mountain lake and read a good book. We think you're going to love this kit, take a look . . .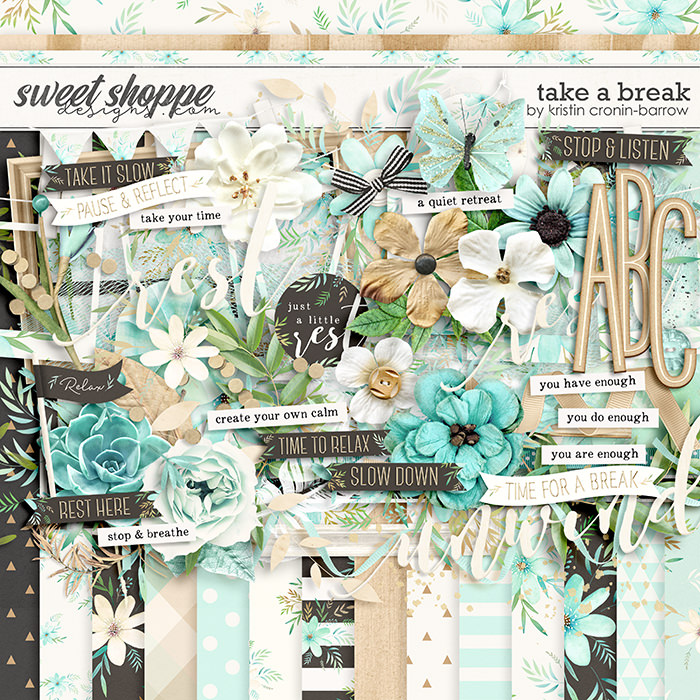 I asked Kristin what inspired her to create Take a Break and what her design process was. I also asked her what she thinks her strength as a designer is and what she would consider her "signature" . . . or what others would recognize her for. Here's what she had to say . . .
If I'm being completely honest I was actually in a bit of a design funk prior to creating this kit. That likely has to do with the pressure I put on myself when it comes to putting myself out there with things like Featured Designer kits, when I know more people will be accessing it. Because I'm a bit of a people pleaser, I don't want to disappoint anyone. This leads to me becoming a little overwhelmed and creatively blocked. I decided to go with how I was feeling at the time and that was that! The kit came together really easily. In several of my recent kits I've been playing with making florals instead of going with a standard color scheme and that is really helping me out tremendously.

People will often say certain kits are very "KCB-like" but I'm still not really sure how I would define my style! It does make me happy that my work is recognizable and that I do have a style . . . even if I'm not able to define it myself. I really love to explore themes, and in the case of my kit this week, I love making companion or coordinating kits.
The Babes (and even a few of our talented designers) created some super fun layouts with Take a Break! They really show off how beautiful Kristin's kit is, and we hope their pages inspire you.

So go fill up your shopping cart with $10 and Take a Break will automatically be added for FREE! This special offer will only be available through Friday, April 20th when our new releases go live, so don't delay! And don't forget to come back next week when we have a little sneak peek into a fun, new bi-weekly sale that we're going to do involving our amazing featured designers this year! Have a great weekend!