Featured Designer FWP – Allie of Lliella Designs
Happy Friday friends! It's a new day and we're debuting a new Featured Designer, Allie of Lliella Designs, who has a wonderful kit for us, Cool Summer. "Cool" is a great word for this kit. It has a really calm, beachy feel, with a fun variety of papers and plenty of Allie's signature illustrations! We think you're going to love this kit, take a look . . .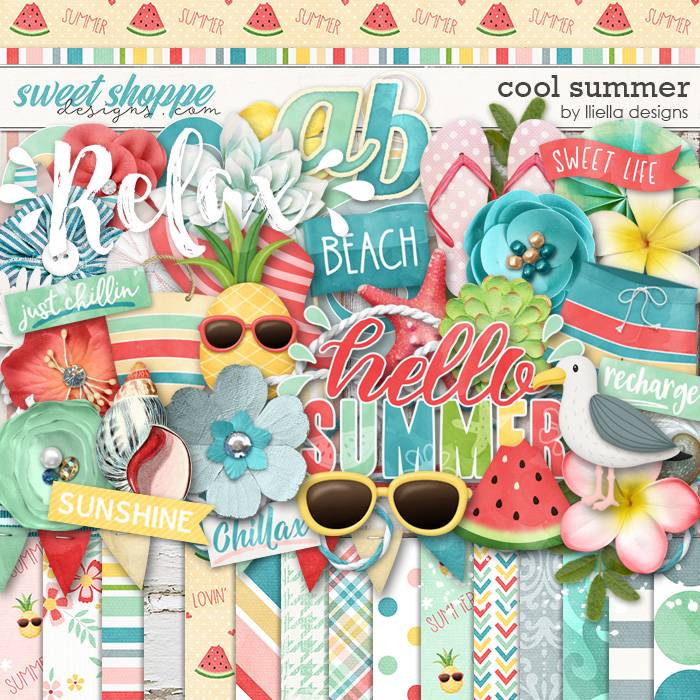 I asked Allie what inspired her to create Cool Summer and what her design process was. Here's what she had to say . . .
It's summer time in the US now, but where I live it's monsoon season, which means almost daily rains and flooding sometimes. I just miss the summer here (April–May) when we would go to the beach often. Creating this kit lets me hold on to the summer memories longer and also just might inspire me to scrap my hundreds of beach photos!

I usually start by deciding the theme of the kit. Then I make vectors for the themed items. I used to do them in Coreldraw but have now switched to Illustrator. Then I choose colors for my swatch, color and texture the themed elements, make the papers, and then finally make the alphas.
I also asked her what she thinks her strength as a designer is and what she would consider her "signature" . . . or what others would recognize her for.
I think my biggest strength would be that I create my themed pieces myself using vectors. I am known more for my cute kids elements. I am trying to lessen the cute kids in my kits now, as I am trying to appeal to a wider group of scrappers.
The Babes created some super fun layouts with Cool Summer! They really show off how beautiful Allie's kit is, and we hope their pages inspire you.
So go fill up your shopping cart with $10 and Cool Summer will automatically be added for FREE! This special offer will only be available through Friday, August 3 when our new releases go live, so don't delay! And don't forget to come back next week when we have a little sneak peek into a fun, new bi-weekly sale that we're going to do involving our amazing featured designers this year! Have a great weekend!
SaveSave
SaveSave
SaveSave
SaveSave
SaveSave
SaveSave
SaveSave
SaveSave
SaveSave
SaveSaveSaveSave
SaveSaveSaveSave
SaveSave