Featured Designer FWP – Jady Day Studio
Happy Friday friends! It's a new day and we're debuting a new Featured Designer, Yari of Jady Day Studio, who has a wonderful kit for us, Love at Home! The color scheme in this kit is definitely swoon-worthy, and I absolutely love all the hand-drawn illustrations–so adorable! We think you're going to love this kit, take a look . . .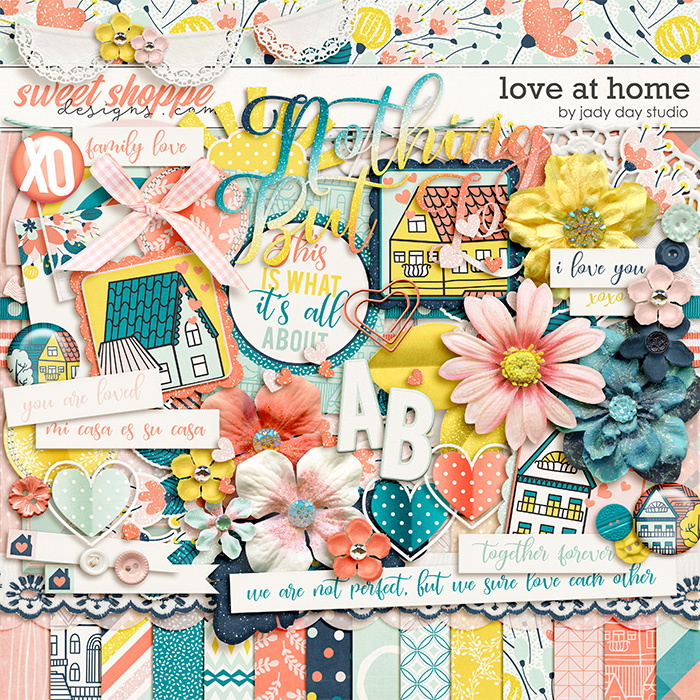 I asked Yari what inspired her to create Love at Home and what her design process was. Here's what she had to say . . .
I wanted to create something that captured happiness in the home with bright and yet sweet colors. My family was my inspiration behind the kit. Family means everything to us and they are my biggest treasures.

The first thing I did was come up with a color scheme according to my theme. Next, I created my papers. Last I created my ellies and alpha. That is pretty much what I do every time I design.
I also asked her what she thinks her strength as a designer is and what she would consider her "signature" . . . or what others would recognize her for.
I think my biggest strengths as a designer are my color schemes, the themes for my kits, the large variety of creative elements I include, and the cohesiveness of the entire kit, basically how it all flows and works so great together. And yes, I definitely think my design style is recognizable and has a signature look.
The Babes created some super fun layouts with Love at Home! They really show off how beautiful Yari's kit is, and we hope their pages inspire you.
So go fill up your shopping cart with $10 and Love at Home will automatically be added for FREE! This special offer will only be available through Friday, July 20 when our new releases go live, so don't delay! And don't forget to come back next week when we have a little sneak peek into a fun, new bi-weekly sale that we're going to do involving our amazing featured designers this year! Have a great weekend!