Featured Designer FWP – Janet Phillips
Happy Friday friends! It's a new day and we're debuting a new Featured Designer, Janet Phillips, who has a wonderful set of templates for us, Our Summer Calendar. Janet's templates always have a simple, clean design, which makes them the perfect foundation for adding your own flair. We think you're going to love this set of templates, take a look . . .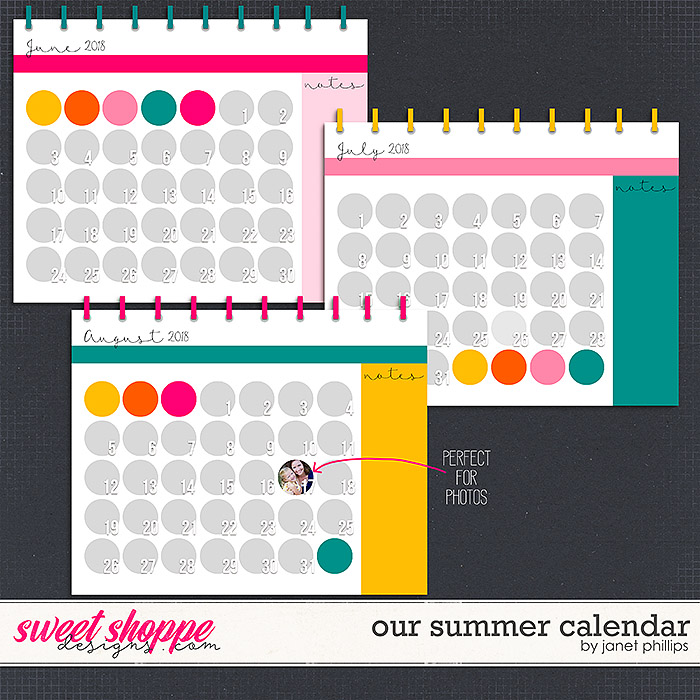 I asked Janet what inspired her to create Our Summer Calendar and what her design process was. Here's what she had to say . . .
When I design, especially for templates, I try to think of what problem I am trying to solve. Of course, I value beauty and design, but I also want my products to be useful.  I know that summertime can be a busy season for families, and therefore scrapping the summer can seem like a daunting task. Over the years I have created a number of ways to chronicle a summer. I thought these calendar templates would take something overwhelming and make it simple!
I also asked her what she thinks her strength as a designer is and what she would consider her "signature" . . . or what others would recognize her for.
That's hard to answer since my designing has evolved. For ten years, I only designed templates. I loved templates and I still do. But I wanted to branch out and try something new, and so I started slowly to design kits. I suppose if I had to choose something, it's what I mentioned above: I try to solve a problem with my designs. For example, in my "At My Desk" kit, I was literally looking at my desk and all that it represents to me. After that, I took the kit I had started (that had no particular theme) and let it move into the direction of being able to capture the work-at-home life.
The Babes created some gorgeous layouts with Our Summer Calendar. They really show off how versatile these templates are, and we hope their pages inspire you.
So go fill up your shopping cart with $10 and Our Summer Calendar will automatically be added for FREE! This special offer will only be available through Friday, September 14 when our new releases go live, so don't delay! And don't forget to come back next week when we have a little sneak peek into a fun, new bi-weekly sale that we're going to do involving our amazing featured designers this year! Have a great weekend!