Featured Designer FWP – Jenn Barrette
Happy Friday friends! It's a new day and we're debuting a new Featured Designer, Jenn Barrette, who has a wonderful kit for us, I Like It Loud. If you know someone who likes loud music, loud games—loud life, this kit is for you!! Jenn managed to create a kit that is cute, funny, and cool all at the same time. We think you're going to love this kit, take a look . . .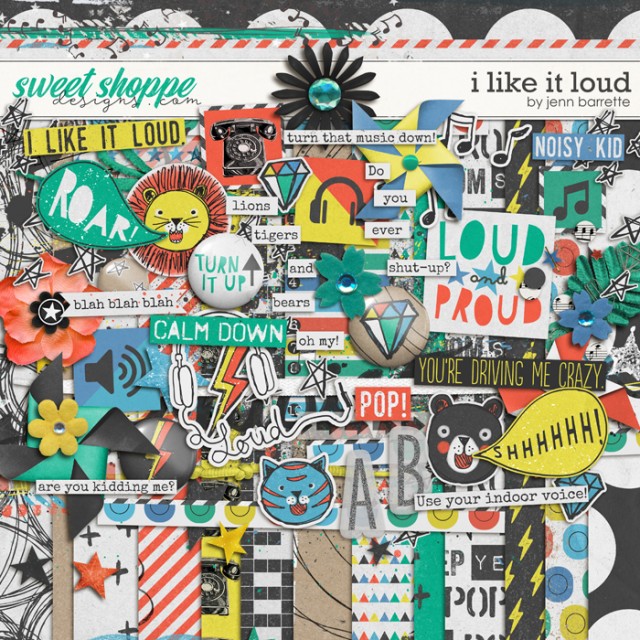 I asked Jenn what inspired her to create I Like It Loud and what her design process was. Here's what she had to say . . .
I started out looking through my collection of color inspiration images. I have a huge folder on Pinterest! I am always inspired by color, so that is where I start most of time. After that I looked through my notes on my phone where I keep a running list of kit ideas. I also thought with parents having their kids home for the summer . . . LOUD kids was something many of our customers could relate to!
I also asked her what she thinks her strength as a designer is and what she would consider her "signature" . . . or what others would recognize her for.
I hope that I'm known for my bold color choices and less-than-cookie-cutter themes. I think my signature style falls in the eclectic category; a whimsical mix of goodies that somehow work wonderfully together!
The Babes created some super fun layouts with I Like It Loud! They really show off how amazing Jenn's kit is, and we hope their pages inspire you.
So go fill up your shopping cart with $10 and I Like It Loud will automatically be added for FREE! This special offer will only be available through Friday, August 17 when our new releases go live, so don't delay! And don't forget to come back next week when we have a little sneak peek into a fun, new bi-weekly sale that we're going to do involving our amazing featured designers this year! Have a great weekend!
SaveSave
SaveSave
SaveSave