Featured Designer FWP – Meagan Tuck
Happy Friday friends! It's a new day and we're debuting a new Featured Designer, Meagan Tuck of Meagan's Creations, who has a wonderful kit for us, Still the One. This kit is just gorgeous, filled with romance and elegance—perfect for documenting anniversaries or many other special events. We think you're going to love this kit, take a look . . .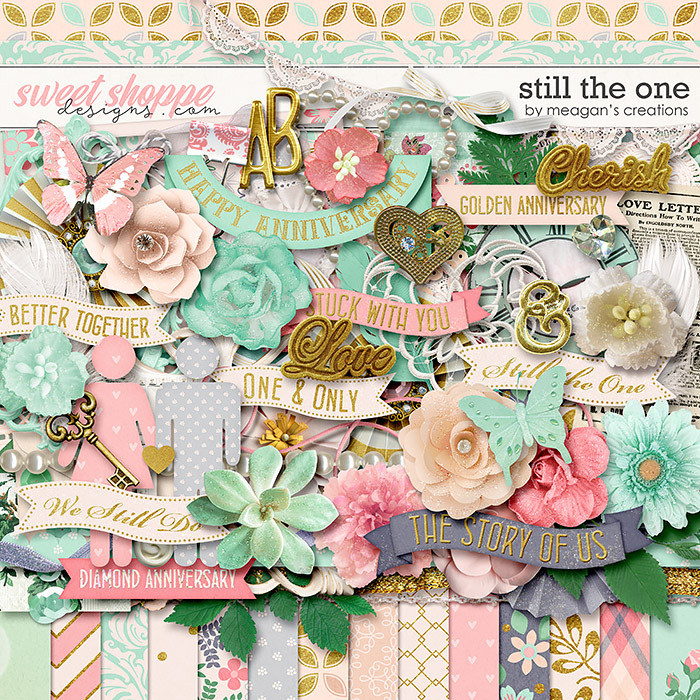 I asked Meagan what inspired her to create Still the One and what her design process was. Here's what she had to say . . .
Still the One was inspired because I have often heard of the special themed anniversaries and I know my husband and I often do something special for our anniversary (just had our 13th in August!) and so I thought it'd be great to have an elegant kit to commemorate that with great gold accents. I knew I wanted gold! Then I thought of soft colors, pastels, and I'm a sucker for blue so it seeped it's way in there, too! To get ideas and palettes, I often start on Pinterest. In case you don't know the song or it doesn't start playing through your head when you hear the title, I love the song "Still the One" by Shania Twain and that definitely influenced my design too! I also checked out anniversary party supplies and wanted a lot of elements to express "time," hence the clock and soft vintage elements.
I also asked her what she thinks her strength as a designer is and what she would consider her "signature" . . . or what others would recognize her for.
I really work on the little details of an element. I will play around with the overlays and blending modes until it looks just right. I don't want a re-colored element to look necessarily re-colored, but as if it's in its original form. Because of this theme, I went a lot softer than I usually do. I think I'm known for my themed-kits with custom-made elements, bold colors, and playful feel.
The Babes created some gorgeous layouts with Still the One. They really show off how amazing Meagan's kit is, and we hope their pages inspire you.
So go fill up your shopping cart with $10, and Still the One will automatically be added for FREE! This special offer will only be available through Friday, September 28 when our new releases go live, so don't delay! And don't forget to come back next week when we have a little sneak peek into a fun, new bi-weekly sale that we're going to do involving our amazing featured designers this year! Have a great weekend!