Featured Designer FWP – Melissa Bennett
Happy Friday friends! It's a new day and we're debuting a new Featured Designer! Believe it or not, over the past year and a bit, we've had all of our designers in the spotlight as our featured designers, so this week, we're starting fresh with a new series of featured designer FWP products that will center around the letters of the alphabet! Melissa Bennett is up first with the letter "A", and she has an amazing kit for us—A is for Awesome. This kit is the perfect way to kick off our new Featured Designer series! This kit is so fun and colorful, works for both boys and girls, and really embodies the word "awesome"!  Take a look . . .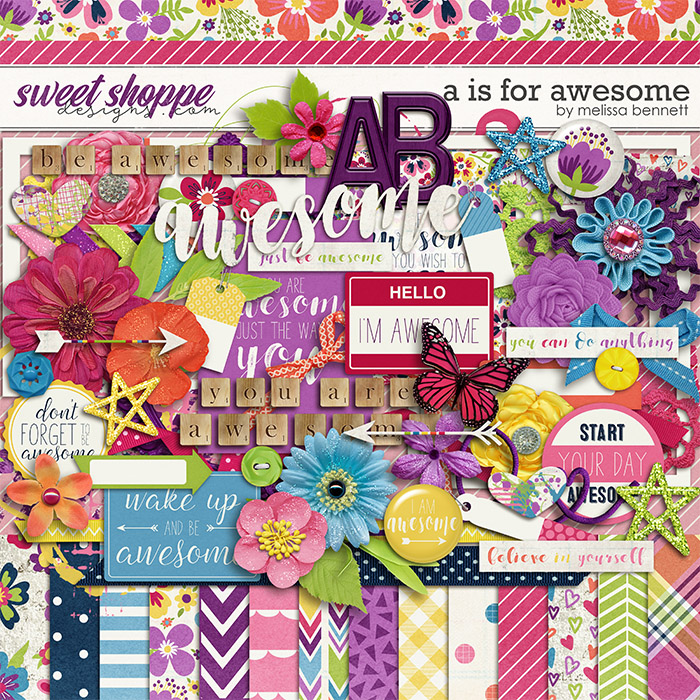 I asked Melissa a few questions about this kit and the process she went through to create it. Here's what she had to say:
Tell us a little bit about the direction you took for your letter of the alphabet.
I was super excited to be the first one using the new theme. I knew immediately that I wanted to do something positive and upbeat. We all have a tendency to find fault in ourselves instead of seeing the good. So I wanted something to point out how amazing and awesome we all are, and to realize that and truly see that in ourselves.
Did you find it difficult coming up with a concept for your letter?
Not really. As soon as I found out I would be doing A, it was immediately clear the direction I wanted to go with this kit. 
I also asked Melissa a few more questions about her love for this hobby of ours and some of her favorite layouts or products:
Show us the last layout you scrapped!
I found my love of scrapping again this year and found inspiration for creating kits while doing so. I can say I love scrapping again. My last layout is of my new grand daughter using Cindy Schneider's Photo Focus Mega 1 template and Kristin Cronin-Barrow & Digital Scrapbook Ingredients kit Grow Through Life: Baby Girl.
Give us a sneak peek at a product that will be released in the next two weeks.
I picked out these colors and inspiration board before I even decided to come back to designing. I love beach and sea themed kits, so this one is in the works and should be ready by DSD.
Do you have a design soulmate? Someone you can always count on to bring out the best in you as a designer? Who is it and why are you so proud of what the two of you have created together?
I love working with any of the designers at the Sweet Shoppe. But there is one who pushes me to work outside of my norm and with our two different design styles, I think we complement each other when we work together and I have loved and been proud of each kit we have created together. Plus she is so sweet and makes the process so fun.
The Babes created some gorgeous layouts with A is for Awesome. They really show off how amazing Melissa's kit is, and we hope their pages inspire you.
So go fill up your shopping cart with $10, and A is for Awesome will automatically be added for FREE! This special offer will only be available through Friday, October 12 when our new releases go live, so don't delay! And don't forget to come back next week when we have a little sneak peek into our fun, bi-weekly sale involving our amazing featured designers! Have a great weekend!