Sweet Shoppe Saturday 11/3
Happy Friday Sweet Shoppers! As you guys can see, I'm here in your inbox a little earlier than usual this week because some of my favorite people and I are nerding out at BlizzCon in California this weekend! We plan to take in the festivities featuring our favorite games and make tons of memories over the next couple of days, and my awesome designers were willing to help us have a blast by getting all of their sweet treats ready early this weekend so I can have a worry-free, work-free Friday!
There are some scrumptious new goodies hitting the shoppe today, including one of the first Christmas kits of the season, but that's just the start of the goodness from our amazing team, so take a peek at all of the yummy treats making their debut in…
Like always, all of our newest goodies are 25% off all weekend long, and with our earlier release schedule this week, you have even more time to save because prices will be good from now through 6am EST on Monday morning! If you see something you love, now is a great time to treat yourself to something new!
Speaking of new… a brand new month is here, and with it comes a challenging new Bingo card that will inspire you to scrap while also earning sweet rewards which can be used in the shoppe during the month of December! If you aren't already playing along with our Bingo Challenges and earning discounts of up to 40% in the shoppe each and every month, now is a great time to start, so visit our community now to check out the details…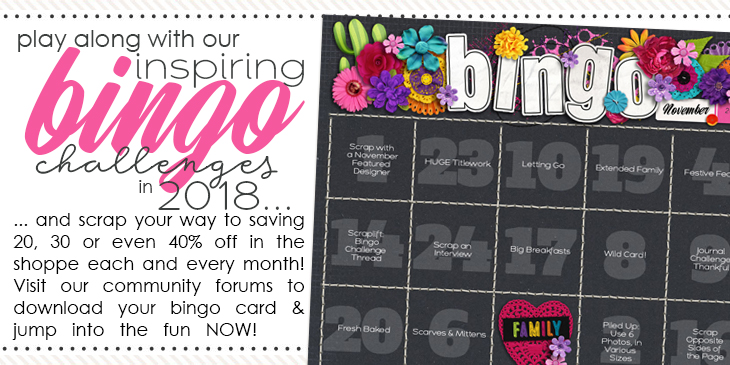 As usual, I'll be here in your inbox on Tuesday with a scrumptious Featured Designer 15 sale from Ru of Studio Basic, so be sure to keep your eyes right here on your inbox for a little mid-week eye candy showing off her sweet treats!
Until then, keep making memories and scrap MORE!