Darla gives us ideas of things to think about BEFORE you tackle an organization project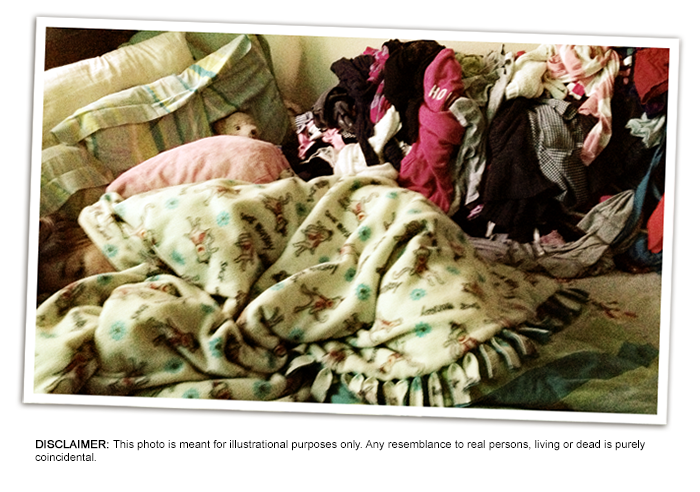 Ok the thought of spring cleaning or organizing things can be very overwhelming to me. I find myself breaking out into sweat, and panic just seems to surround me. Like the picture, I just want to crawl into bed and cover my head hoping the little organizational fairies will take pity on me and organize things for me! Since that is highly unlikely to happen, here are some questions and tips to help you get over your anxiety about tackling your project:
1. Do You NEED to Organize? I know this sounds like a funny question because most people would say "No!" if the project is a large one. But honestly, it is a question that helps you break down what your needs really are. How many times have you cleaned an area and later when you are looking for something you need, you suddenly can't find it? You hunt around and all you can think about is how it was there BEFORE you cleaned! The idea behind organizing something is that you will be able to find something easily when you need it because it is in its rightful place. It is important before you start an organizational task that you take time to clarify your priorities, objectives, and figure out how you want things to be arranged. By doing so, you can determine if you really need to organize your project or simply keep it more tidy so that it doesn't look disorganized when you look at it.
2. Reduce Before You Organize. The thing that overwhelms people when they organize is that there seems to be so much to do. Just take a look at the reality shows that highlight people who refuse to get rid of anything and the utter pain they go through to slowly reclaim their lives from this clutter. If you are like me, you may have tons of photos, layouts, and digital items sitting around on your hard drive in some unorganized fashion, and even purchasing or using a program to help organize this won't reduce the amount of these items! So take a breath and step back to see what you have to organize and ask yourself: do you really need all these items? If you come back with a "no," then take the steps to slowly get rid of things you don't really need anymore or are less likely to use again. If you can't bear to part with some of the stuff, put it in a "maybe" area for you to come back and look at later on. Reducing your clutter doesn't have to be painful but should be thoughtful so that when you are finally done with organizing things, you don't have any regrets about the things you got rid of.
3. Start Small. For some people, the thought of spring cleaning brings about happy thoughts of peace and inner happiness. For others like me, it just means work and long hours! To try and cope with this, perhaps take out your notebook and create a list of what you need to organize by listing each item individually. Don't get caught up on how many things are on this list or how many pages of paper you had to use to create your list; you are just trying to collect your thoughts to see what you need to tackle! Once your list is complete, look at it realistically and ask yourself if there is a deadline by you need to have this accomplished. Once you have this, simply break down your list into small manageable tasks that will allow you to complete it in the time you hoped for. For example, my girls like to take photos on their smartphones and have amassed over 3,000 photos on their phones. I want to scrap these but the thought of tagging 3,000 photos in one sitting seems to equate to a lot of long hours that I truly don't have right now. But, perhaps starting out on this task in a small way by creating folders to hold the photos by year order and then organized by month is a great beginning. The next time I want to organize, I can break the months down into the events that happened when the photos were taken and so on. Eventually over time, I will have the end result I desired; a way to easily access these photos for layouts I want to create for my girls.
4. Keep a Schedule. It is easy to get distracted from things we are not excited about doing. And for me, organizing and cleaning are not on my top favorite things to do. I know that I can honestly say that often I will look for ways or things to take me off of a task that I am not in the mood to do. So, I have had to be creative in getting things done timely. A quick and easy solution to avoid this would be to set up a schedule that identifies what you need or want to do and when you are going to do it. The schedule doesn't have to be complicated, but it should be a tool that can assist you with your task at hand. And, if you want, add some little "fun time" to your schedule so that you don't feel like the task is so daunting or a chore!
5. Know What "Organized" Looks and Feels Like. This is a really important part of getting ready to organize something because it helps you set realistic goals of what you hope to accomplish. For some people, organizing their digital kits with ACDsee is a the perfect answer to finding everything they own in their digital stash, But for me, it didn't work the way I had hoped it would. Don't get me wrong—the program is a great tool to organize these items, it was just that it wasn't my idea of how I wanted my stuff to be organized. I tagged a few 100 items, and in the end, I felt like I was more unorganized than the haphazard way I had it before. I learned quickly that it might have been better for me to understand what I thought organizing my stuff would look and feel like for me instead of what someone else may have suggested. Ideas and suggestions that you get from others or on the internet are great starting points to help you understand what your organizational needs are, but take them as that—a starting point—to help you develop how you will organize your project. In the end, you need to be happy with the results of your task or it was needlessly done.
These are just simple steps and thoughts to get you started on organizing something. We encourage you to continue to check our blog throughout the month to get some really great tips and suggestions on how to help you accomplish your spring cleaning. I am not sure if there is such a thing as being too organized, but I had to smile at the photos from a blog post that one of our SugarBabes shared with me here—it sure puts things in perspective! Happy organizing!