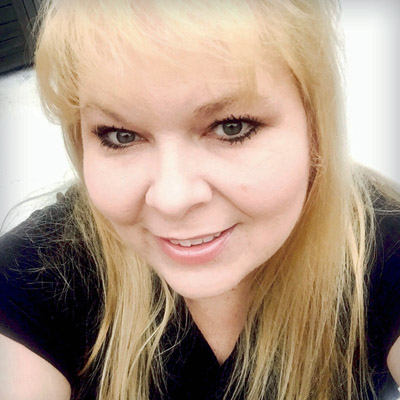 Where do you call home?
After 21 years of my husband serving in the Air Force we have finally settled down in the small town of Roy, Washington.
Tell us a little about your family…
I met my husband in November of 1991 at a church dance. Ten days later he asked me to marry him and I said yes. We were married on January 11, 1992 in Seattle, Washington. We moved around because of the Air Force. Throughout our marriage we struggle with infertility. In 1994 we adopted our first child Tyler. When we were stationed at Fairchild AFB in Spokane, Washington we became foster parents and ended up adopting 2 kiddos in 2005. Skyler and Nicole are only 3 months apart in age so it has been like having twins. My husband is no retired from the Air Force and works for the Department of Ecology for the state of Washington. Our oldest is 22 years old and my two youngest will be 13 this year, official teenagers, pray for me please. LOL!
When did you join Sweet Shoppe Designs & what's your favorite thing about being a member of the team?
I was lucky to join Sweet Shoppe Designs in May of 2008. My absolute favorite thing about being a member of the team is they are like family to me. They have been there for me through so much and I have had the pleasure to meet many of them in real life. They are such an amazing group of ladies who truly care about each other. I love my SSD family.
How long have you been designing?
I started dabbling in designing in September of 2006 and started selling my kits in a store in October of that year. So this will make 10 years this year.
What inspires you?
Color combinations and patterns. These are my biggest inspiration. Sometimes I will find a color scheme I love and have no clue as to what kind of theme I should do, but I will start designing just because the colors inspire me.
Tell us a little bit about your design process…
I have to find the colors first. Sometimes I will look for inspiration on Pinterest for the colors and design ideas and will create a board for it to work from. I always do my papers first. I don't know why but that is what works for me. I also have to do a working preview as I go along to make sure the papers work will together. Once I am done with that is on to my elements. I start with a few basics then move on to those that are specific for the theme of the kit. The alpha is always the last thing I design for the kit.
What is something we may not know about you?
I served for almost 6 years in the Army National Guard as a Combat Medic and then retrained to become a Clerk Typist. While I enjoyed serving the training took a toll on my poor body and I made to choice to get out and be a mother and wife instead.