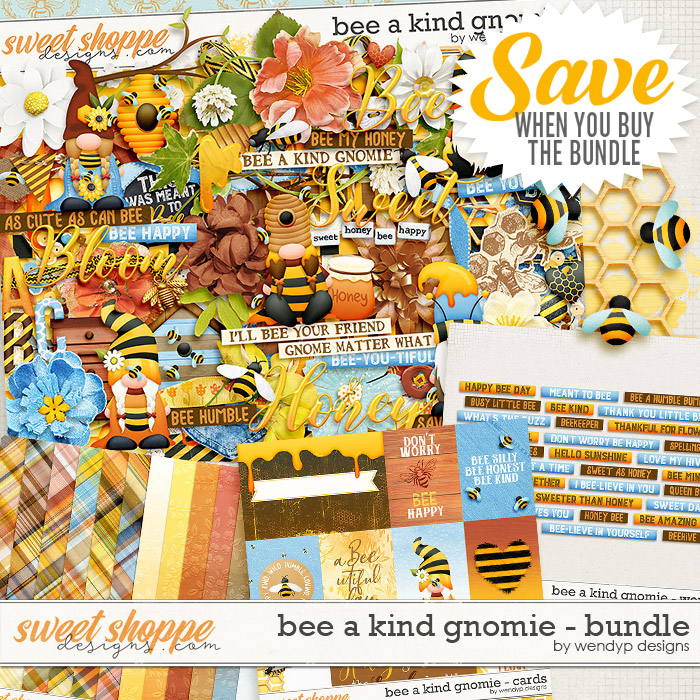 A digital scrapbooking collection by WendyP Designs, Bee a Kind Gnomie, is inspired
by warm sunshine and honey. Bee inspired to document spring and summer fun with
this versatile kit that includes lots of honey and hives. Perfect for bee-you-tiful layouts
of beekeepers, fairs, farmer's markets, Winnie the Pooh and friends, or enjoying
backyard fun on a sunshiny day!
This kit includes 35 papers (25 patterns and 10 solids)
Many fun elements include banner, bees, bows, brad, brushes, buttons, charm, cloud, clover,
flair, flowers, foliage, frame, gnomes, hanging beehive, hearts, hexagons, hives, honey,
honey dippers, honey drip, honey jar, ivy, label, lace, metal fastener, paint, paper
pieces, pocket, ribbons, scribble, sequins, stamp, staples, stitches, strings, tape, titles,
trim, vintage bees, and word strips.
and 3 alpha's.

BONUS PAPERS:
This kit contains 6 plaid and 6 gradient papers.
JOURNAL CARDS:
This kit contains 10 journal cards, 9 in both orientations.
WORDY PACK:
This kit contains 30 word strips.