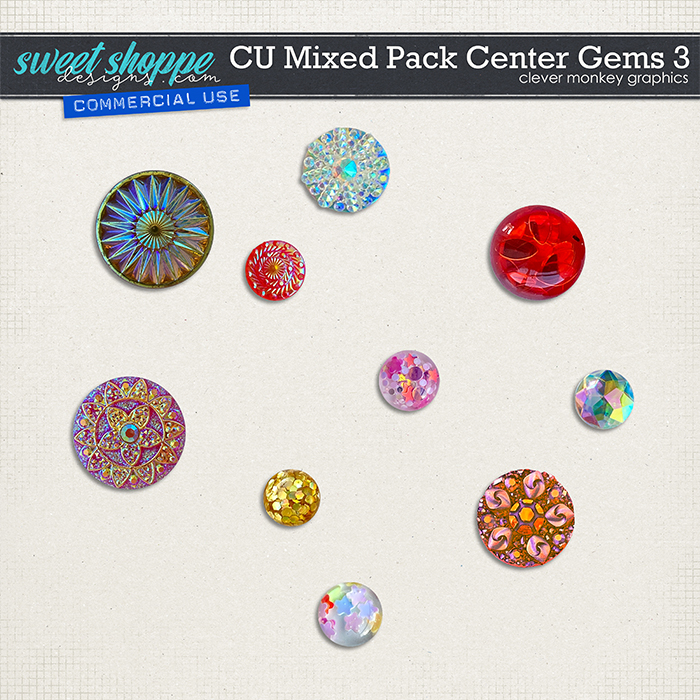 CU Mixed Pack Center Gems 3 by Clever Monkey Graphics contains 10 unique center gems as shown in the preview . These are the size against a 12"x12" digital paper as shown in the preview. Perfect for giving your flowers a unique center, adding more interest to spills or adding pieces of interest to art journals. These gems have been pulled from full packs of each style also available to provide you with a money-saving method of purchasing a few gems for your CU use. I have left gems with their original names in order for you (and me) to keep track as mixed packs are created.
My Commercial Use TOU are always available on my blog.
Here are the basics CU Terms of Use for this product. Please make some slight adjustment to these, be it color, rotation, size, etc. or these elements must be used attached to some other form of element and not sold as is. Ideas include florals centers, with a metal ring around them, holding something else in place, slightlly overlapping something else in a spill, etc. If used in a spill, please be sure that 30% are slightly overlapping something else or that these are at least 50% reduced in size. These terms help keep these unique to a variety of designers. Please be sure to read the full terms of use. For personal use, you may use these as is but if creating for others, it must be delivered in a flattened jpg format.
Above is only a quick partial summary to assist you in your decision making process. Questions? PM here or on Facebook, or send an email to me a clevermonkeygraphics in the land of hotmail.