Featured Designer FWP – Grace Lee
Happy Friday, friends! We've come to the end of another week. How's everybody doing? Wherever you are in the world, I hope you and your loved ones are safe and healthy. I'm really grateful for our sweet community, especially right now when things are so strange. Keep hanging in there!!
Today I'm excited to introduce Grace Lee as our Featured Designer!
As you know, the current theme for our Featured Designer freebies this year is a Mix Tape. Each designer will create something inspired by one of their favorite songs, and at the end of the year, we will have an amazing mix tape compilation! Grace has created a beautiful kit for us, inspired by a song by Maroon 5—Memories. Take a look . . .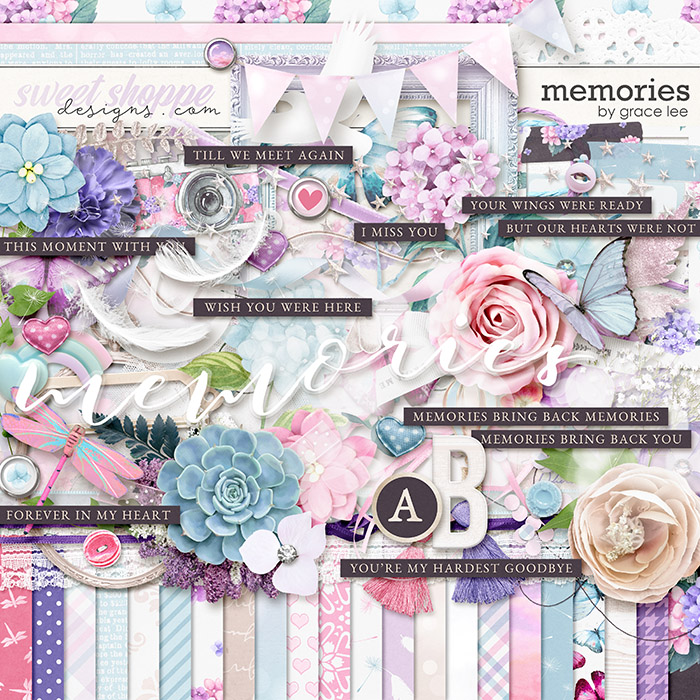 I love the softness of this kit! It's perfect for the nostalgic feeling that the song that inspired it invokes.
I asked Grace a few questions about this kit and the process she went through to create it. Here's what she had to say:
What song did you choose as your inspiration? Why does it speak to or inspire you?
I chose "Memories" by Maroon 5. As a scrapbooker, the line "memories bring back, memories bring back you" immediately caught my attention when I first heard the song on the radio. I knew I wanted to make a kit that can be used for, and bring back, all kinds of memories.
How did you decide what direction to take your kit after choosing the song for our mix-tape?
I feel that the song celebrates those who've left and also those who're staying behind, and I want my kit to be used for both. Color-wise, I chose a palette of soft, ethereal pinks, purples, and blues that I hope will capture the tender mood of missing a loved one.
I also asked Grace a few more questions about herself, her love for this hobby of ours, and some of her favorite layouts or products:
What kit are you most proud of creating in the last year? Why?
I'm very proud of how "Boss Lady" came out! It looked exactly like how I pictured it in my mind, from the fun quotes on the letter boards down to the gold wire heart. It's a kit that showcases how far I've come becoming my own boss lady.
When you aren't designing digital treats, what do you spend most of your time doing?
We welcomed this little bug into our family back in October, and when I'm not designing, I've got my hands full taking care of him and my two other children! Having to do school at home this year hasn't been easy, and we're all glad that school is over and summer is here!
Are you addicted to anything? What is it and why are you addicted?
I love soda (except Dr. Pepper), and I drink it like water. My only excuse is that I don't drink coffee or alcohol, so soda is my poison of choice. Plus plain water is gross!
Share a quote that you think is perfect for scrapping!

The Babes created some amazing layouts with Memories, and as always, we love seeing how each member of our talented team brings their own style to each and every page they create! All our Babes are brilliant at showing off the versatility of each product in the Shoppe, and we hope their layouts inspire you. . . .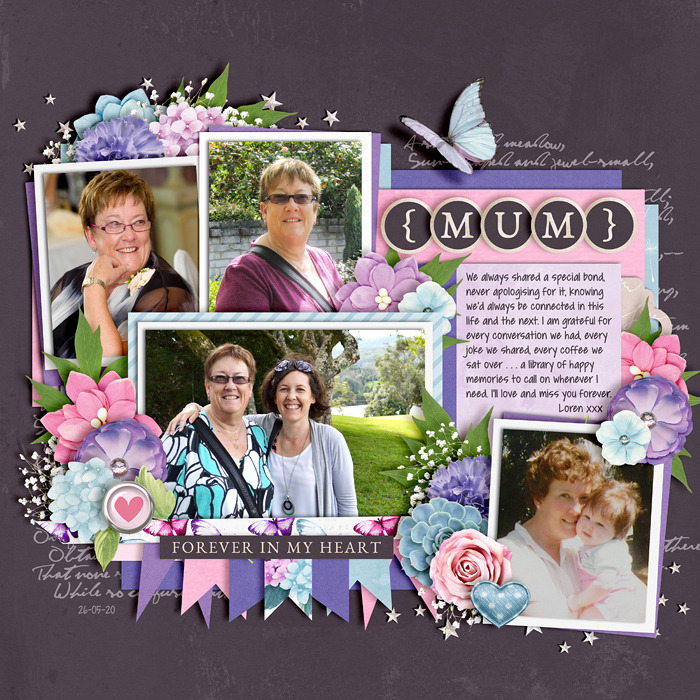 With that, go fill up your shopping cart with $10, and Memories will be automatically added for FREE! This special offer will only be available through Friday, June 12 when our new releases go live, so don't delay! And don't forget to come back next week when we have a little sneak peek into our fun, bi-weekly sale involving our amazing featured designers! Have a great weekend!