Featured Designer – Grace Lee
Hello Sweet Shoppers!  It's Friday and it feels like summer here in Michigan!  Have you been keeping busy, lot's of scrapable moments happening?  We're hoping to get some yardwork completed this weekend and plant a small garden for the second time.  Wish us luck!  LOL!
It's time to introduce our next featured designer, Grace Lee!  As you know, our fabulous designers are celebrating some of our most memorable days in our new A Day To Remember series of kits! Grace's A Triumphant Day perfect for this time of year!  It would be awesome to use for all of those graduation photos or even celebrating other victories that happen in our lives!  Let's take a peek!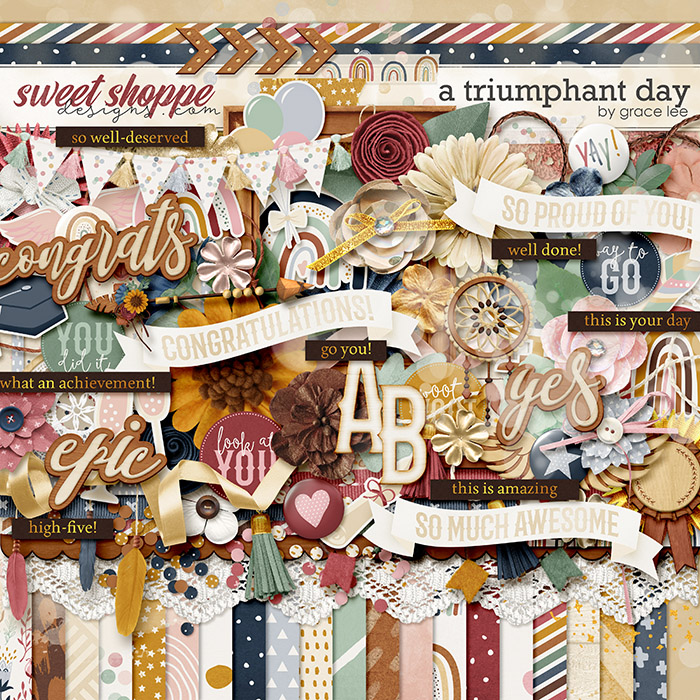 Gosh, that kit is fantastic!  So many different occasions you could use it for!  Now it's time for my favorite part of the featured designer series, the interview!
We asked Grace a few questions about herself, her love for this hobby of ours, and some of her favorite layouts or products:
My favorite way to spend the day is to wake up a little early when my kids are all still sleeping, surf on Facebook a bit, and then we all go out for breakfast. Then, we go somewhere fun (beach is ideal, but we don't live near one), have lunch, and come back for a quiet afternoon. The little one can take a nap while the older kids and adults can get on their screens. Later in the evening, we'll have takeout and watch a movie before we head to our respective beds to read some before we sleep. My favorite day doesn't happen often enough!
How has the industry changed since you first became a digital scrapbooker or designer? How has your style changed? Can you share one of your first previews so we can see how far you've come?
Kits have gotten bigger and elements have gotten more realistic since I started. Also, I didn't use to do it but I now include a journal card pack with all of my releases.
One of my old kits is called "Wordsmith."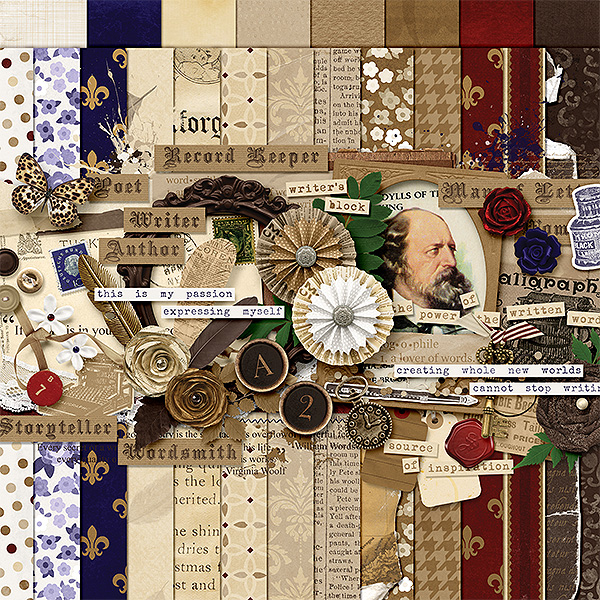 And I've revamped it since then.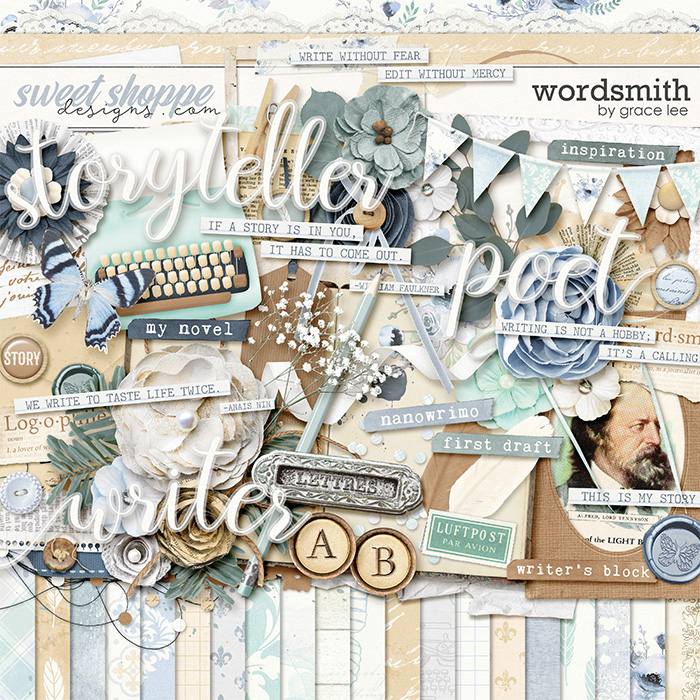 What kit are you most proud of creating in the last year? Why?
I really like "Boss Lady" because of its message. I wanted to recreate a name plague my mom used to have in her office. I wanted it to be a bright, colorful, confident kit and I think the end product came out the way I envisioned it.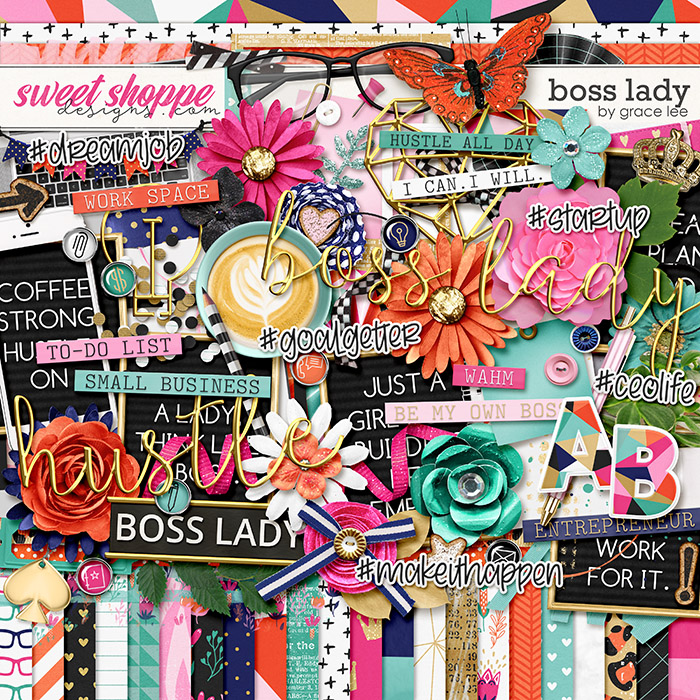 Do you have a fail-proof meal or recipe that you can make over and over? What is it and are you willing to share the recipe?
I love making char siu, or Chinese barbeque pork. Use a cut of pork that has some fat (I get the pork shoulder from Costco), cut it into chunks, and marinade with char siu sauce, rice wine and some garlic. I just eye it and make sure the sauce coats the meat. Marinade in the fridge for a couple of hours or overnight. You can also freeze them for later. Bake at 400C until cooked (about 20 – 30 minutes, depending on the size of your meat). It goes great on rice and buns or in burgers as well. If you want it slightly burnt like the ones you get in a restaurant, broil it for 3 minutes before taking it out.
 Are there any TV shows that you've binge watched recently? Why were you hooked?
The Great British Baking Show. I love looking at the pretty baked goods and that there's very little drama. Just a relaxing show to watch.
Here you go. Let me know if you need anything else!
Now let's see A Sunshiny Day in action!   Here are a few layouts from our talented staff!  First up, Nat scrapped with her own kit!  We just adore when designers find time to scrap!!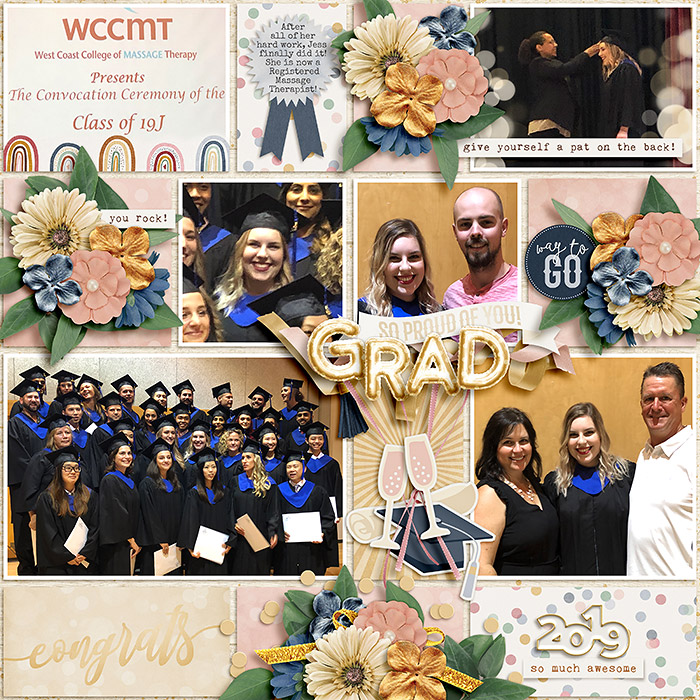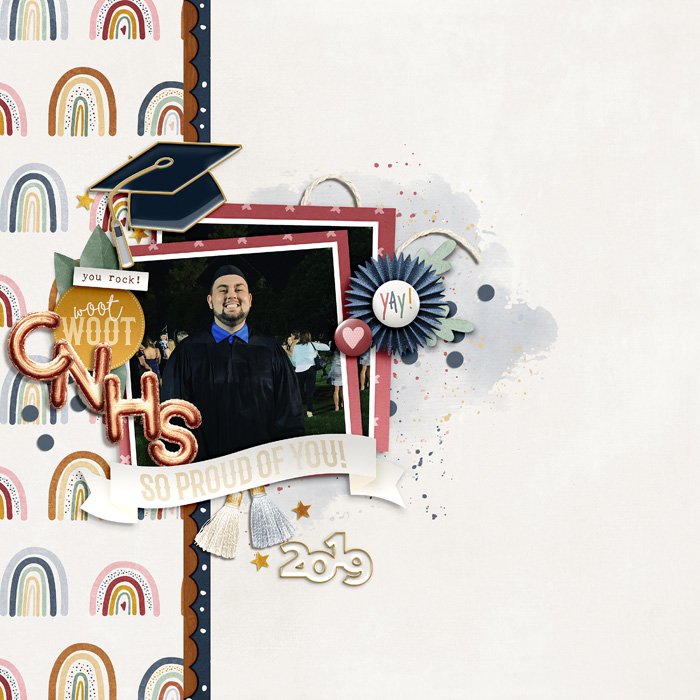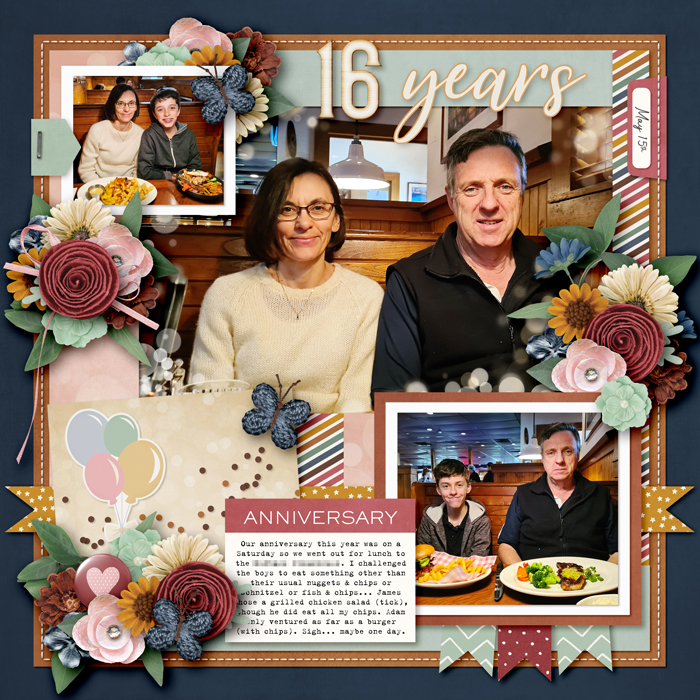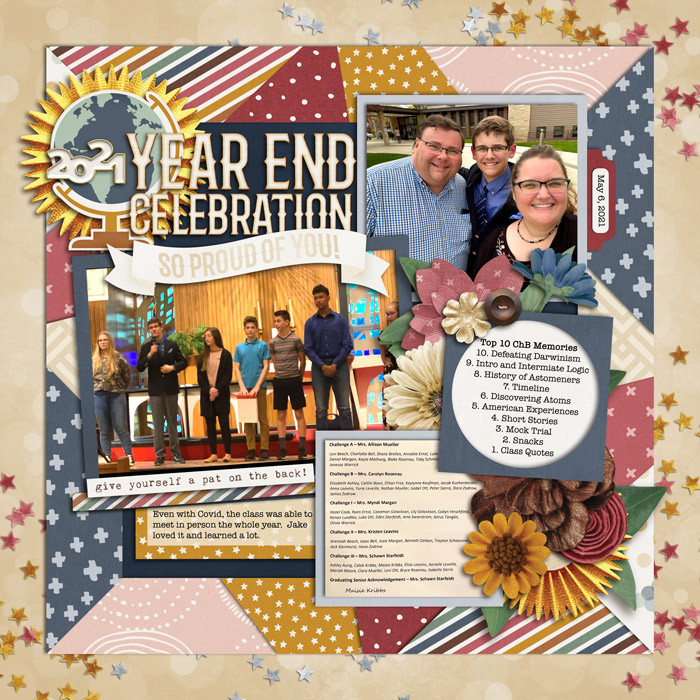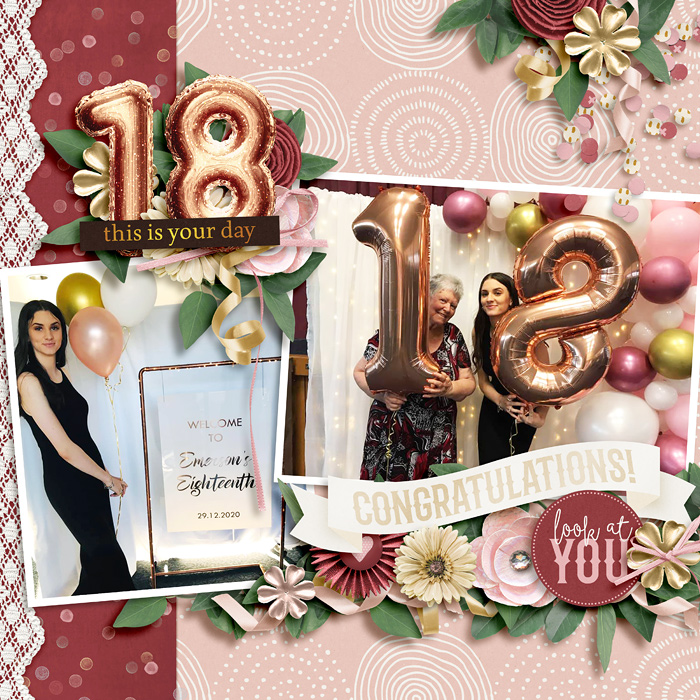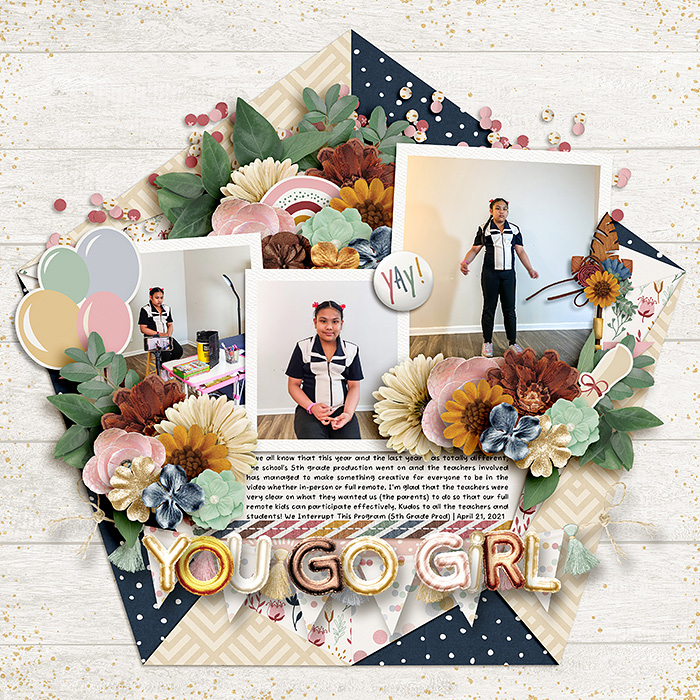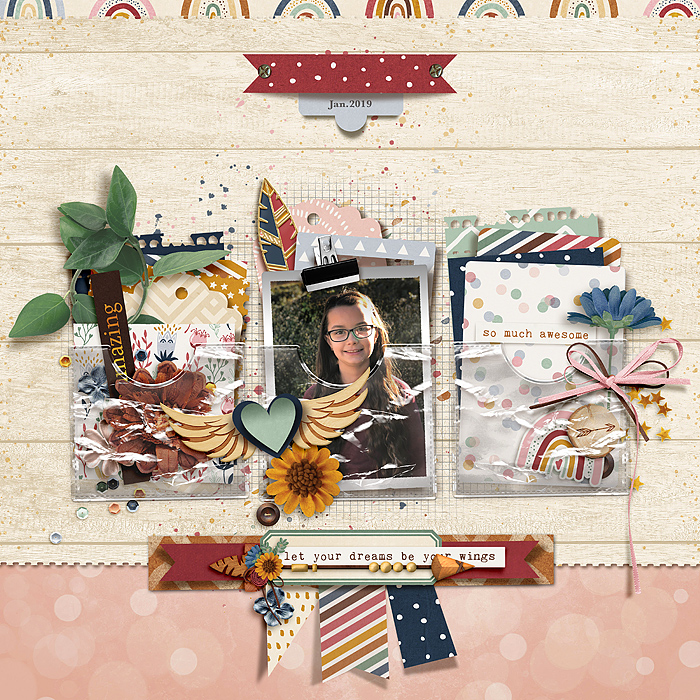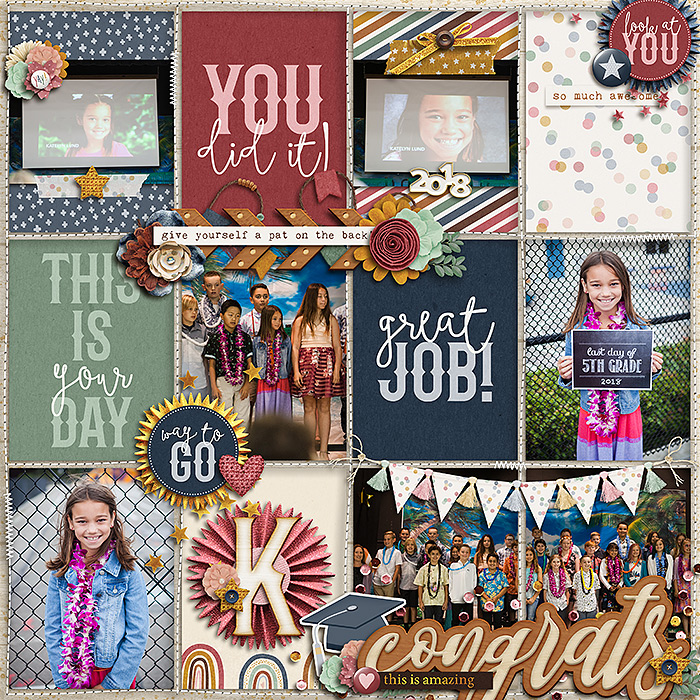 With that, go fill up your shopping cart with $10, and A Triumphant Day will be automatically added for FREE! This special offer will only be available through Friday, June 4th when our new releases go live, so don't delay! And don't forget to come back next week for a sneak peek at Grace's Featured Designer 15 sale which will be Tuesday, June 1st! Have a great weekend!