Featured Designer – Grace Lee
Happy Fall Y'all!  LOL!  I've been waiting all week to say that.  Does it feel like fall in your part of the world?  Michigan took a nose dive in the temperature department, we went from 90 on Wednesday afternoon to 65 yesterday.  Any big plans for the weekend?  I know I'll be pulling out my Halloween decorations, I can't wait!  Well, enough about me and my plans, I know you're all excited to see who's up next on the featured designer list, please say hi to Grace Lee!
Keeping with the festive spirit in mind of our big birthday, our designers decided that a year long celebration of everything that makes our lives special would be the perfect way to keep the party going, "Celebrate YOU!" is the theme that will be inspiring our Featured Designer freebies this year! From your job, to your school, to your favorite holidays and more, we're celebrating all of life's memorable moments this year, and Grace's contribution to this year's series is no different! Collegiate is just what we all need for all of those kids that just left the nest to start their college careers, or maybe those that decided to go back to school after some time away.  I know I'm going to be using this scrap some college tours we just went out with our high school senior.   Add $10 worth of goodies to your cart and this beauty will be added for FREE!
Grace also created some wonderful add ons if you really want to bulk this kit up and make it one mega collection!
Time for the most fun part of this post, the interview!
What is your favorite thing to "celebrate"? Is it your birthday? Christmas? Something else?
My favorite thing to celebrate, whether for myself or others, is milestones! It makes me feel good when I can celebrate with people I love the achievements they've made after putting in a lot of hard work. This has led me to create my featured designer kit this time. I love celebrating graduations and first days of school!
Do you like to scrapbook? How often do you get around to it?
I love it, but I don't get to do it as often as I like. I'm currently scrapping photos back in 2017!
What is your camera of choice? Can we see some of your favorite shots?
My phone is my camera of choice, as I like to capture my kids in the moment and most of the time I just don't have my big camera with me. My most recent favorite shots are the ones I took of them in Hawaii. These will be blown up and put on our wall.

What are you reading?
I'm reading Middlemarch. It's a long and slow read but I feel I must tackle it.
Any behind the scenes sneak peeks you can share with us?
Something witchy… I just hope I can finish it in time for Halloween!
Oh my goodness, aren't Grace's kids adorable!  And this sneak peek, those colors are to die for!  Can't wait to see that.  As you know, the team has been hard at work behind the scenes this week, time to share what they've cooked up for you.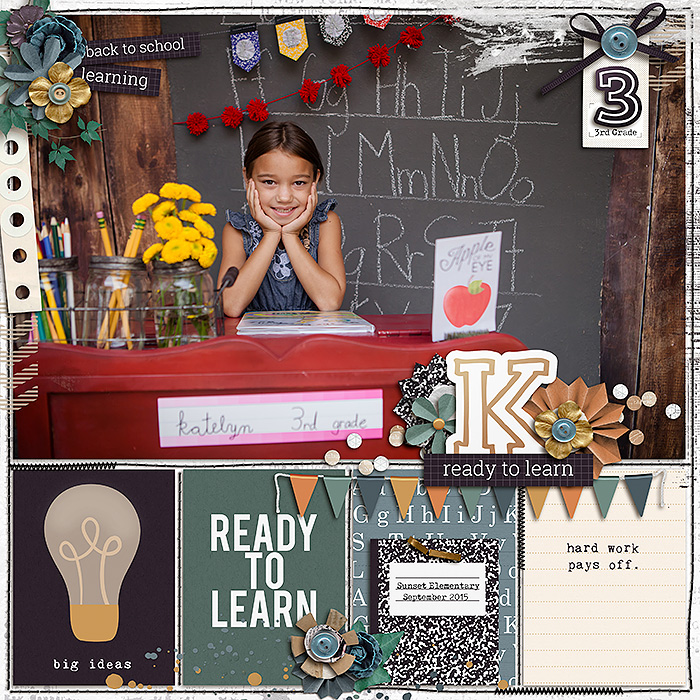 Collegiate will be automatically added to your cart for FREE when your subtotal reaches $10 or more! This special offer will only be available through Friday, October 7th when our new releases go live, so don't delay! And don't forget to come back next Friday for a sneak peek at Grace's Feature Designer 15 sale. It will start Tuesday, October 4th . Have a great weekend!