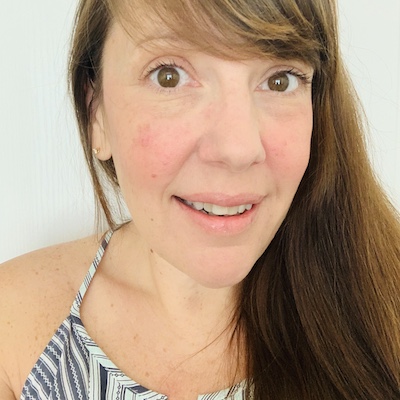 Where do you call home?
I've lived in Southern California and Phoenix, AZ, but my family and I currently live in Charlotte, NC and there's no place that feels more like home to me than right here! The weather and scenery are idyllic and the people here couldn't be nicer. We absolutely love NC!
Tell us a little about your family…
I'm married to my best friend in the whole world and have 3 kids and two derpy golden retrievers that I adore! my people are my world and I feel very lucky to be "living the dream" so to speak!
When did you join Sweet Shoppe Designs & what's your favorite thing about being a member of the team?
I've been here since Day One as the owner of the sweetest spot in town! Sometimes I still can't believe how it all came together and that we're still here nearly 15 years later! I adore the women I have gotten to work with over the years, and truly believe there isn't a better place to call "home" in the digital scrapbooking industry. I really do think we're the sweetest spot in town!
How long have you been designing?
Believe it or not, I started out as a designer back in 2005, and when SSD opened in February of 2006, I was one of the original 7 who were here on opening day! We've grown a lot since then, with designers who are MUCH more talented than I, so I "retired" from designing to focus on giving 100% to my team and our incredible community of scrapbookers!
What inspires you?
The obvious answer is our Designers and Babes! I absolutely LOVE seeing what they do from week to week, and they constantly impress and surprise me with how consistently they are able to create non-stop. I am so fortunate to be surrounded by so many talented women! The less obvious answer would be music! I am a massive music fan and putting on a playlist of artists that I love gets me in the mood to "work"!
What is something we may not know about you?
There's a lot you may not know about me because I am a pretty private person and I don't share a ton online. That said, a little known fact about me is that I married my favorite Canadian in 2018, and he's 17 years younger than me! We couldn't be happier, but it's scandalous…. I know!