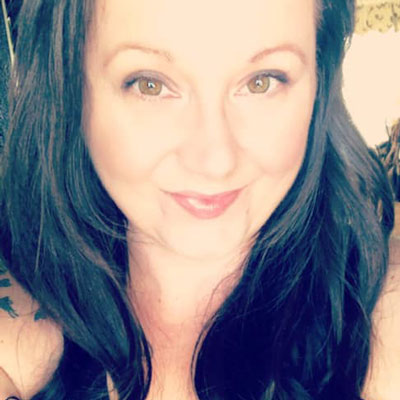 Where do you call home?
I live in Arkansas, in a tiny tourist town in the north central part of the state.
Tell us a little about your family…
I've been married to my high school sweetheart since 1999 and we have 3 children. Serenity is 18, Sawyer is 16, and Spencer is 13.
When did you join Sweet Shoppe Designs & what's your favorite thing about being a member of the team?
I started at Sweet Shoppe as a designer in February 2020, but I have been a member here since 2008! I love being a part of the team because everyone is so friendly and we have so much fun.
How long have you been designing?
I began designing templates in early 2011.
What inspires you?
Oh my goodness, to be honest I'm inspired a lot by music and magazine ads or posters, but most of my designs are created by just opening Photoshop and moving things around on the canvas until it starts to feel good. Then I just build from there.
Tell us a little bit about your design process…
I design the way I scrap, so I just open a canvas and start tossing shapes and layers on there and piling them up and arranging them until it feels like it's coming together. And just like when I am scrapping, the photos are the last part of my design. Usually I don't even know where I am going to place them or how many I will use until I have completed the majority of the layout.
What is something we may not know about you?
I am a personal trainer and group fitness instructor. I mainly teach HIIT and am licensed to teach STRONG by Zumba as well as several other branded formats.