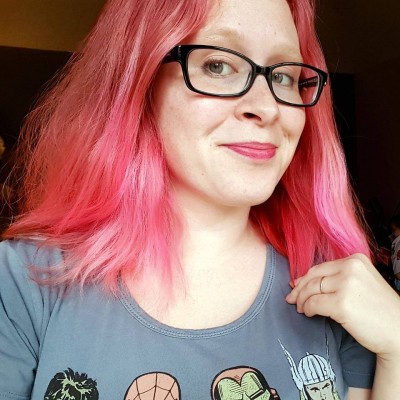 Where do you call home?
I was born and raised in the Elvis end of Tennessee, though I don't live exactly in that area anymore. We live in a small town that the kids all love and us grownups tolerate due to the closeness of Memphis.
Tell us a little about your family…
I have been with my husband since we were sophomores in high school (16) and got married about a year after we graduated. We have five kids. Yes, five. I know, sometimes I feel a bit dazed when I think of it too. We have four boys, two preteens and two littles. We also have one poor lone daughter who is smack dab in the middle of them all. Don't pity her too much, she is fairly rotten and spoiled, but we love her anyway.
When did you join Sweet Shoppe Designs & what's your favorite thing about being a member of the team?
I joined Sweet Shoppe as a Sugarbabe in 2013. Though I've been active and begging them to take me since 2010. I think that the thing that I love most about being a member of the team is the community here. It's more than just friends, but like a family that rallies around you and supports you.
Where do you find inspiration for your pages?
I find my inspiration all over really. Sometimes it just comes when I see the kids doing something. Sometimes (a lot of times) it is through music that I am listening to. Sometimes I get inspired by art or just random patters. I guess an easier question would be what doesn't inspire me.
What are your must-have digi-scrap supplies and what kind of gear do you use for scrapping & photography?
My must have digi-scrap supplies are good paint and stitches. I can do a lot with just some good paint and stitches. I use a 6 year old Dell desktop and Photoshop CC for my scrapbooking. I also use Art Rage and a Wacom tablet to add drawings, sketches, doodles and finishing touches to my pages. For my photos I use Lightroom. I must say, I love editing photos.
What is something we may not know about you?
Something that you might not know about me… Hmm… This is tough because I am a fairly open person. I guess it would be that I taught myself how to knit when my daughter was a little baby. She was constantly sick due to health issues and I needed something that I could do while constantly holding her. I started by knitting her hats since she was a whispy haired thing and buying hats was just too expensive.