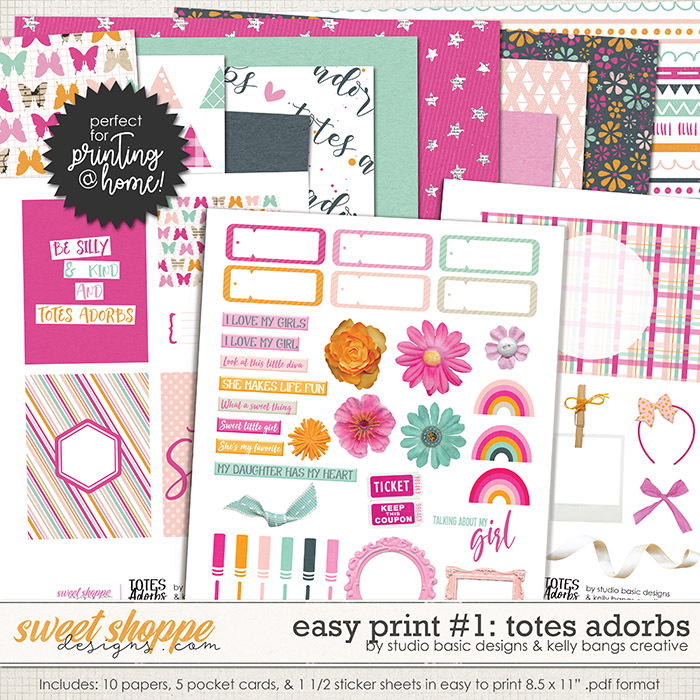 The 'Easy Print' collection is perfect for those of us who are looking for a sweet 'n simple way to use digital scrapbook products as a resource for our paper & hybrid scrapping needs, or to add a little something extra special to our journals, bullet journals and planners!
Easy Print: Totes Adorbs #1 includes 10 papers, 1 1/2 sticker-style element sheets and 5 pocket scrapbook cards in 8.5" x 11" .pdf format.
No photoshop is needed to use these easy to print 8.5 x 11" .pdf sheets. Simply open the file, find the pages you wish to print and choose Letter (Borderless) in your print settings to produce gorgeous full bleed papers and elements,
Please note that these products are NOT recommended as an alternative for digital scrapbooking as they are flattened .pdf sheets, which cannot be manipulated in Photoshop.
Please
CLICK HERE
for the digital scrapbook version of 'Totes Adorbs' by Kelly Bangs Creative and Studio Basic, a gorgeously girly digital scrapbooking kit, 'Totes Adorbs' - full of confidence, positivity & happy thoughts, and perfect for writing about your darling daughter(s), niece …or maybe yourself when you need reminding that the world is still full of fun, love and a whole lot of pinky goodness!