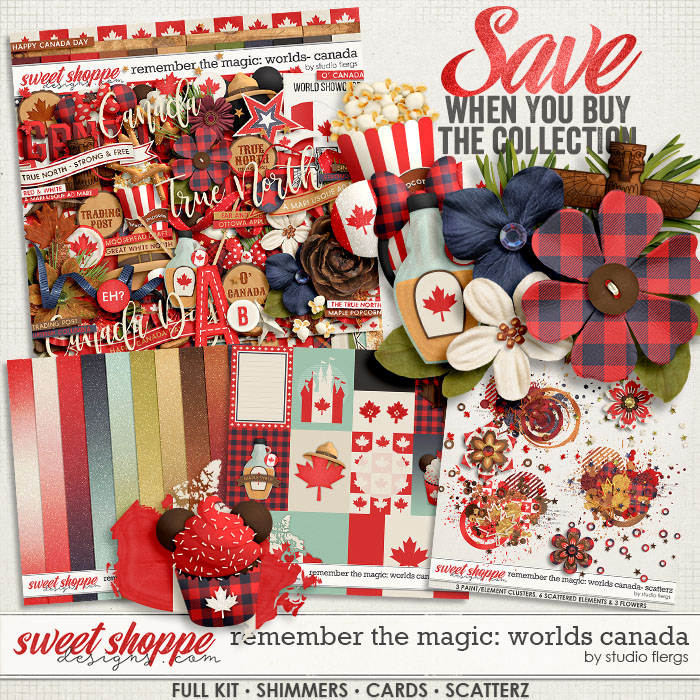 A digital scrapbooking collection by Studio Flergs.
Travel due north to the country of Canada! Another fun kit in theRemember the Magic collection, this one celebrates all things Canadian. 20 patterned papers & 12 solid papers. 2 alphabets. Over 100 elements, accordian, banners, candy, card, castle, circles, cupcakes, ears, flags, flowers, foliage, frames, gardland, hat, map, maple syrup, popcorn, pretzel, ribbons, scatters, stars, hockey stick, word strips, titles, totem pole, trims, wood slices.
This pack is ALL NEW! A complete remake of the original #believeinmagic: WORLDS CANADA.
Also included:
SCATTERZ: 3 paint/element clusters, 3 flowers, 6 assorted scattered elements.
SHIMMERS: 10 assorted ombre shimmer papers.
POCKET CARDS: 8: 3"x4" cards & 2: 6"x4" cards. Saved in JPG format & will work with the Project Life app.
Get the Glitters FREE! 10 sparkling glitter styles for photoshop & photoshop elements, 10 JPG sheets for use in other programs, also 10 coloured sparkles. **Automatically added to downloads**
Some Creative Team pages in the detailed images may contain elements not included in collection, please check the detailed description of what is included.