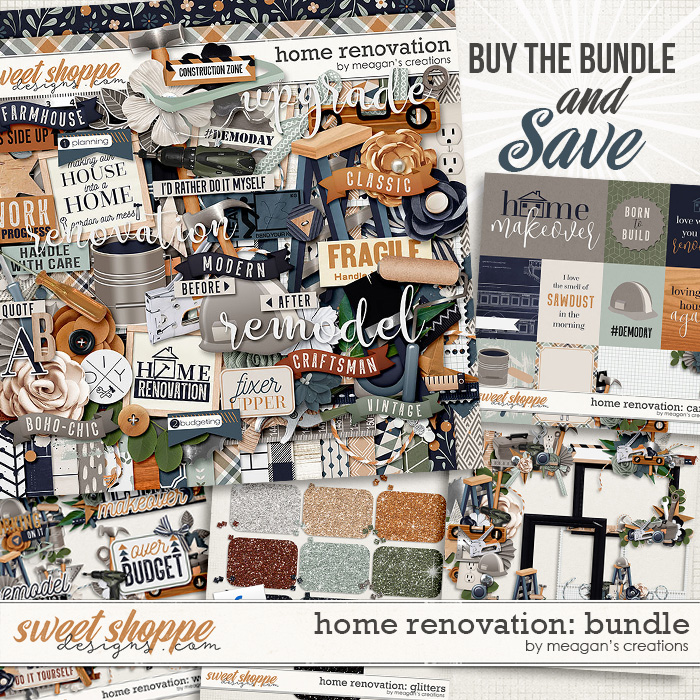 The entire Home Renovation Collection in one money-saving bundle!
You get the entire collection with the kit, cards, clusters, glitters and word art for one great price! Scrap your remodel journey with this elegant collection!
INCLUDES:
Kit: Home Renovation by Meagan's Creations. Do it yourselfers love a good project! And what a project a home improvement can turn into. Whether it's a weekend redo or an all out tear down a wall, this collection has you covered. It's filled with themed elements and neutral toned papers perfect for scrapping all those home improvements. This kit contains eighteen 12x12 jpeg patterned papers, 12 solids, two alphas including one black sticker style alpha, and one red and wood veneer alpha, with one hundred four elements including Six banners: boho-chic, classic, craftsman, farmhouse, modern, vintage, four buttons, one hard hat, ten flowers, two frames, one set of goggles, one hammer, ten assorted labels including: six plain, fragile handle with care, handle with care, heavy, this side up, one ladder, three leaves, one level, one measuring tape, two measuring tape bits, one electrical outlet, two paints, one paint brush, one paint can, one paint roller, one set of pliers, one power drill, three bows, three ribbons, one saw blade, two scatters, two screw heads, two screw drivers, three signs and stamps with the following phrases: #demoday, home renovation, making our house into a home pardon our mess, one sledge hammer, one speed square, one staple, one staple gun, four stars, two strings, two pieces of tape, three assorted titles: remodel, renovation, and upgrade, one tool box, four wordarts: construction zone, DIY, fixer upper, work in progress, two stamps: fixer upper and work in progress, two wrenches, ten word strips: after, before, drywall, I'd rather do it myself, quote, planning, budgeting, demolition, construction and clean-up
Cards: Home Renovation Pocket Cards by Meagan's Creations set of twenty journal cards, of ten different designs two orientations. Cards included: I love the smell of sawdust in the morning, paint can and roller, love where you live renovate with house, plaid bordered with space to journal & hammer with wrench, #demoday with hard hat, loving my house again, blue print with label, born to build with saw blade, clustered with space to journal, and home makeover.
Clusters: A set of 6 clusters by the fabulous Scrapping Creations by Thao using Home Renovation by Meagan's Creations. Clusters are in PNG format and include the overlapping drop shadows. Includes a 12" border cluster, 3 frame clusters and 2-free standing clusters. Finish your pages in minutes!
Glitters: A set of 10 glitter styles in both PS ASL file format as well as 12x12 JPEG sheets so every program can use them to add some sparkle and shine to your layouts!
Word Art: Home Renovation wordart by Meagan's Creations - included in this set are eighteen various word arts, clusters, and stamps. Some are embellished and some are not so that they can be easily decorated to your liking or used as is. They are created to coordinate perfectly with Home Renovation digital scrapbook kit by Meagan's Creations. Phrases include: We're Working on It, home Makeover, remodel Addict, over budget, D.I.Y. Do it Yourself, and time for an upgrade.